Updated October 24th, 2009
The 80's and beyond. ]
Tammy Fecher (Durnford).Click HERE.
Tammy with sons Chris and Mark.
My 2 daughters: Lt: Tara (Hunton) RT: and Christie, son Chris in the middle.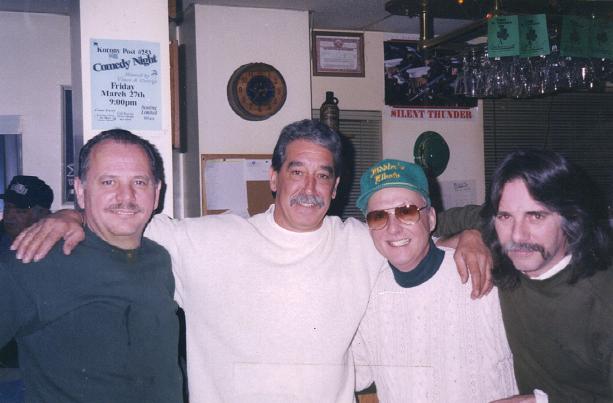 Tom Hansen, Eddie Alfarano, Bobby Kuhn and Frank 'Lance' Lanci.
Lance, husband of Diane Cullen (sister of Artie & Gary Cullen) spent a summer with John & Yoko and was on the David Frost and Mike Douglas shows.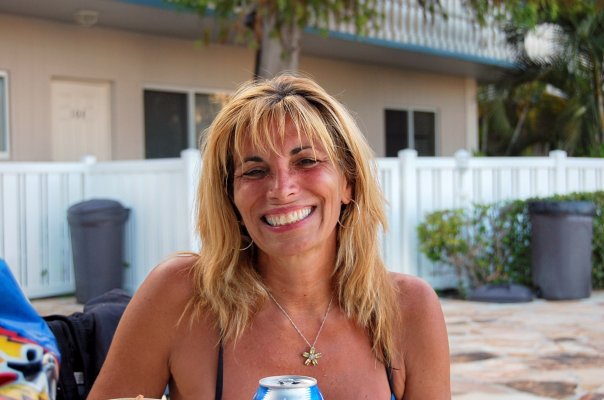 Frannie Longo (Hakans) is now Frannie Roff. Congrats Bobby and Fran.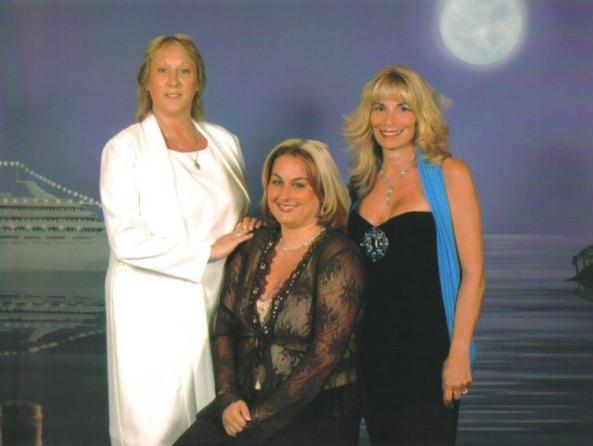 Debby Fitzsimmons (Burke), her daughter Linda Johansen (Carpenter) and Frannie.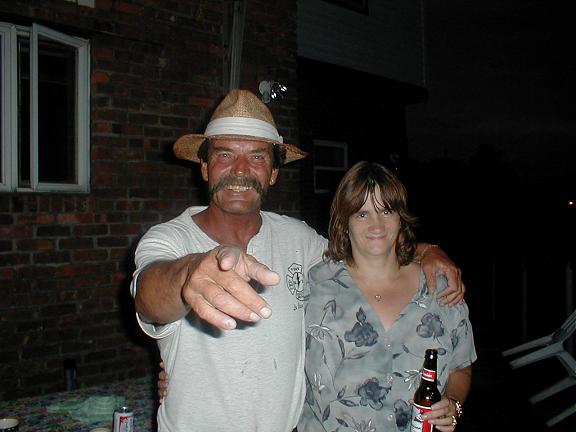 Bobby Roff and Nancy Attis Woods.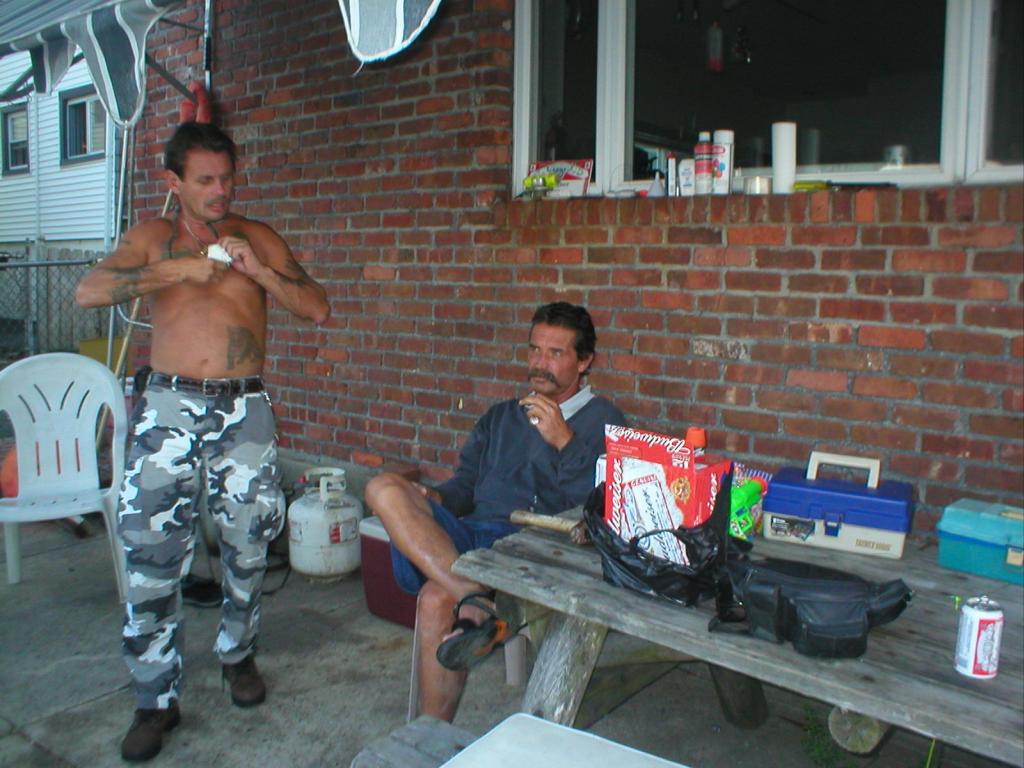 Mike Gossett and Bobby in his yard in Alden Park.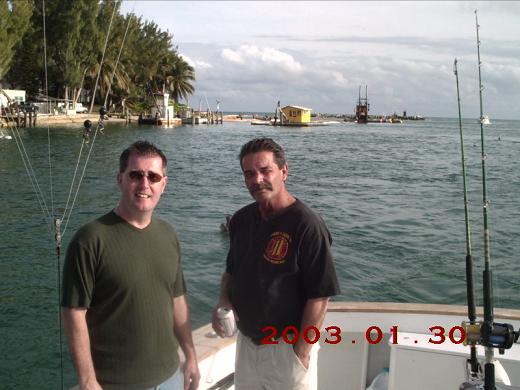 Mike Bligh and Bobby by Lighthouse Point, an exit from the Intracoastal to the ocean.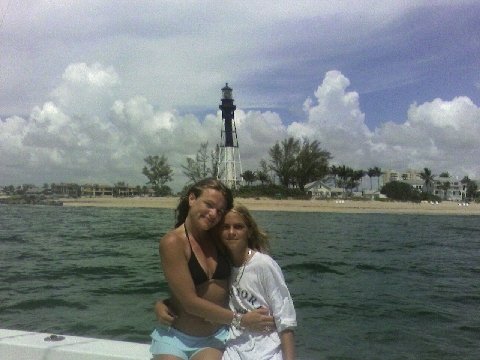 Fran's best friend in Florida - Wendi and her son, Harley Attaway Morris.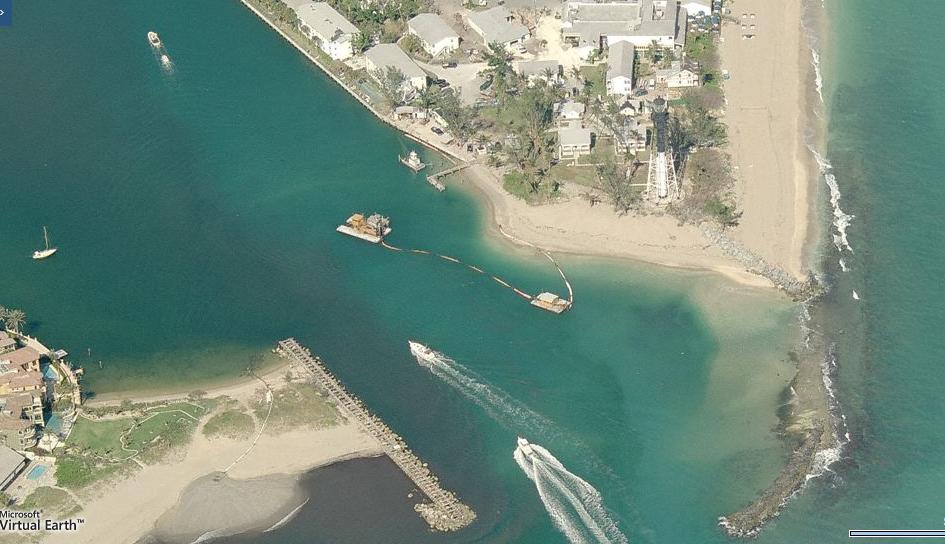 When Patty Lou Donovan and I lived in Pompano Beach, this was the way out into the ocean. Known as Lighthouse Point, it has a Coast Guard Station by the tower.- Craig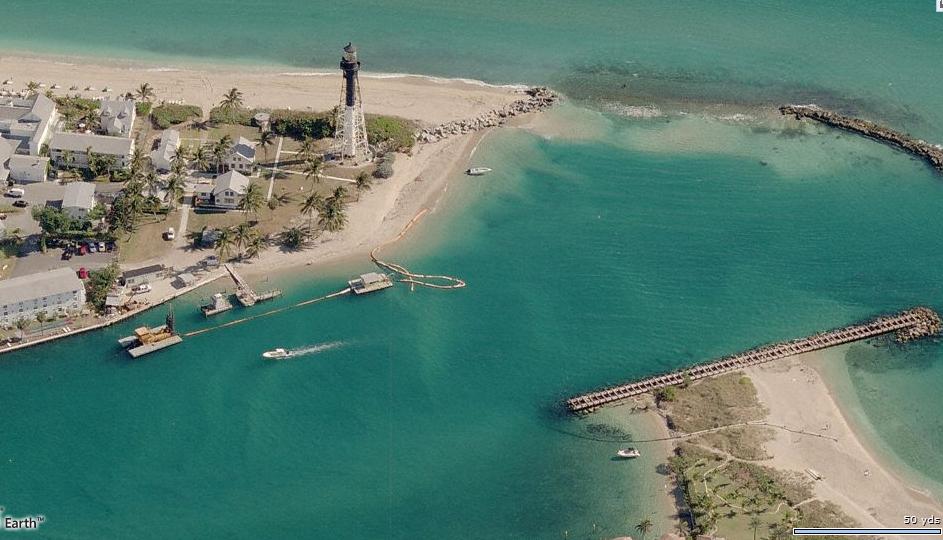 Another view of Lighthouse Point.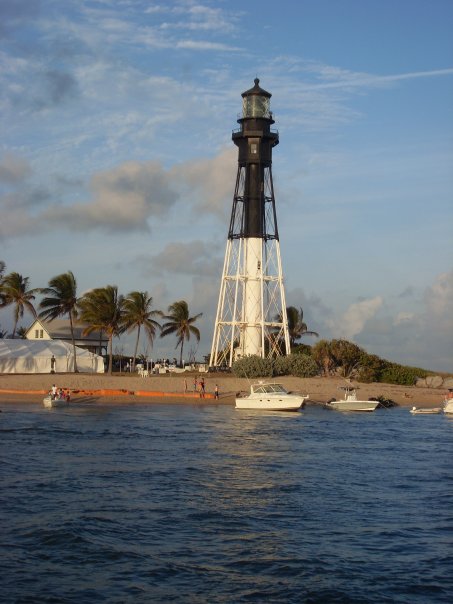 Coast Guard Station at Lighthouse Pt., Pompano Bch, Fla.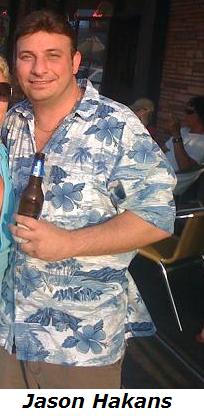 Son of Ralphie Hakans and Fran Longo.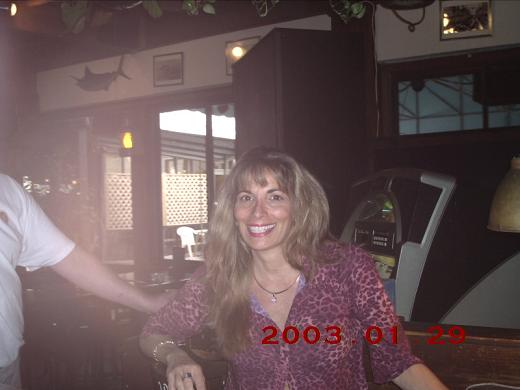 ---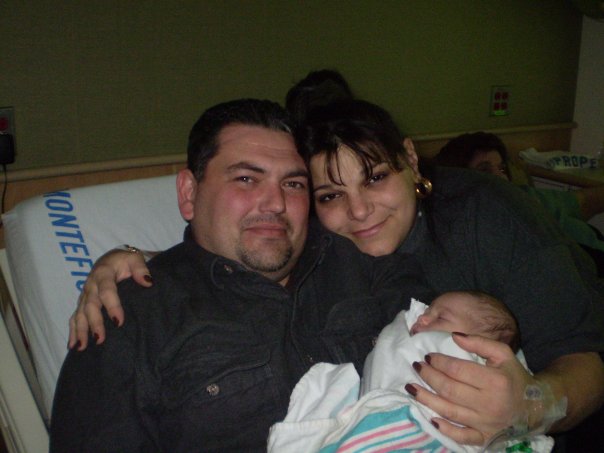 Chris (Richie), Rosie Aprea Pentenreider and baby Rianna.
Congratulations!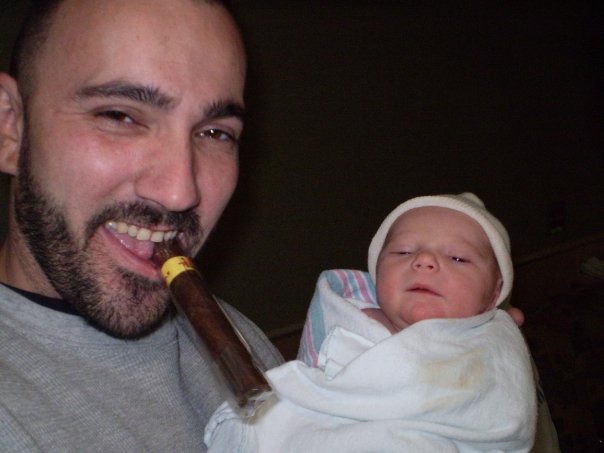 Uncle Eric Pentenreider and his niece Rianna.
---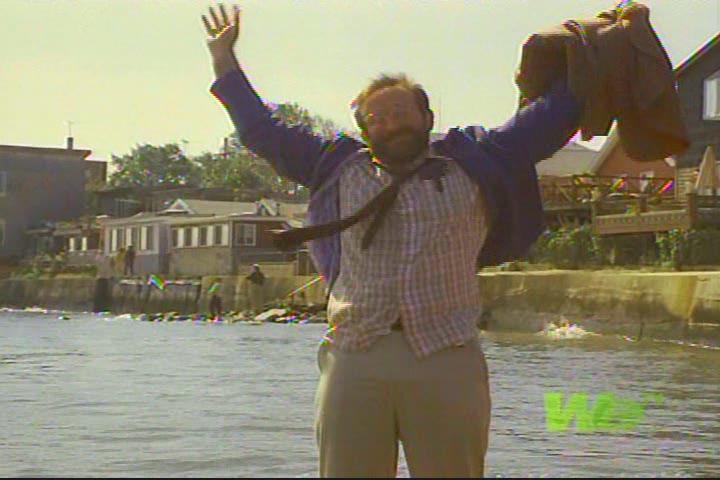 Robin Williams at Killie Rock.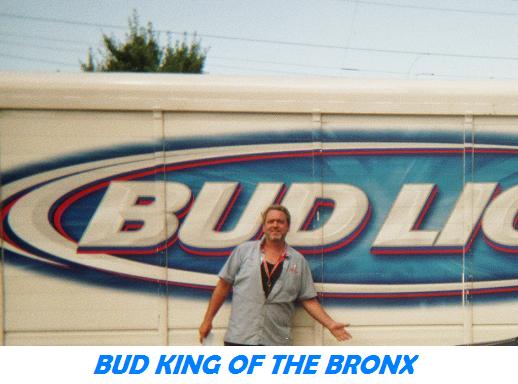 Matt Kuhl
The Budweiser King of the Bronx
Matt's been delivering Budweiser for years in the Bronx. He lives in Edgewater with his wife, Ellen (Piscotti?), and three sons. Me and Matt go way back, farther than he remembers, I bet, when he lived at 86-B with his brothers, sister and Mom. One of the first people I hung out was Anthony Mondello, who lived across the street from him. Next to Anthony in a big 2 story house was Lester. Harry Tyler, who hung out with Dennis Farrelly, Terrence's (Tek Wheat) brother, lived next to Anthony on the other side. On the same side of the street were the Mc Convilles, then the Liggios. On Matt's side were alot of the Alley Cats. Matt was related to the O'Rourke's. Remember Jimmy and Jigsy O'Rourke?
---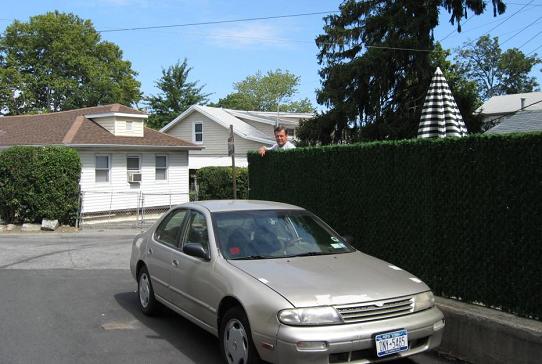 Mike Broderick.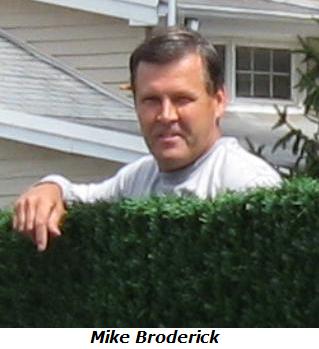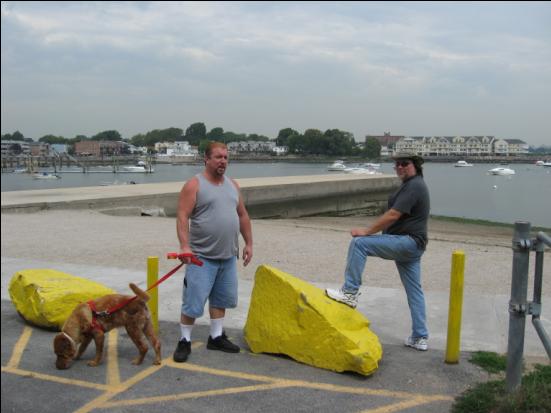 Anthony Winoski and Scott Hostomsky in front of a cleaned Sandy Beach.
---
Photos thanks to Howard Stern and sister Judi.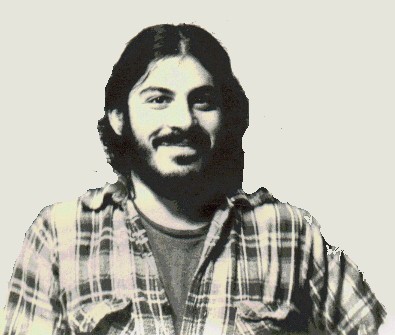 Howard Stern from Pennyfield Camp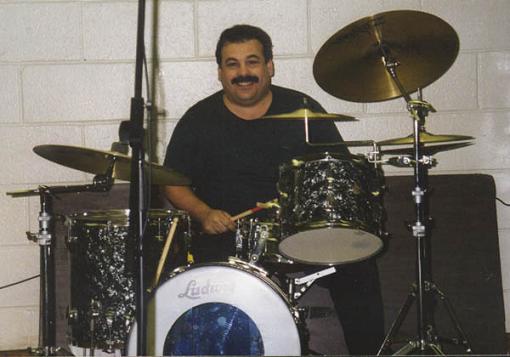 Playin' drums.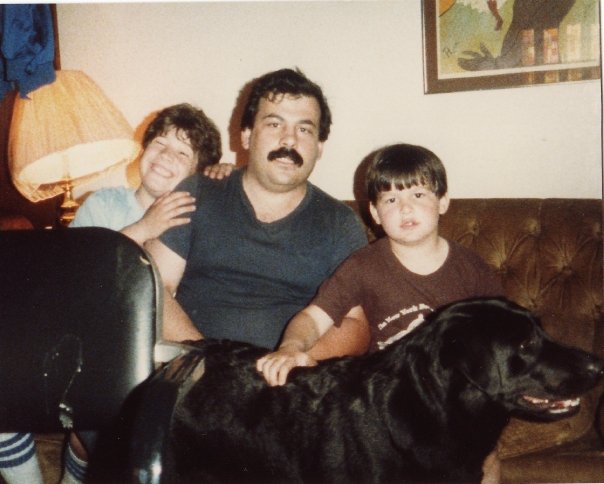 Howard with sons Josh and Ian and the Lab Jenny.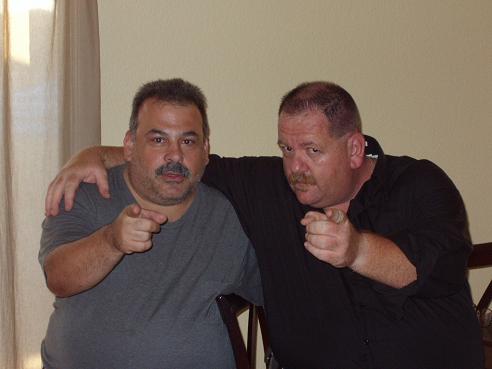 Gary Puetz from Alden Park.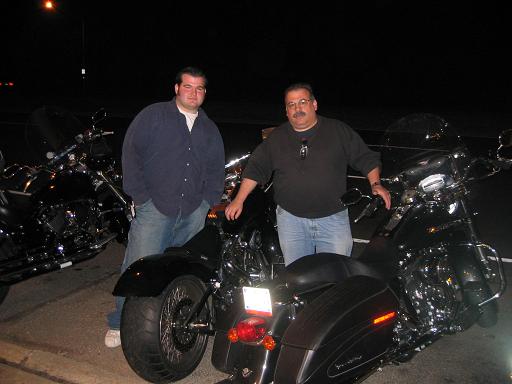 With son Ian and the Harleys.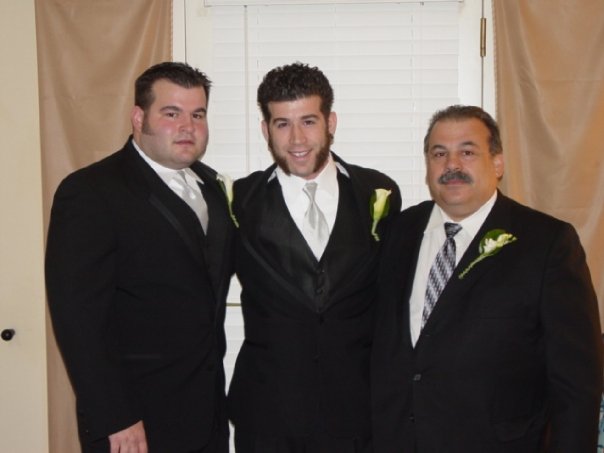 Ian, Josh and Howard Stern.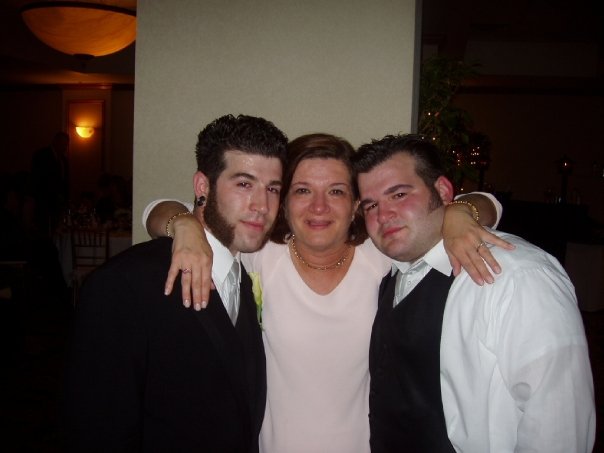 Mom Lucylle, with sons Josh and Ian.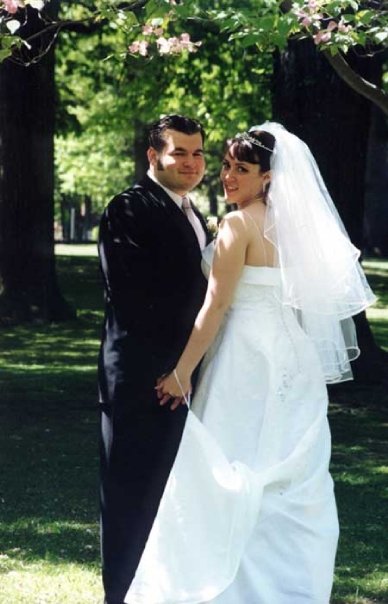 Ian and Julia Stern-2004.
---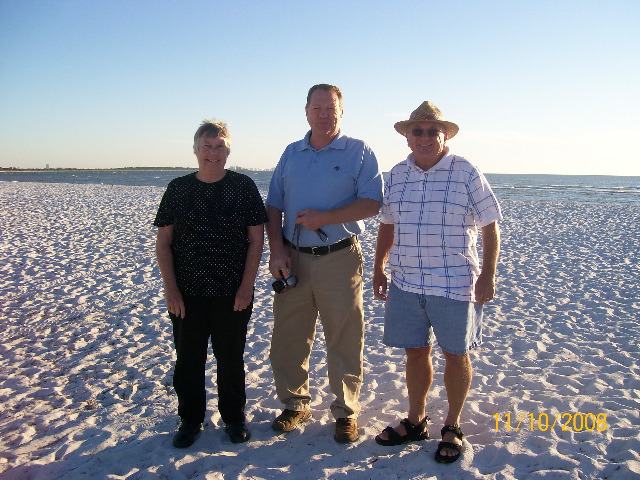 Jo (Meagh) Gress, Jack Gress & Tommy Miazga Nov '08.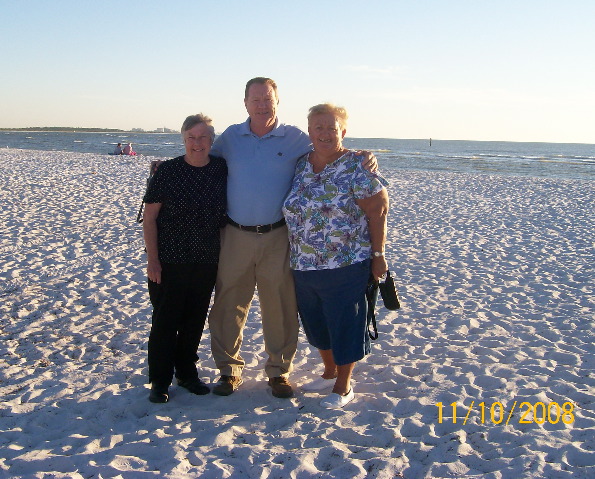 Jo (Meagh) Gress with Jack Gress & Lucille (Jenkins) Miazga - Nov '08.
---
The Krauses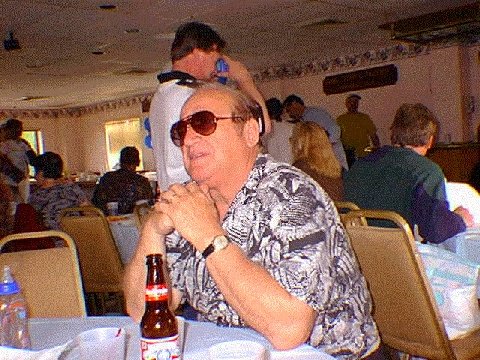 Big John
John, one of the best people I ever knew. He threw me a bunch of work when I was down and out. If it hadn't been for him, I don't know if I would have made it and therefore you wouldn't being looking at this now. John retired from RCA and went into business for himself. He installed and repaired televisions, cable and camera systems in hotels and hospitals in the 5 boroughs and Westchester. A great guy!
Thanks John.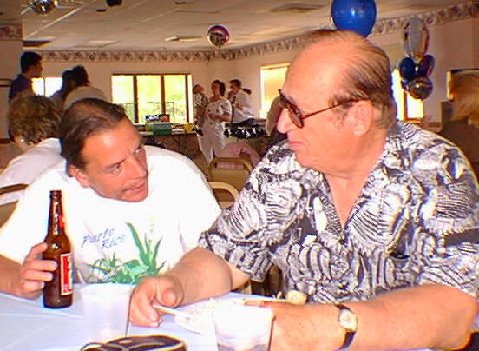 John Krause and Kenny Ryan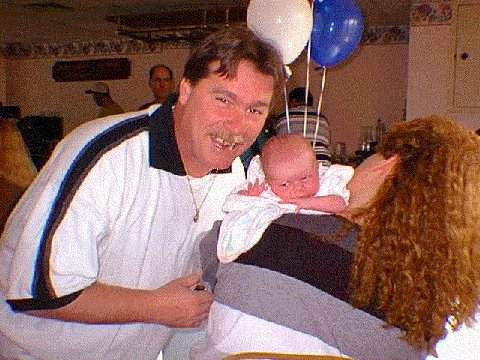 Oopie and his new baby, Laurin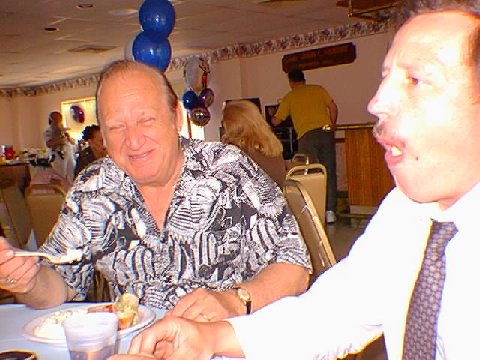 John and Bobby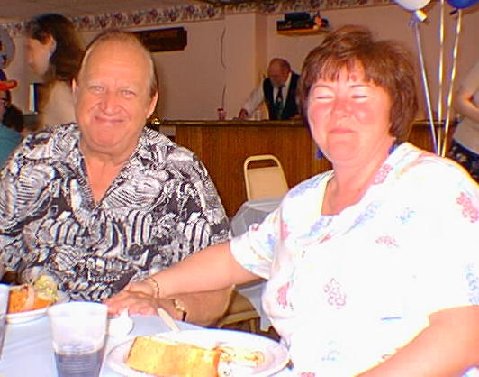 John and his wife Marlene Hakans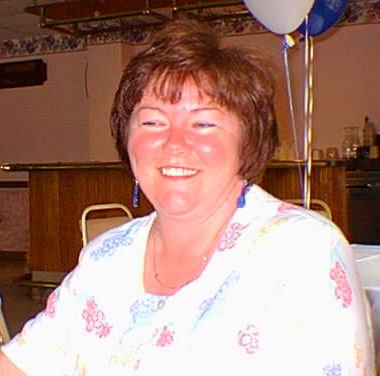 Marlene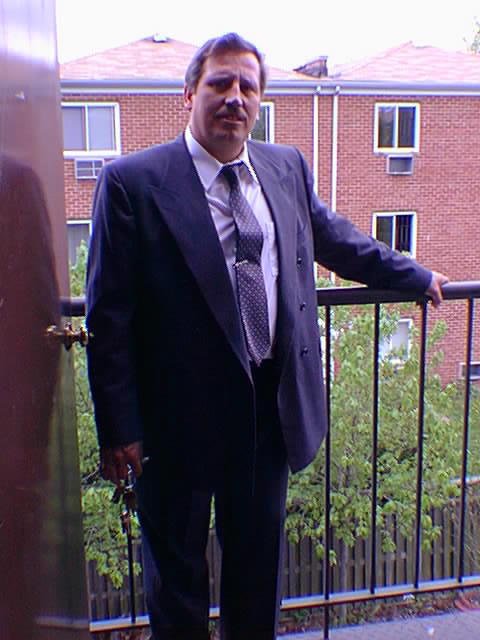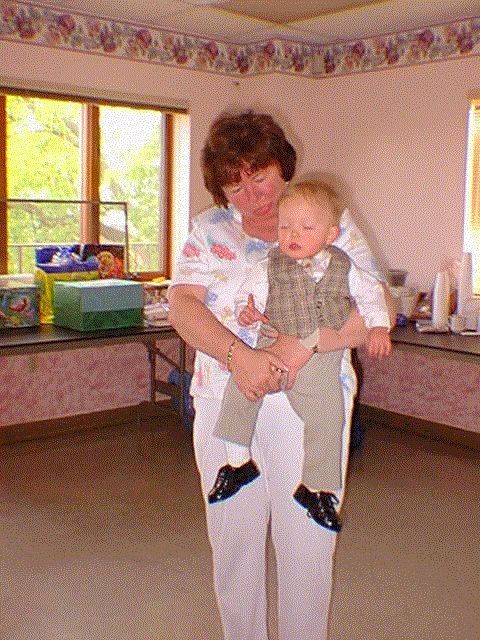 Marlene with Bobby and Evelyn's first born Robert.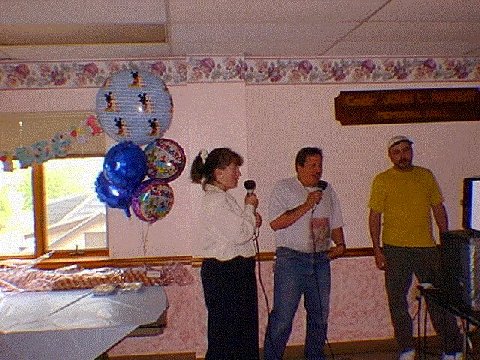 Evelyn, Bobby and Joey O'Neill singing Karaoke.
Photos thanks to Judi (Stern) Crowe.
---
Photos below thanks to Richie Begasse.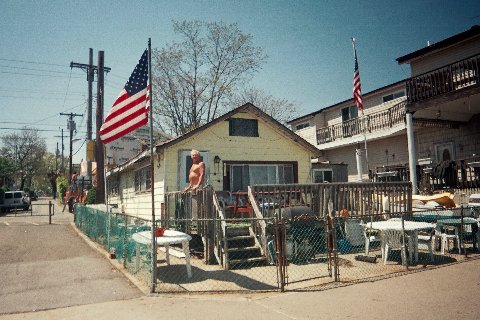 Randall (Chad) Higgens on the deck at 2-B.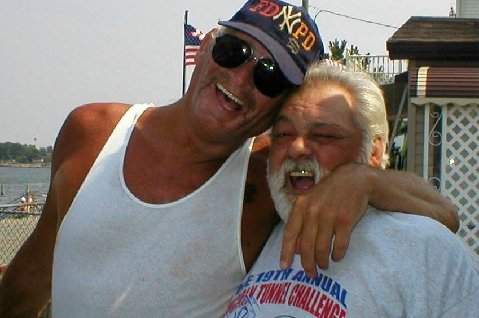 Chad and Richie.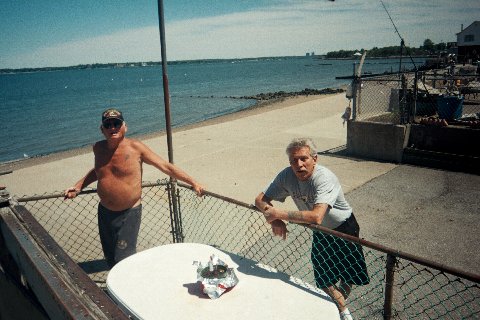 Chad and Tutty (Tom Deickman). Click here for video.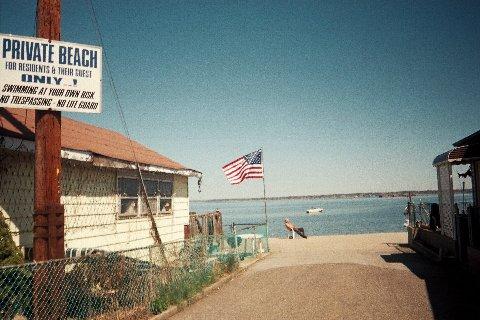 No shortage of flags in Edgewater.
My flag has been flying every day since Sept. 11th. I have gone through several flags due to the bad weather and wind on the waterfront. When the flag gets weather beaten I replace it with a new one. -Richie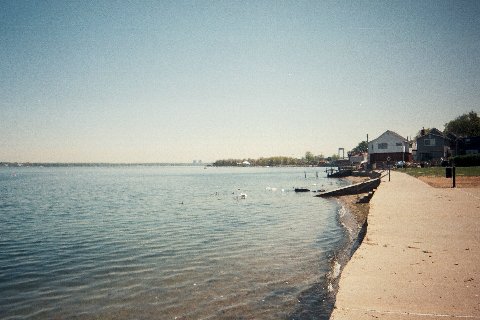 The seawall of Big Oak now. The entire seawall has been redone by Edgewater.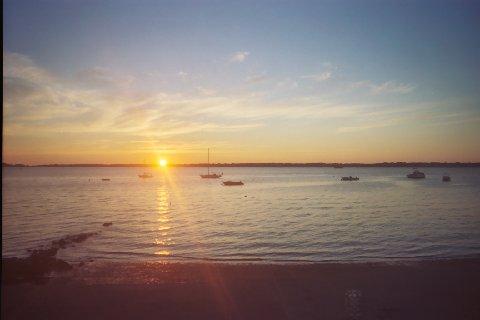 Beautiful sunrise. I've seen a lot of these, especially when I was young and went fishing with my brother Bruce. We could always count on running into Ozzie, the resident fisherman, out in his dinghy with the 3 horse Evinrude every morning.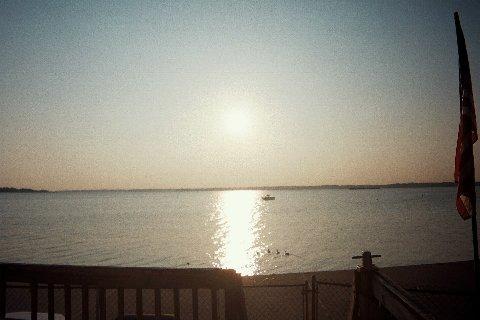 The start of a great day.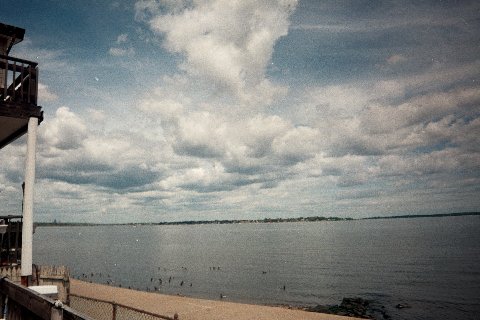 Looking towards City Island from Big Oak.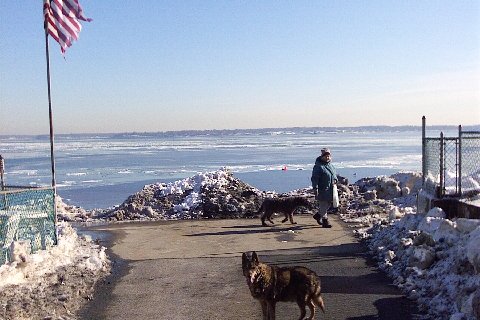 A beautiful winter scene.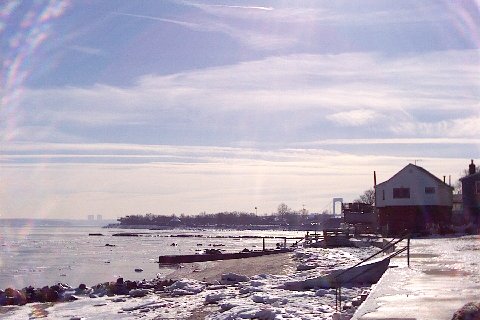 Edgewater Park, beautiful in summer or winter.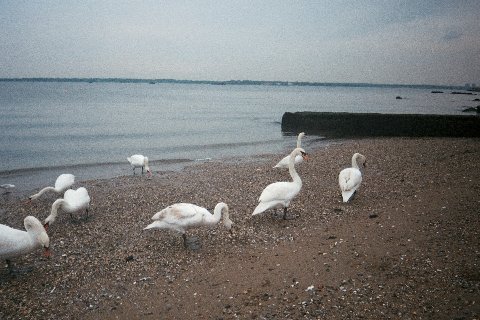 The flock of resident swans.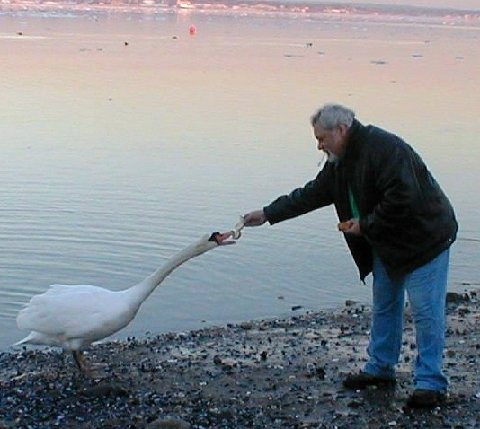 Richie Begasse of 2-B feeding one of the resident swans.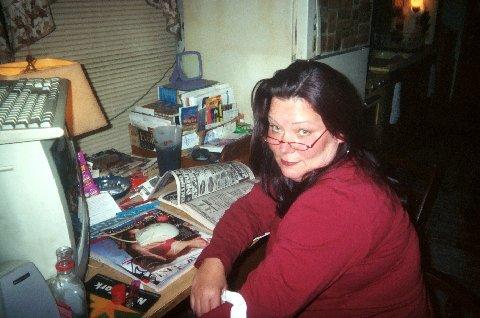 Debby Sawyer of 65-B.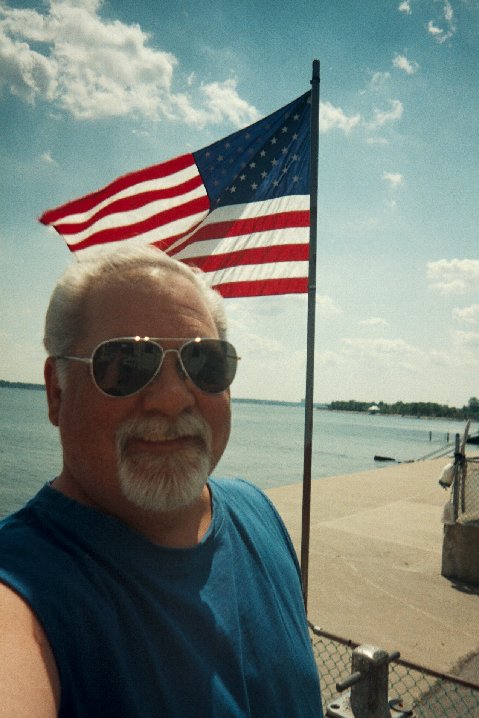 Another great day!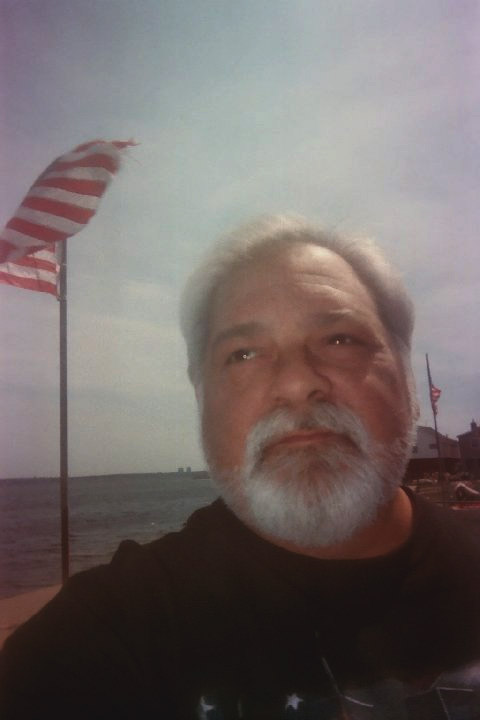 Aging gracefully.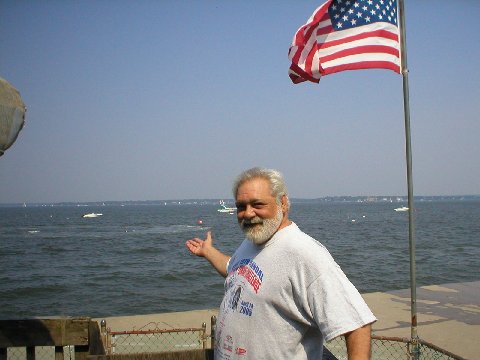 Richie's back yard.

---
Photos below by Debby Sawyer.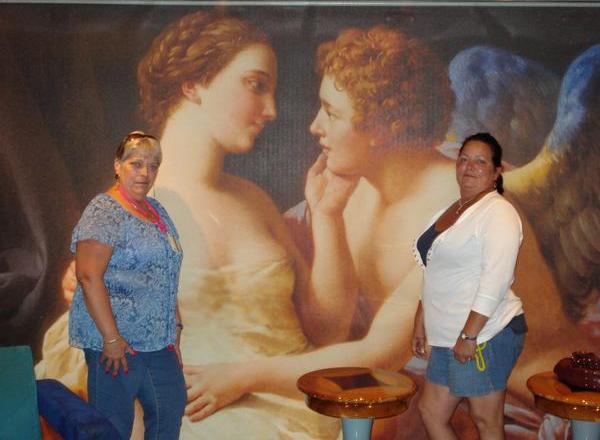 Robin and Debby Sawyer on a cruise.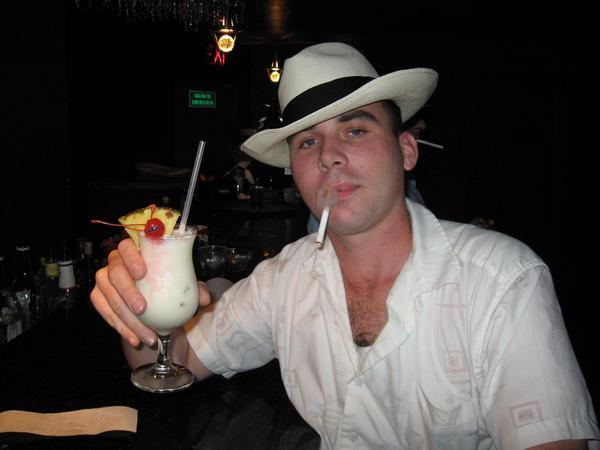 Rob McCormack, son of Bob McCormack and Debby Sawyer of 65-B and childhood friend of my daughter, Jackie, now in the U.S. Navy.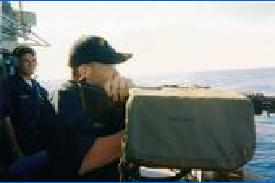 Rob McCormack in the Navy.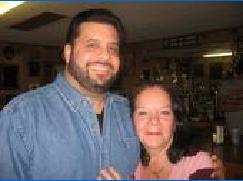 Ginny Sawyer and her husband, Jesse Feliciano.
---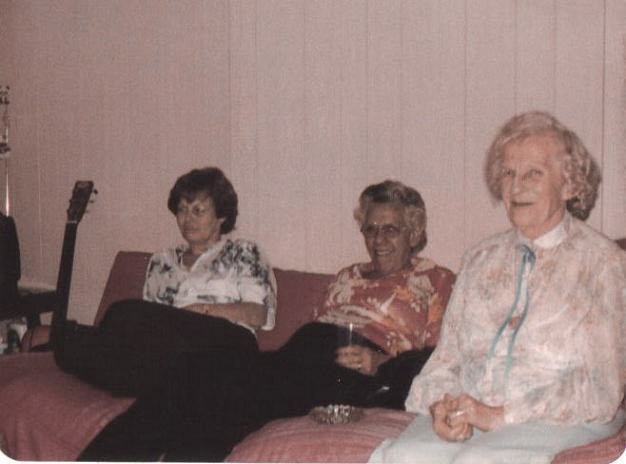 Dee, Dotty Nicolay and Helen Fecher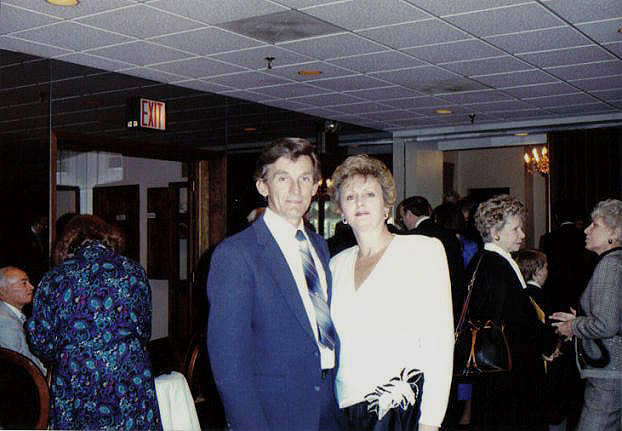 Don and Vicky Fecher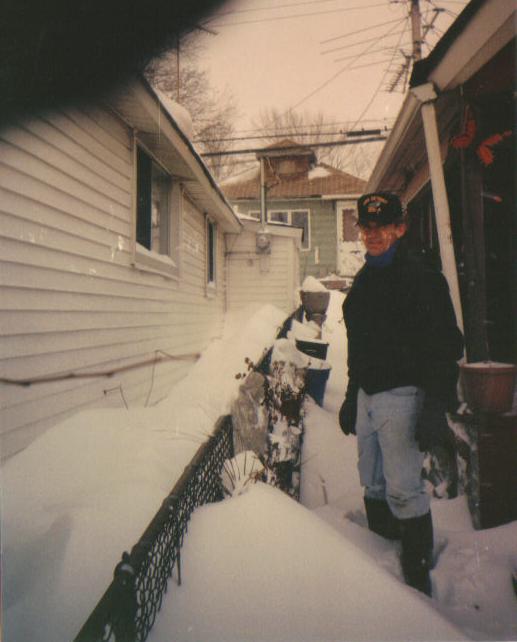 Don at 155-C after snowfall.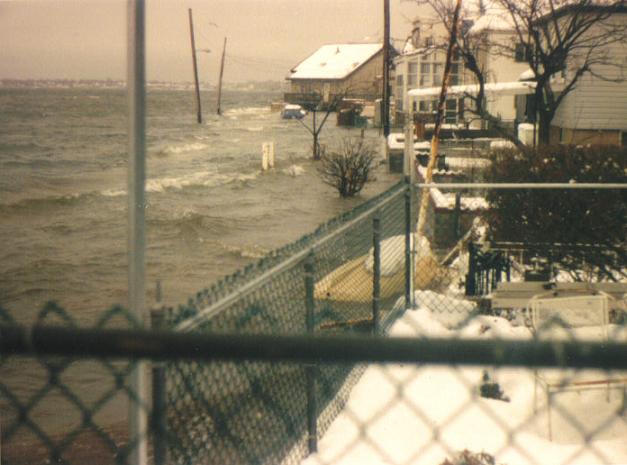 Storm near Sandy Beach. Note covered seawall and street.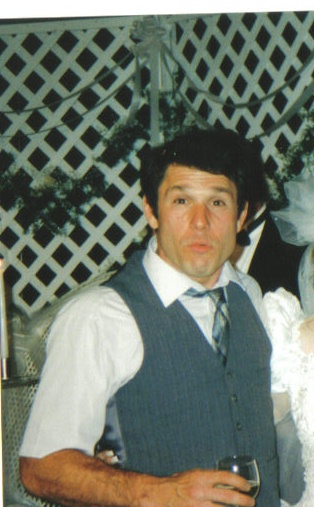 Erich Horn
---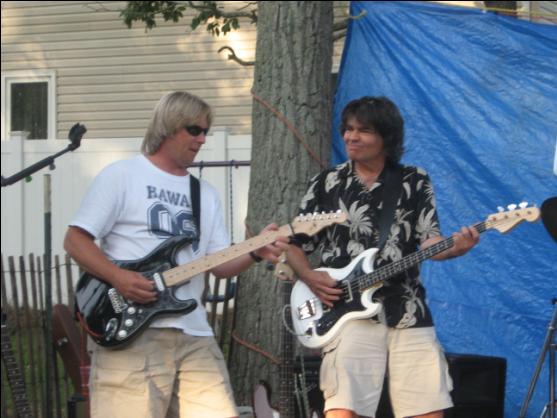 Donnie with his band. Photo 7/04.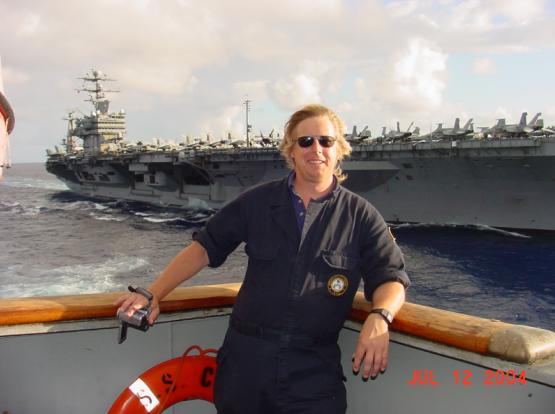 Donnie Fecher's career was in the Navy. It has taken him all over the world.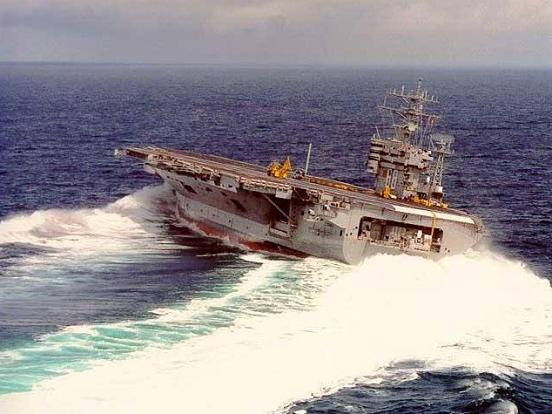 I asked Captain Fecher to give me a ride. Here he pulls a Power Turn. What a showoff!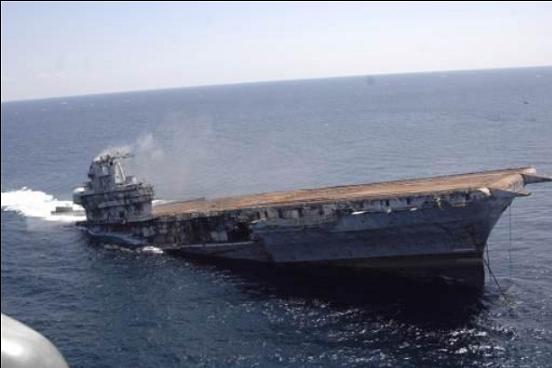 Oops!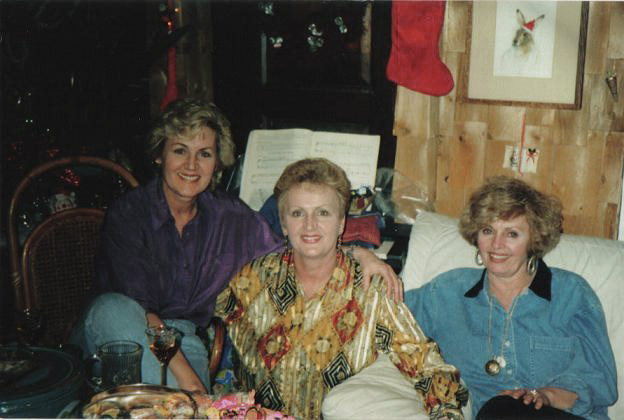 Mona, Vicky and Diane Schleininger.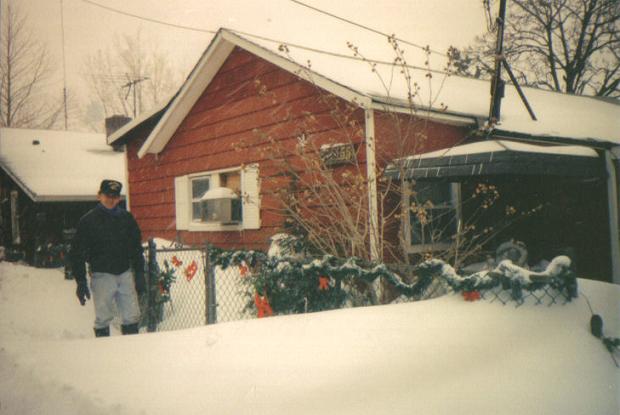 Snowfall at Don's at 155-C.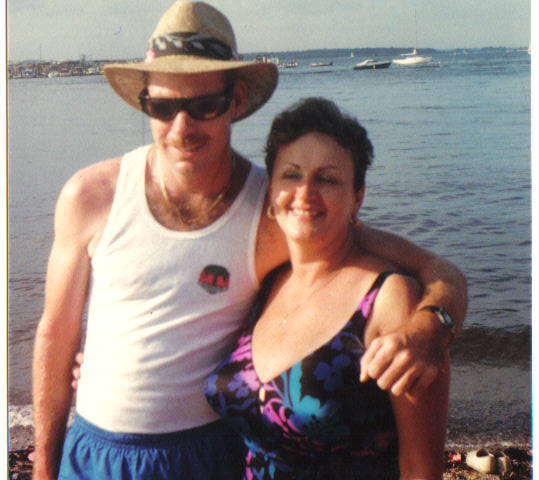 Steve Hunton and Vicky (Schleininger) Fecher.
---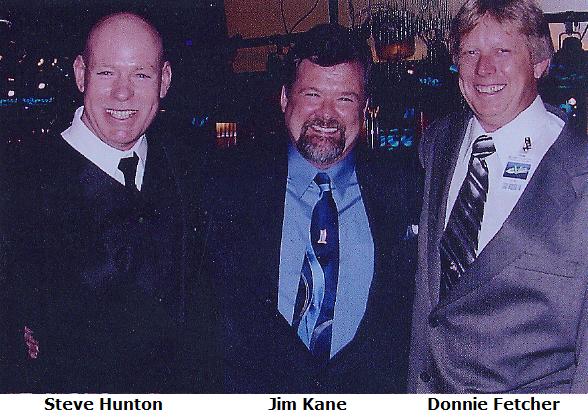 Photos thanks to Donnie Fecher.
---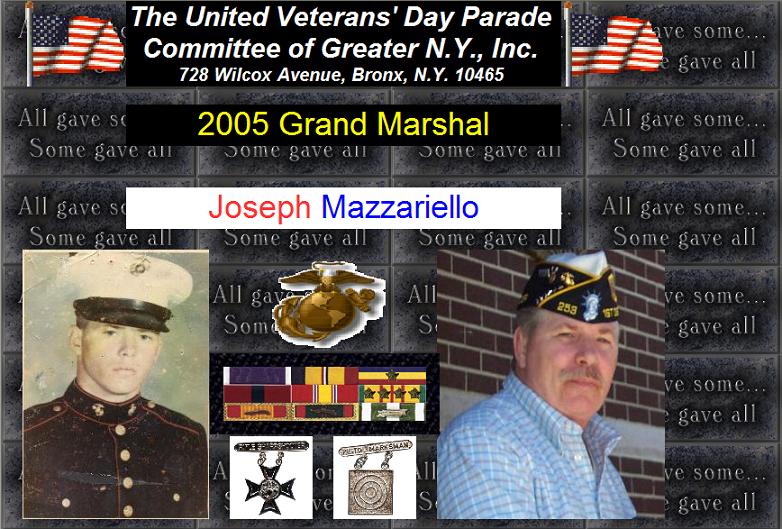 Joe Mazzariello. I've known this guy since the day he almost went off Sandy pier on his 450 Honda, which he abruptly sold to me. That was the mid-70's. In '78 he did a very moving thing for me and my brothers when he brought an honor guard to the Schuyler Hill Funeral home after learning my brother Gary was a Vet. I've never forgotton that. Thanks Joe.
Click anywhere on his picture to go there.
---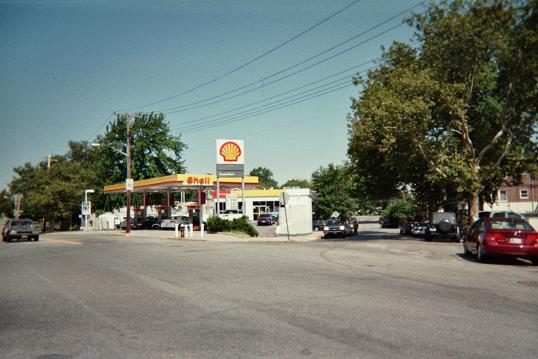 The Shell Station is now part mini-mart. No more repairs.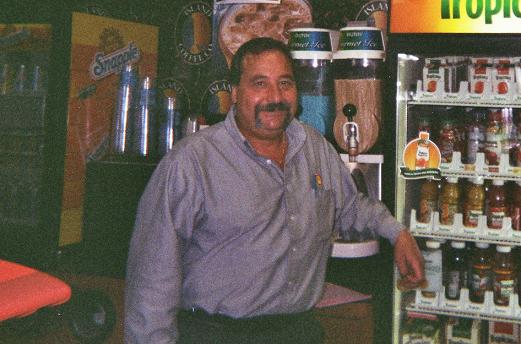 Here he is. John Frank. Everyone knows John. He's been running Shell since the 70's. He's one of the best people in the neighborhood. They don't come any better than John.
So John is gone, retired. I wish him the best.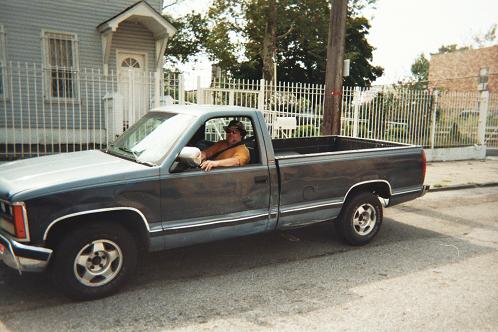 Steve (Scott) Hostomsky
Everyone knows Scott of 27-D. We've been friends for decades. His brother Don (Dondi) was a NYPD cop. His other brother, Dan, lives in Edgewater with his wife Delores (O'Flanagan) and kids. His sister Arlene was also a cop, as was their father, Donald. Another daughter, Diane rounds out the family. Before he got married, Don, the father, was a Submariner at Groton, Conn. You got to have nerves of steel to be a submariner. His wife, Odette, was from Canada. They lived in the Southeast Bronx before moving to Edgewater. Scott never seems to look old. Must be that clean living, huh?
---
The Acker's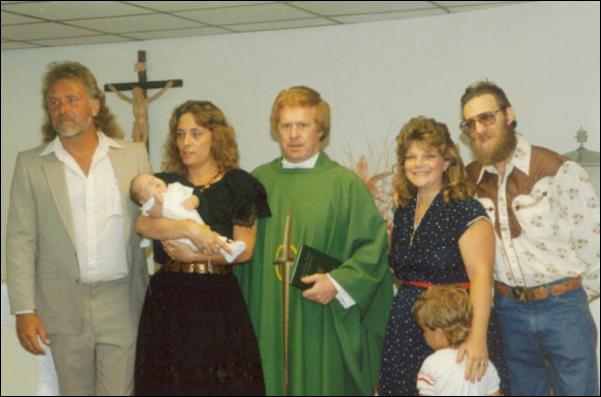 Hotch and sister Maggie Acker hold Ryan, Shelly's third child while Shelly, and son Derek and Pete Connors look on.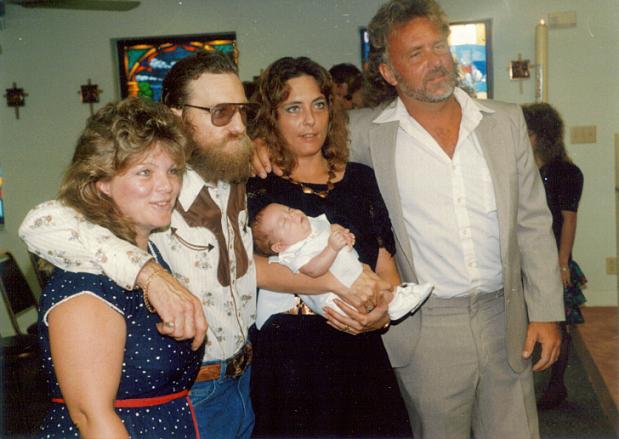 Ryan's Christening; Shelly and Hotch's third child. Maggie Acker and Pete Connors were the Godparents.

Pete was murdered in 1990 and Maggie died of a heart attack in 2003.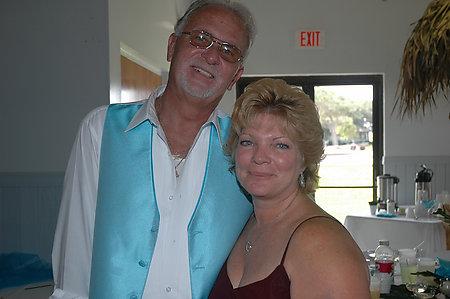 Hotch and Shelly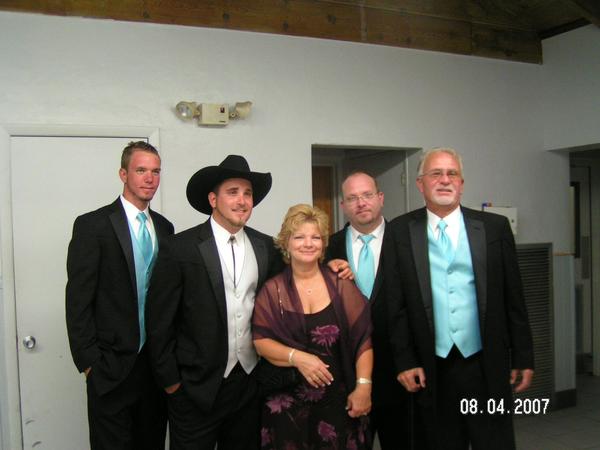 Shelly (Lombardi) and Hotch with sons: Ryan, Derek and Hotch the 3rd.
---
Photos from John (Mack) McNamara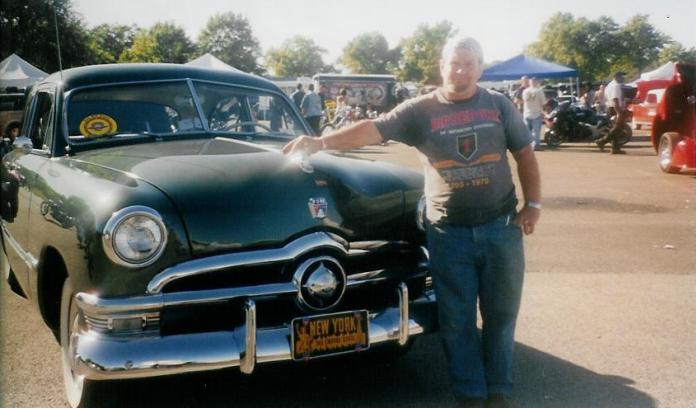 Mack and his '50 Ford at the 911 Benefit Car Show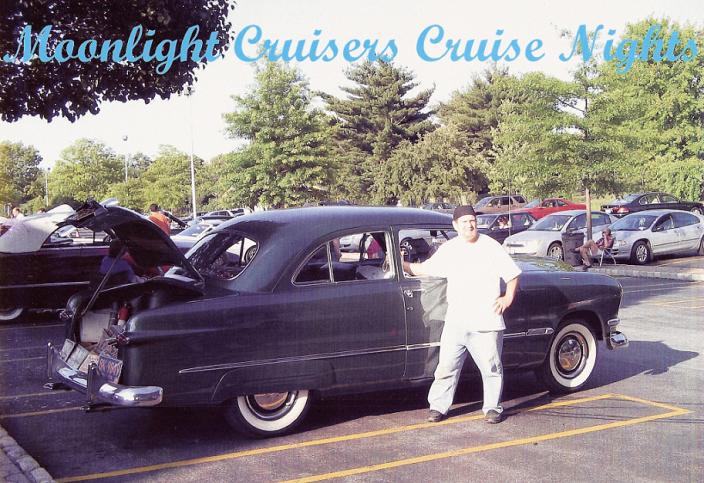 Another shot of Mack's '50 Ford. Beautiful, hah?
---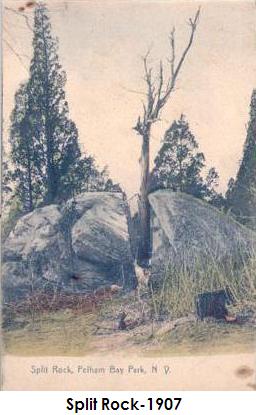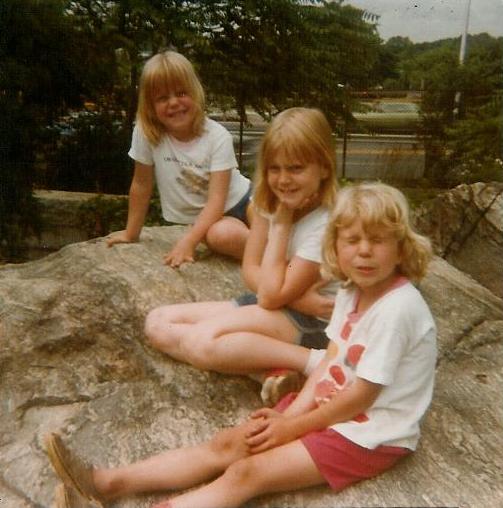 Mack's Daughters: Joanne, Paula and Kathy. At THE Split Rock- July '79.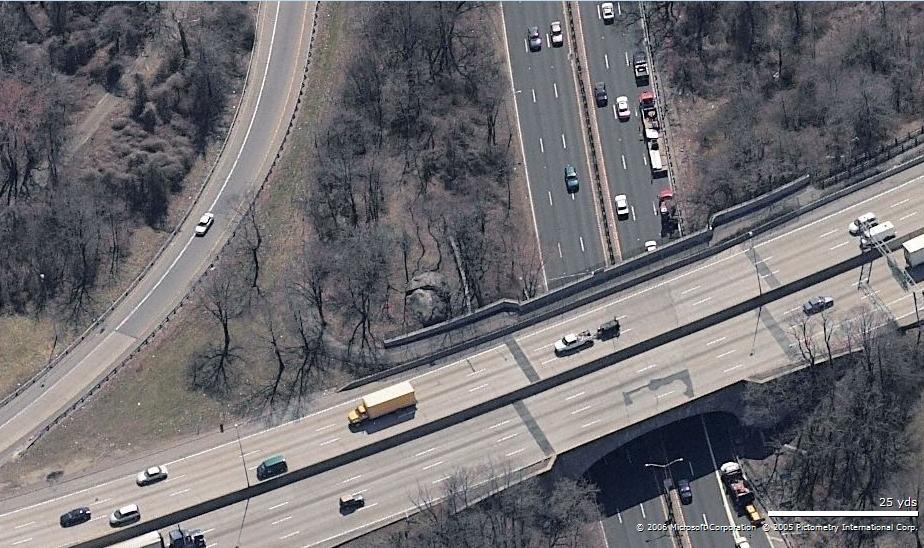 Split Rock, above, is at the junction of the Hutchinson River Parkway, (top to bottom is North) and the New England Thruway, (right to left is North).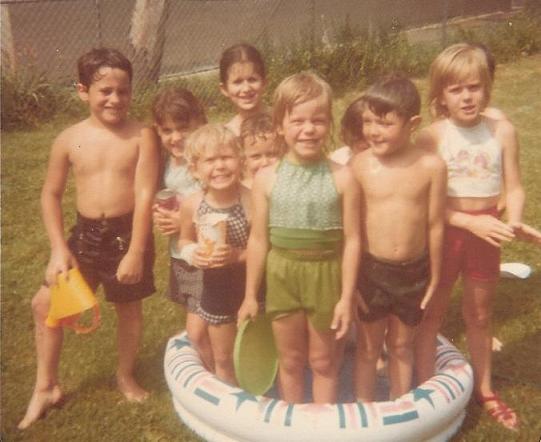 Legion Picnic 1978.

From left to right... Michael Santiago and Michelle Santiago, in the back is Kim Devlin. Holding the cup is Kathy McNamara, then next to her is Bobby Goldsmith. Next in green suit is Paula McNamara, then Billy Goldsmith and Joanne McNamara.-Year '78.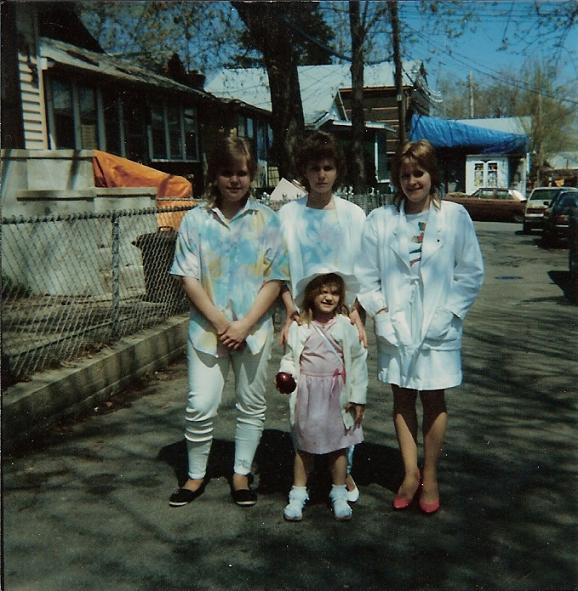 The 3 McNamara sisters and baby sister Jennie Attis - Easter '87.

Behind them a second story is going up on the Mutze house. Third house in on the left is Goldsmith's house.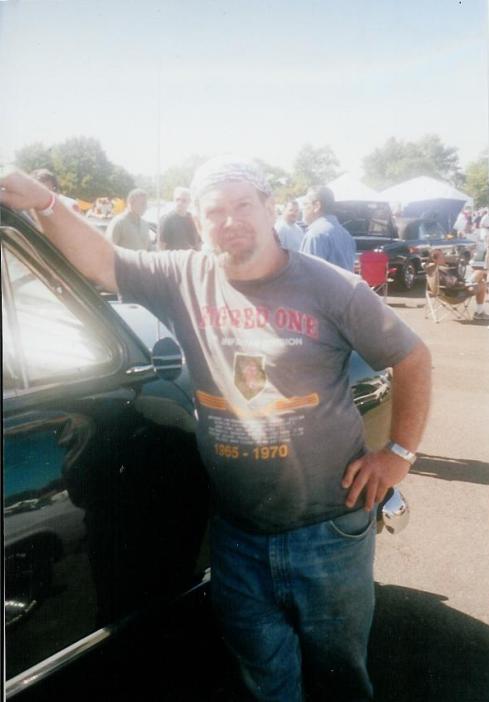 John McNamara Jr. (better known as Mack), son of famed Bronx Historian John McNamara Sr.

When I asked John about the shirt and when he was "In Country" he replied: I was in Vietnam 1/10/68-1/11/69. I was with the First Infantry Division (Army) Alpha Company 2nd Battalion 28th Infantry Division (A-2-28) Black Lions of Cantigny.

You got my respect, John!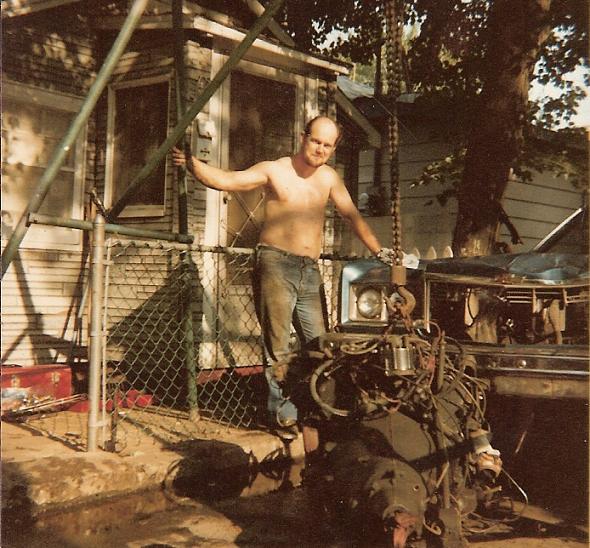 Mack pullin' an engine. Try that now! When I was a kid Mrs. Cheesman lived here at 45-B. After she died Mack bought it. Mack and Billy Freda, from C-Section did a lot of fixing the cars in the Park. Back then, a mechanic could make some decent money on the side. Photo from '84.
---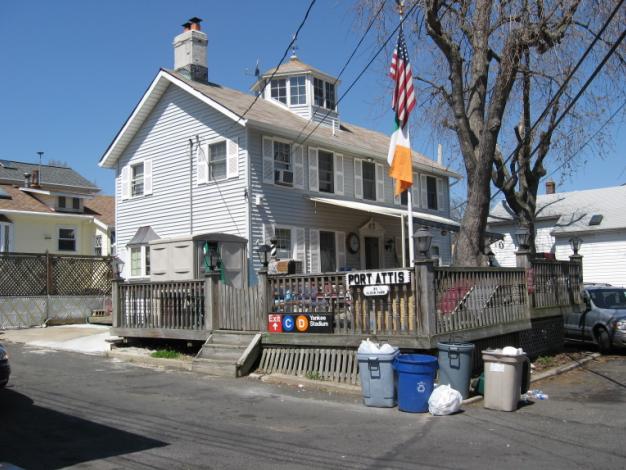 Joel Attis' house, in Alden Park, is one of the oldest houses in the area. It is the only house in the area on a 1905 map.
---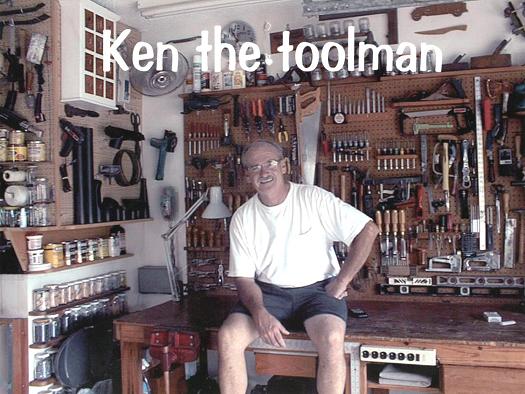 Kenny Attis, one of the Attis boys, lives in Fla.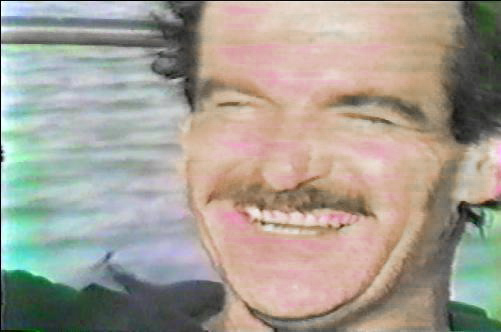 Kenny out in the boat down in the Keys. These shots were lifted off an old videotape. Hence the poor quality.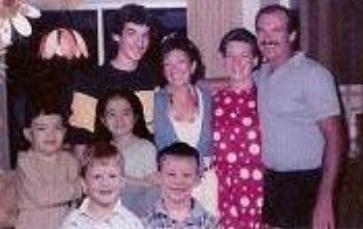 Kenny and Family.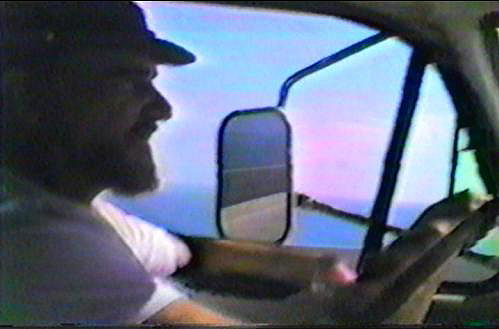 Steve Attis driving down to his house in the Keys with the guys.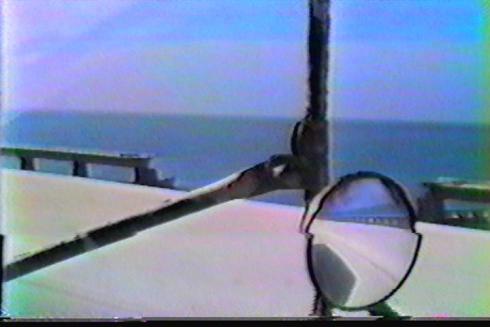 The break in the roadway of the old US1 off to the right.

If you watched the movie True Lies, this is where they shot it up with the Harrier's.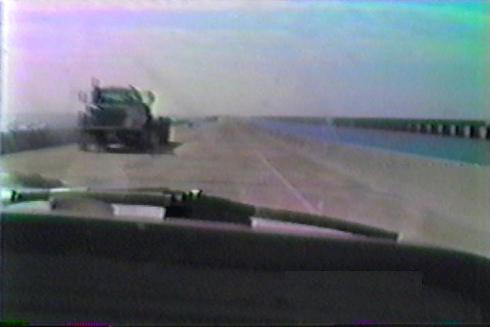 This is the new roadway. You can see the second break up ahead on the right. This is where the car goes off into the water. The old roadway was originally a railroad that was wiped out in the Hurricane of '35. They capped it with the roadbed with one lane in each direction.

I was coming down the old roadway one night in a Chevy van and a wide load house trailer going the other way without an escort missed me by a couple of inches. Clipped the mirror. We must have been doing close to 50. This could be a treacherous roadway.

I stayed down here in '79 with my wife Patty. We rented a bungalow on the end of one of the keys and they had a factory line set up over by the original roadway by the water for working with the new concrete roadway that they were installing alongside the old roadway. They would barge down these pre-cast concrete sections for the new road. The motel, called Edgewater, had a private little dock for each bungalow. I had a nice shag carpeted Chevy Van, black, windowless, short body with orangey, rust colored shag carpet throughout. Back then it was the way to go. It also had chrome mags all around. A six cylinder, three on the tree. I had my 16 foot Glastron on the back, a 115 hp Merc with a chopper prop, which I put in the water and parked at the jetty. I also had a Sporster in the back of the van that I would take out whenever we got where we were going. It stayed outside the whole time we were there. It was great. We'd jump on the bike and head out to Sloppy Joes, or elsewhere in Key West at night. In the daytime we'd go exploring with the boat. It had power trim which was good for the Gulf side which could be real shallow outside of the channels. Patty was sitting all the way up on the bow with her feet dangling in the water when she stirred up a Ray, which took off in front of her and scared her half to death. She rolled back on the deck, over the windshield, and into the boat. We also saw a baby shark about a foot long. It was fantastic being down there with her. I have some great memories. Thanks Patty.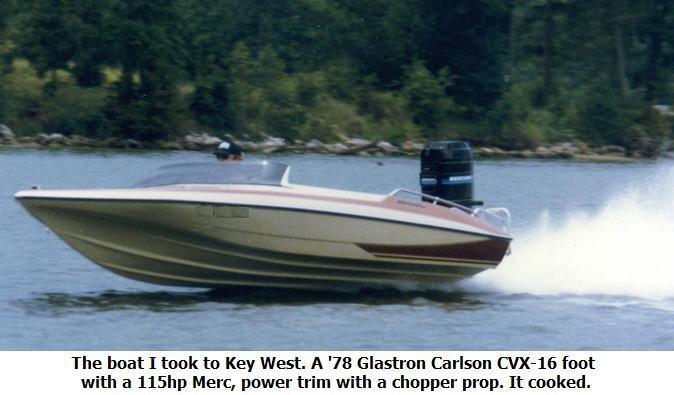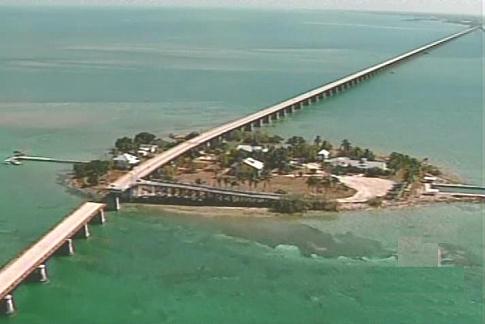 The 7 mile Bridge and Pigeon Key.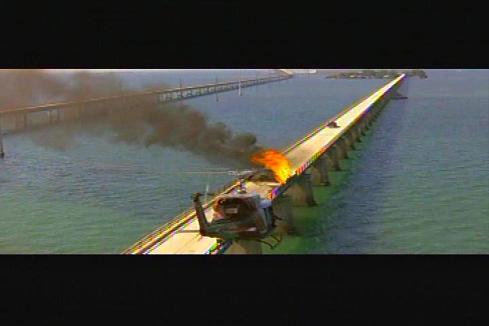 The island up ahead is Pigeon Key, which had a turnoff from the old road. It's used by the University of Miami for Marine Biology (At least it was).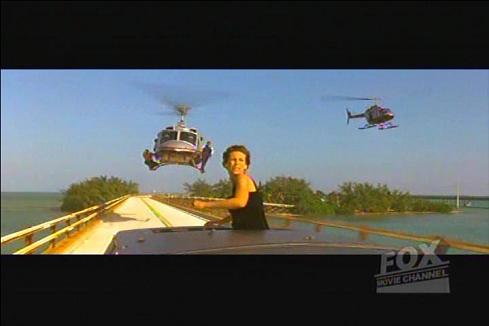 Here seen past Pigeon Key. You can see how narrow the roadway was. That's because it was a railroad prior to the Hurricane of '35. (Remember 'Key Largo' with Bogey and Becall?)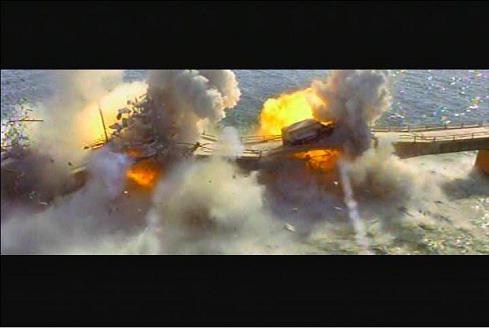 A couple of missiles and Voila!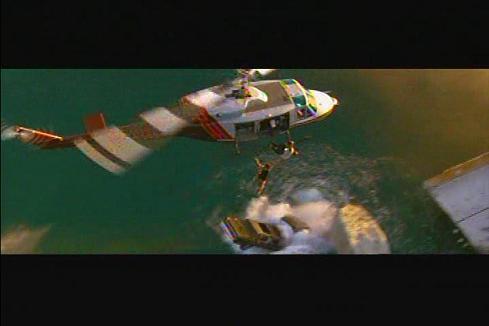 Saved just in the nick of time.
You can see the edge of the roadway below her. Guys..., Guys..., below her!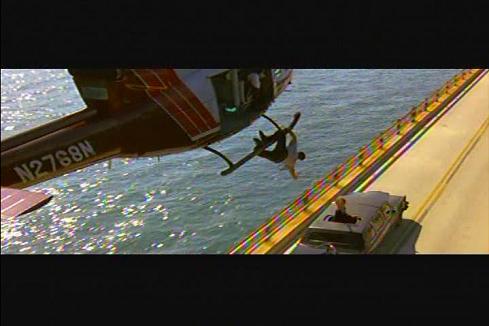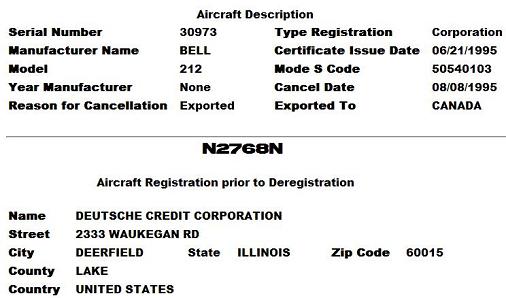 I like to look up N-numbers of movie aircraft.

Click here to enter an N-number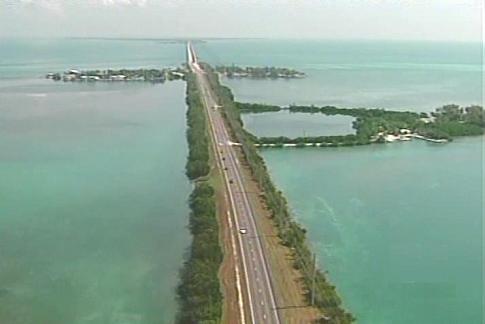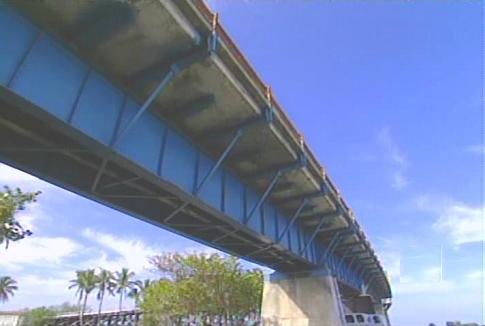 Looking up at the old roadbed, you can see how they attached it to the railroad structure.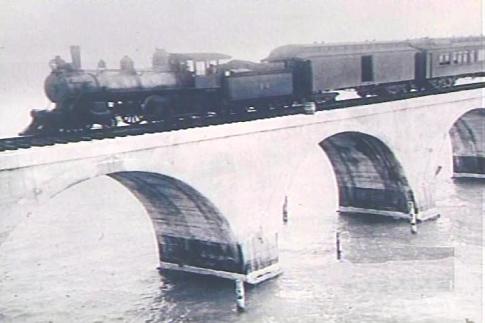 Narrow enough? This train ran from Miami to the very end of Key West.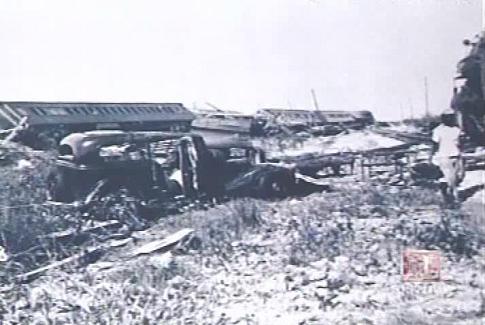 The Hurricane of 1935.

The destruction was total. The barometer reached the lowest level ever recorded in the U.S.. There was no place to go, no place to hide as the Keys are barely above sea level.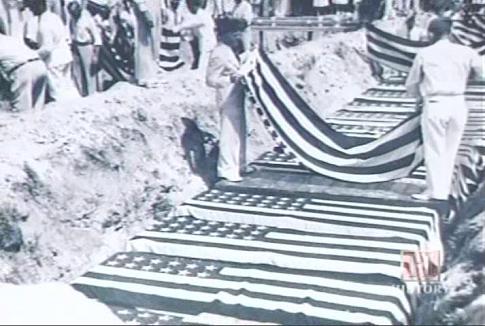 So many people died, both civilians and WW1 veterans living here, that they had to burn the bodies.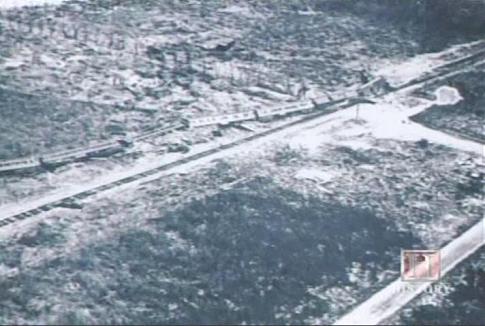 In an attempt to rescue people, they backed a train down from Homestead. It was broadsided by a huge wave that knocked the train over. Afterward, it was decided not to rebuild the railroad. Monroe County started a bond drive to cap the old railbed with a road, which they did.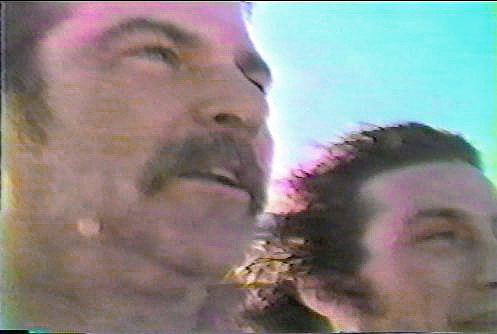 Joel and Billy out in the boat with the rest of the guys.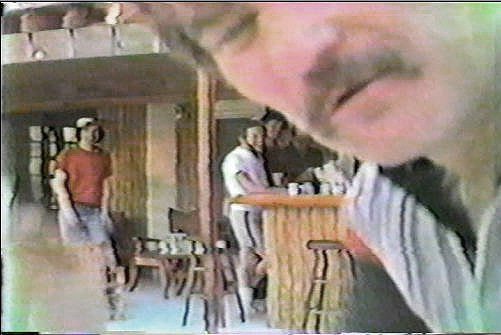 Billy Britt, Tutty Dyckman, Eddie Woods, and Joel at Steve's house in the Keys.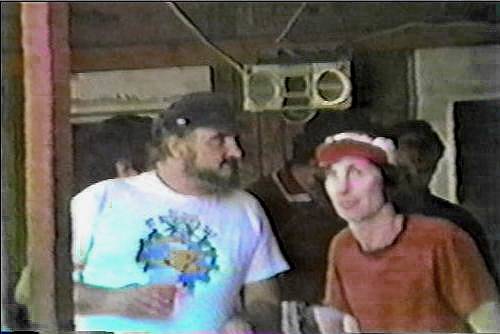 Steve Attis and Billy Britt.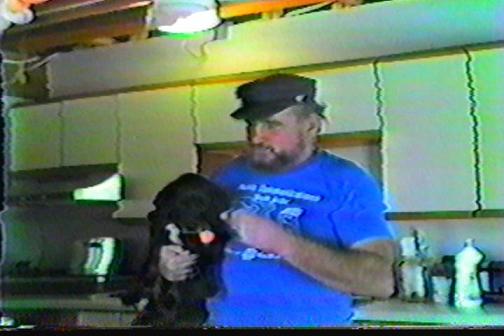 Steve and his pooch.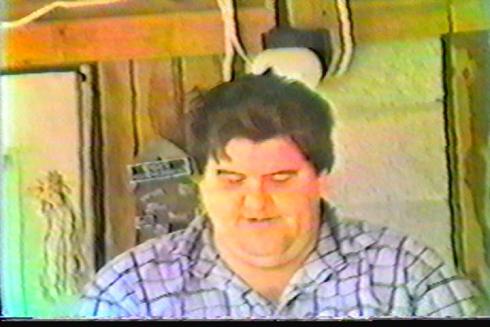 Eddie Woods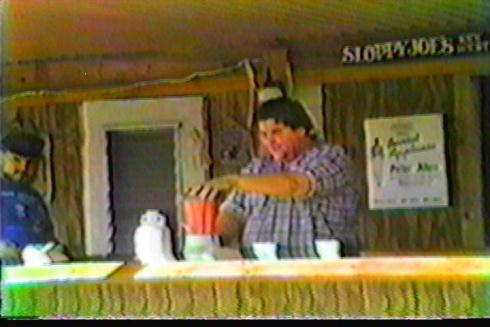 Ed, who normally didn't drink, making strawberry daquari's for him and the guys. Note the Sloppy Joe's sign. Steve worked for Bell Telephone, lived in Pompano Beach, and had this house down in the Keys that he got alot of use out of. This time the Bronx boys were down on vacation. Ed told me they had a fantastic time. It's great in the Keys.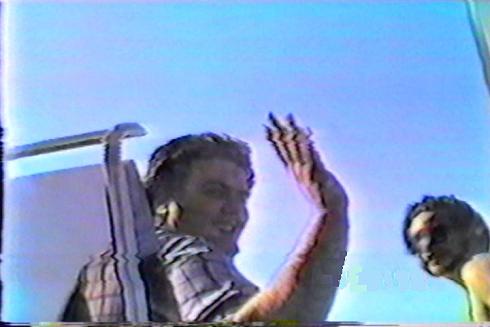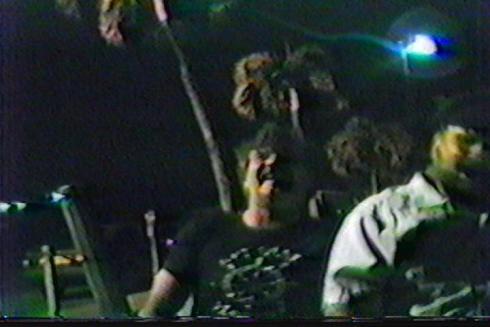 Joel and Steve on the bench listening to a guy with a keyboard. Both of them feeling no pain!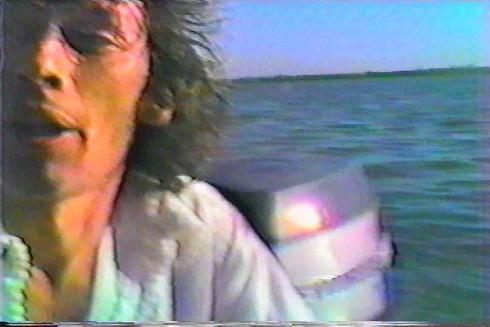 Billy Britt. I'm surprised he had his clothes on (Inside joke). Just kiddin' Billy!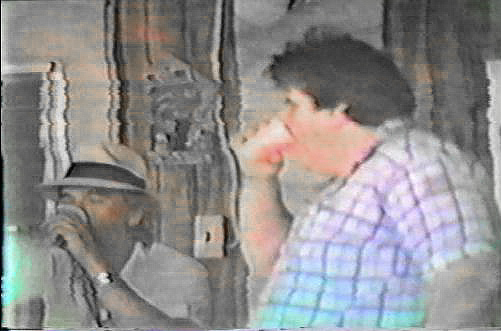 Jimmy O'Rourke and Eddie Woods drinking Eddie's Strawberry Daquari's.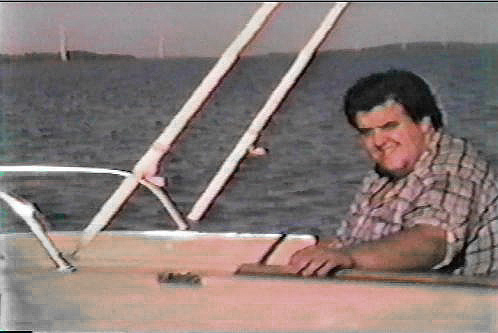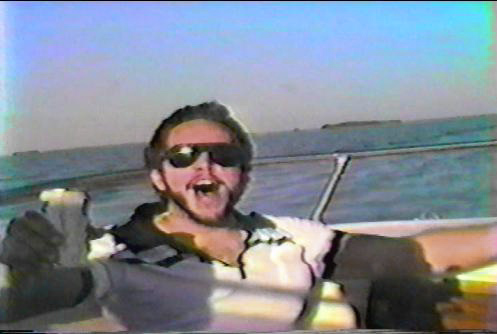 Tutty, beer in hand, out in the Keys.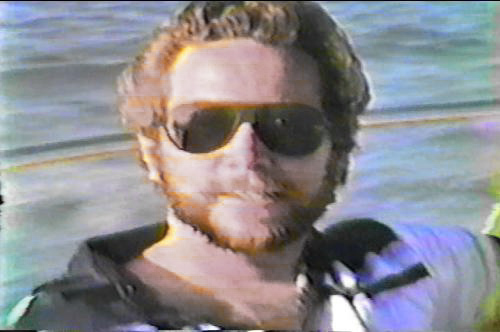 More shots from this tape and possibly parts of the video itself at a later date.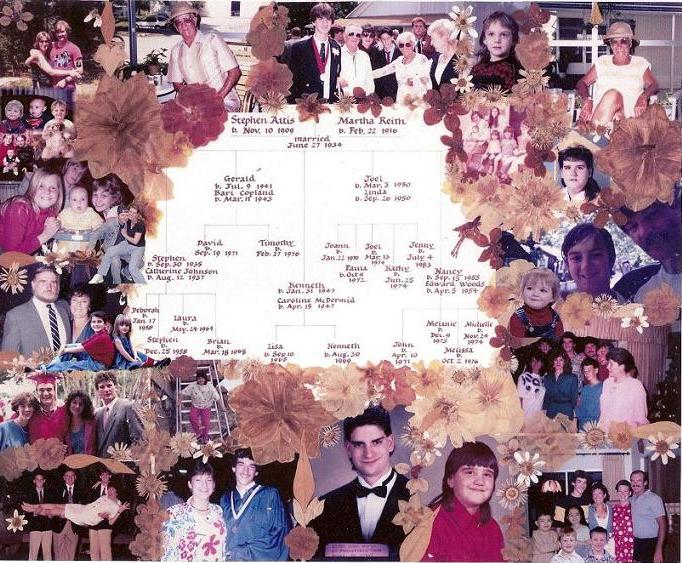 Hold CTRL key and tap plus (+) key to enlarge it. Hold CTRL key and tap minus (-) key to reduce it.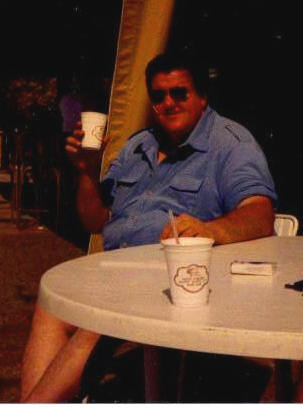 Eddy Woods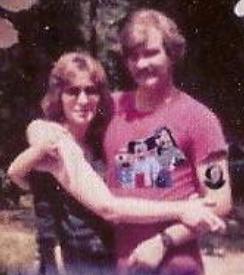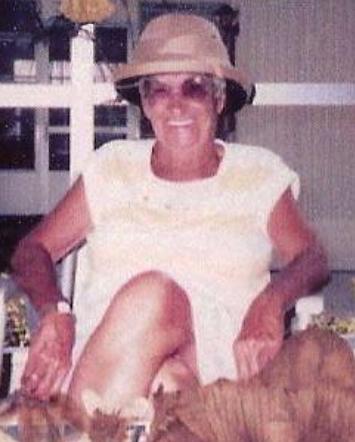 Mrs. Attis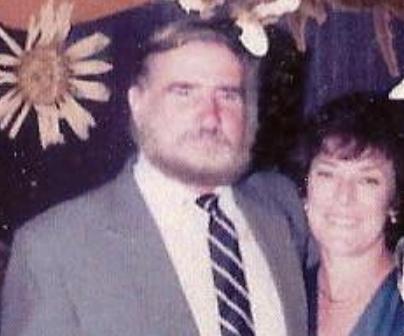 Steve and Midge Attis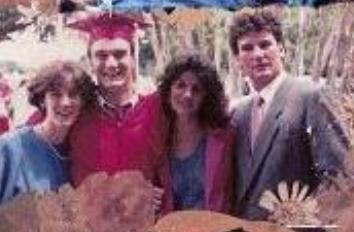 Steve and Midge's Family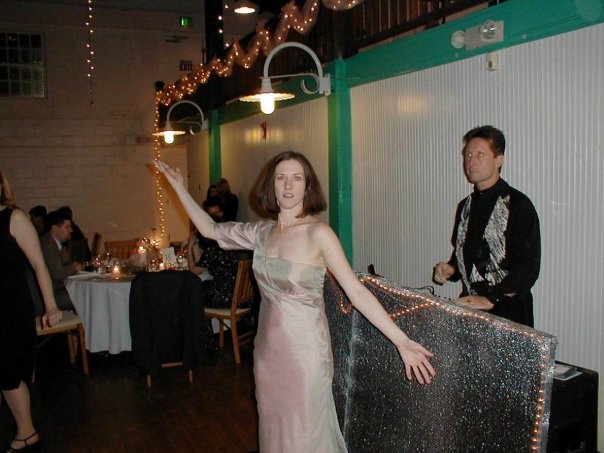 Laura Attis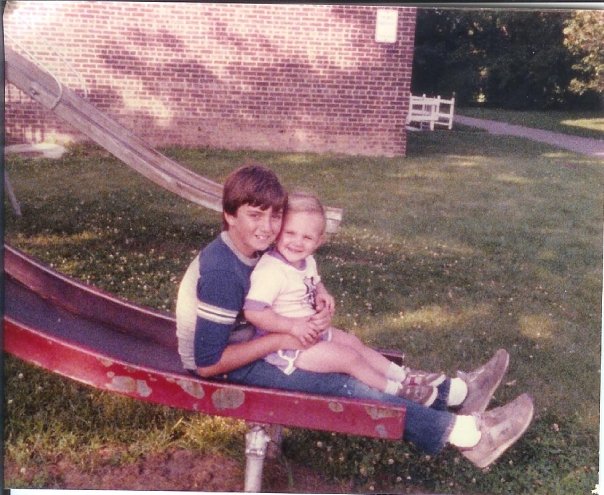 Joel Jr. and Jenny Attis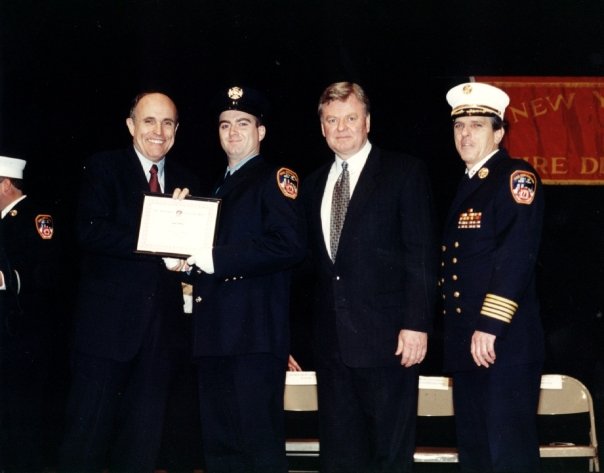 Joel Jr. becomes a Firefighter.
---
The Rooney Family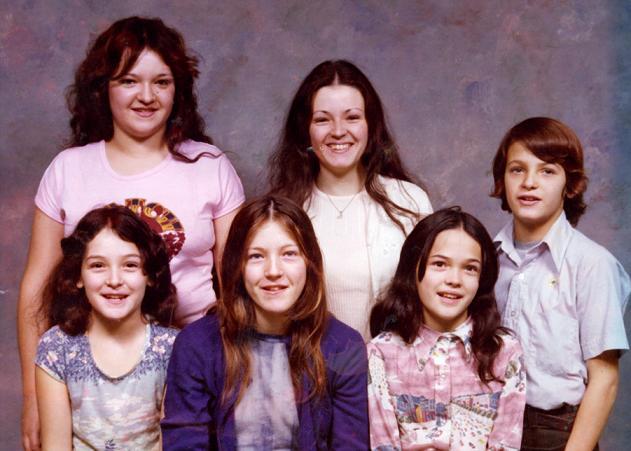 Louise is in the center reddish brown hair, Linda long black hair, Lillian and Lizabeth on the bottom, Tommy on the end, Loraine has pink top. Photo-Louise Rooney Curcio-70's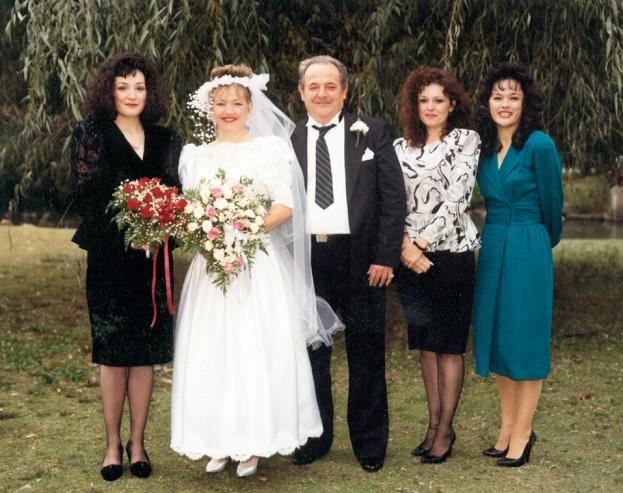 Lillian Rooney, Louise (bride),Thomas Rooney, Linda, and Lizabeth wearing Green dress.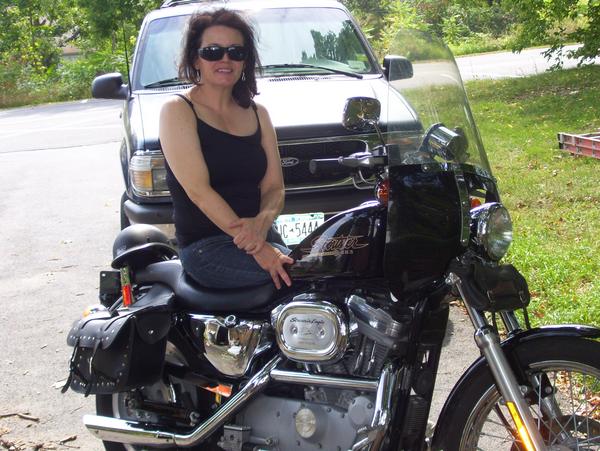 Linda (Rooney) Kearns on her Sportster.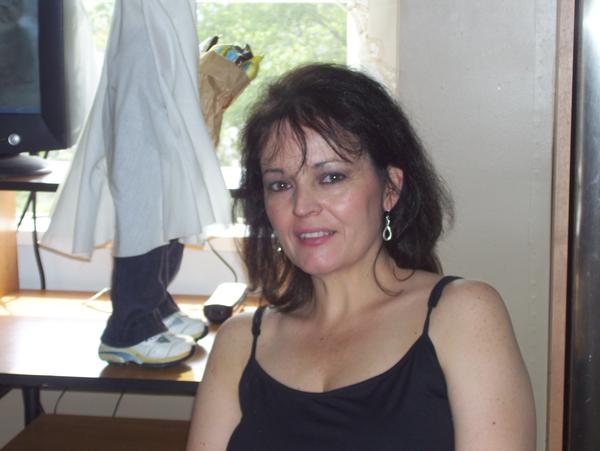 Linda, still a fox!
---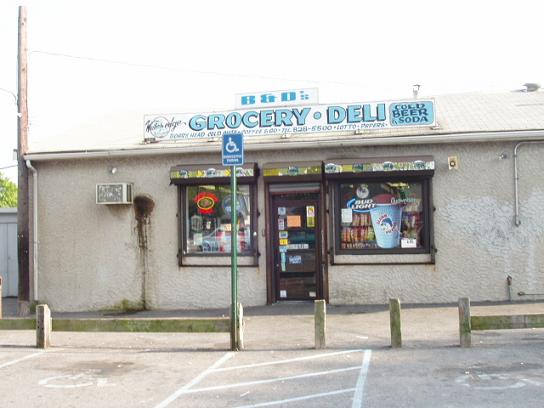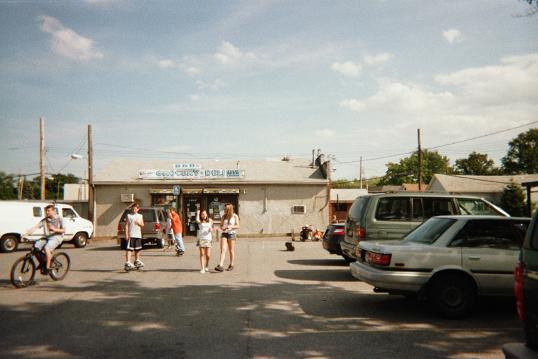 The Deli in Edgewater.





---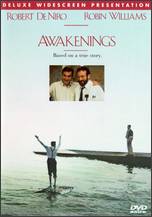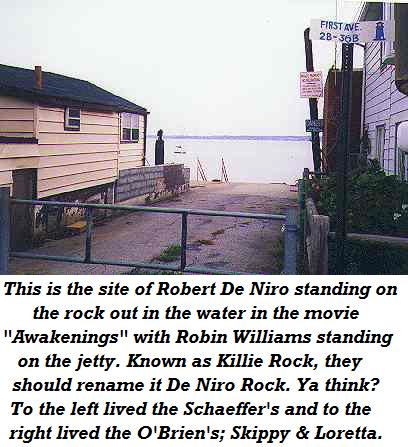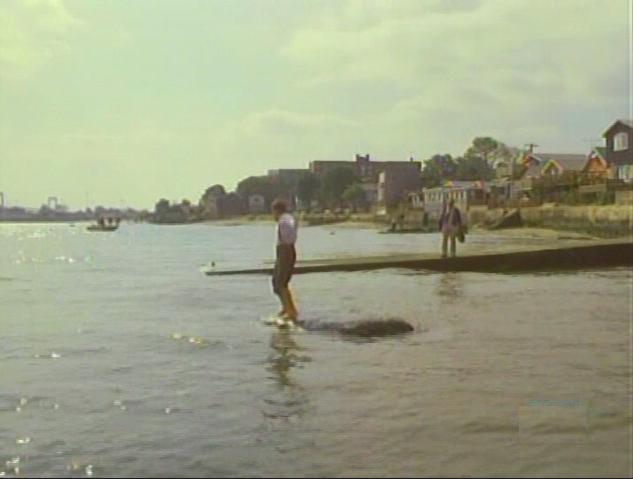 Robert DeNiro stands on Killie Rock while Robin Williams looks on from jetty. Beyond them is Bobby Roff's (of Alden Park) boat with a camera crew. Click HERE for the video clip.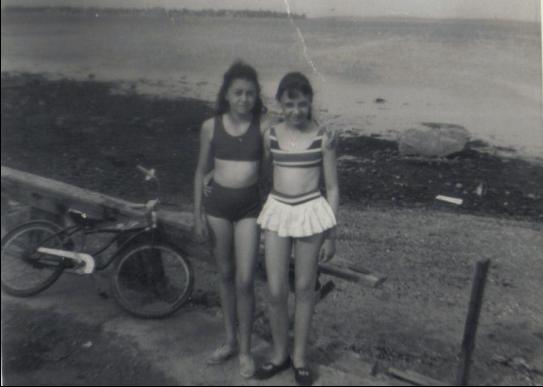 Lorreta O'Brien and Martha Nicolay, who lived in the house below, at Killie Rock.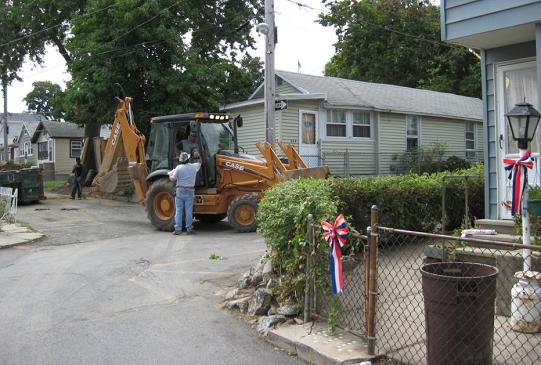 The Nicolay house on the corner behind the backhoe at 64-B.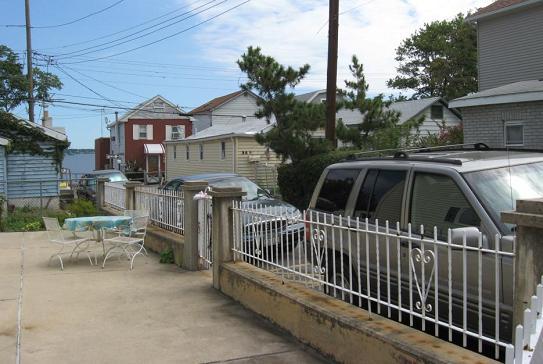 Lorreta O'Brien's house with red front and the Lennon's beige house in front of it.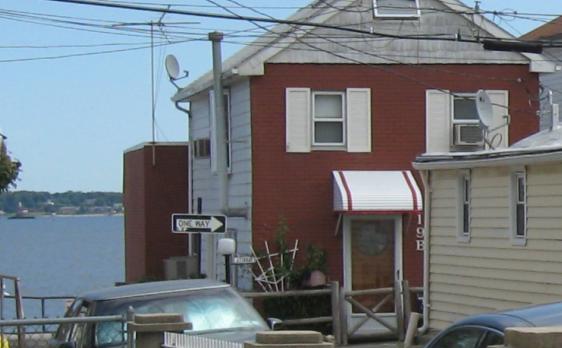 O'Brien's house at 19-B. Note the Stepping Stones Lighthouse at extreme left. Bill had a sign saying Xanadu on the front and alot of partying went on down here in the 60's, although alot of partying went on at many houses then.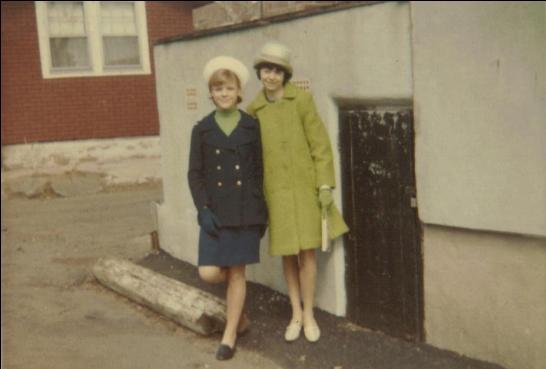 Lois Radomsky and Lorreta O'Brien standing by house next to Lorreta's.

Lois was Steve's (Fish) sister. She lived right behind the Firehouse, on the corner, at 221-B, and had sisters Lynn, Patty and Kathy also. Mike Broderick lives there now. Fish married Didi Krause.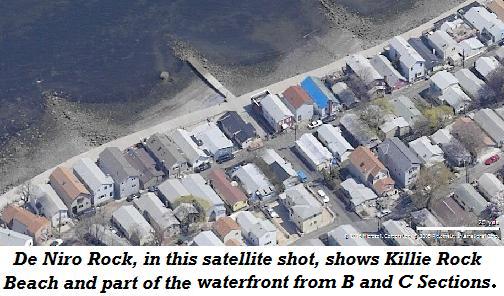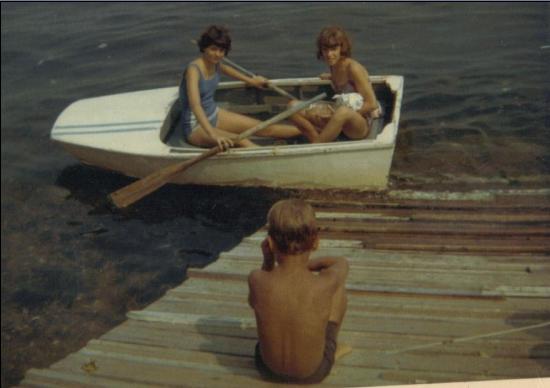 Lorreta O'Brien and Doris Borucinski in Lorreta's dingy. I remember this boat. It was a small pram that Skippy had put a deck on. There was also a cutout for a steering wheel. Skippy, like the rest of us, loved boats and alot of us spent the entire summer out in our boats. It was paradise for a young kid because you didn't need a license and you could go anywhere.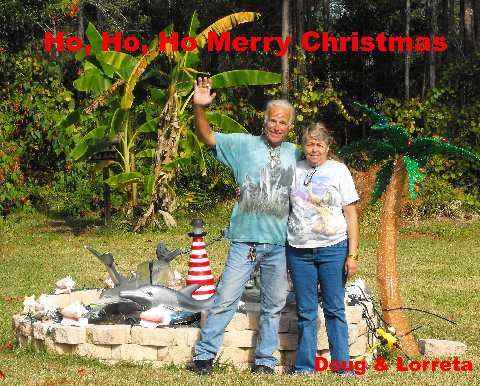 Lorreta O'Brien says Merry Christmas!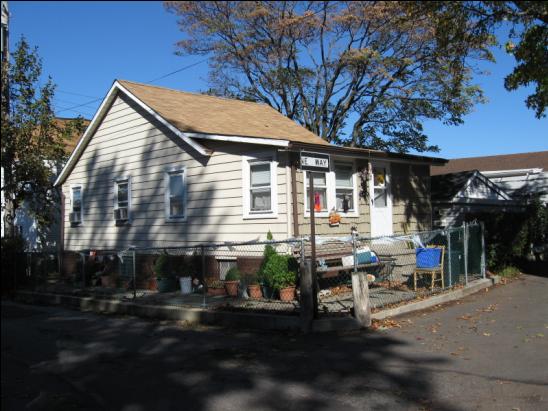 Doris, in the 2nd above photo, lived in this house.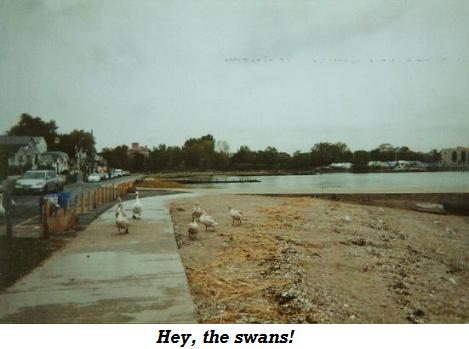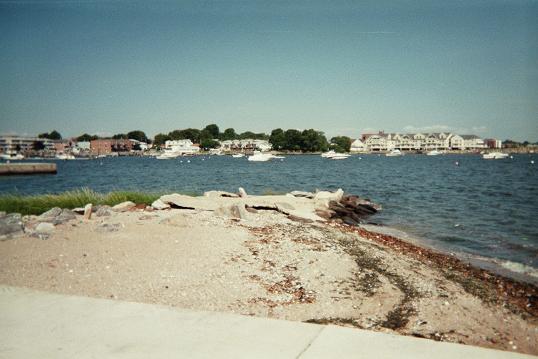 This beach we called Little Sandy, and alot of the rocks and fill came from Mr. Venturelli.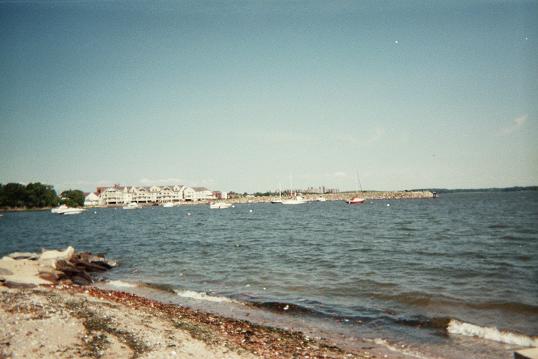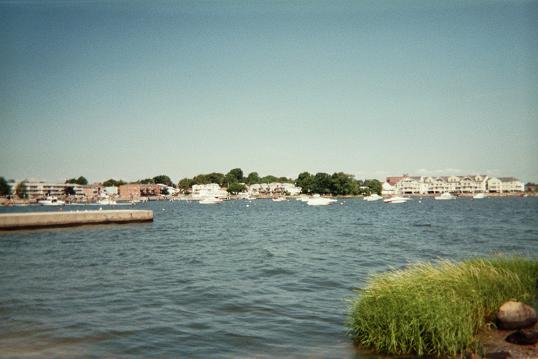 Sandy Beach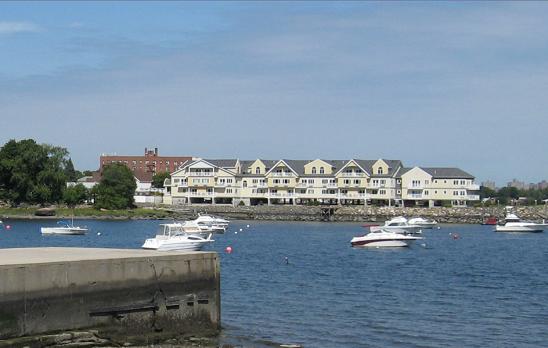 See the huge rock across the water, left in the shot? I look for that rock for comparisons. It's probably been there a few years.

Also, note the new condos on Shelter Cove or "Trainors"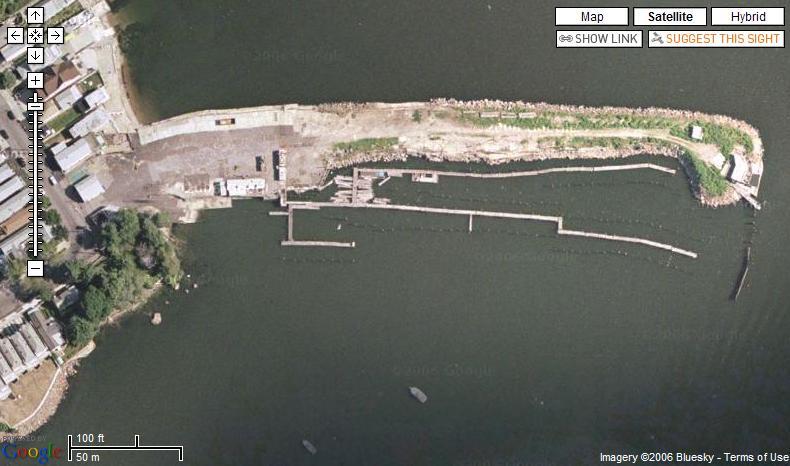 Shelter Cove Marina after sale.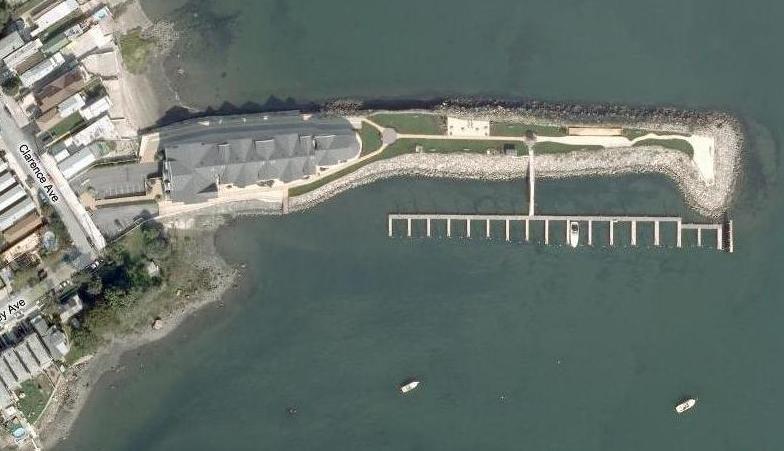 Shelter Cove Marina Now

In the shot above this one you can still see buildings on the property.
---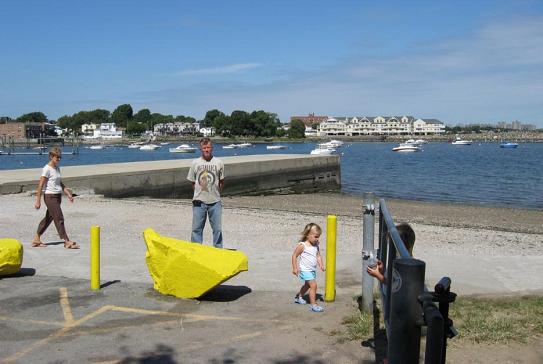 Paulie Dearinger at Sandy Beach.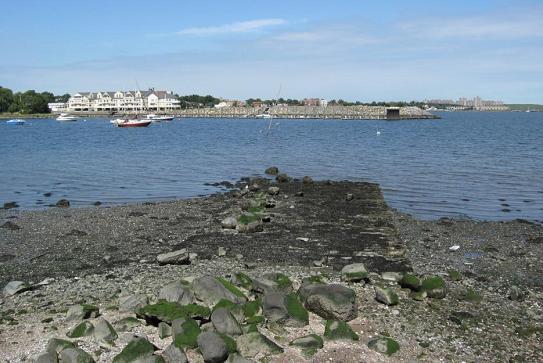 Wreck of an old boat? They used to have a painting of this structure on fire in the Firehouse. Anybody know?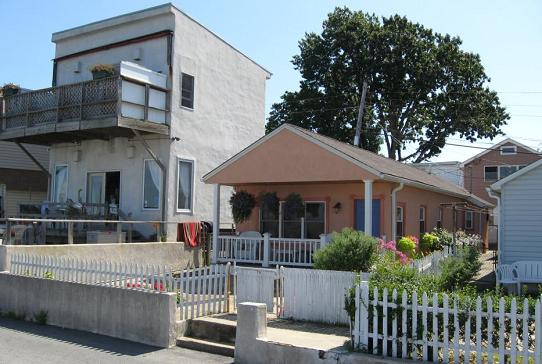 Hotch and Shelly Acker's old house.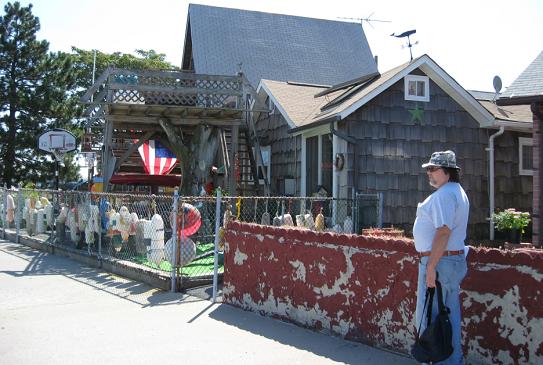 Pillsbury by Skip Tanner's house.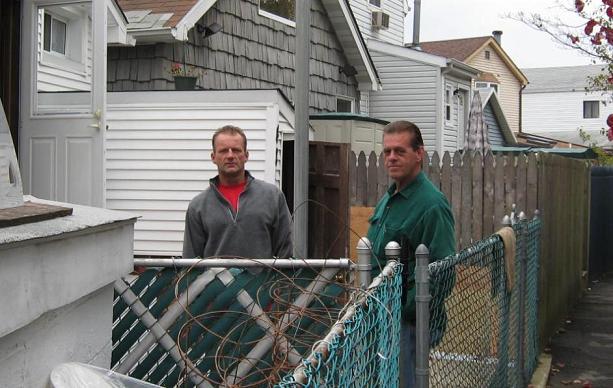 Skippy Tanner on right and Kenny Jackson hangin' out at Kenny's house in C-Section.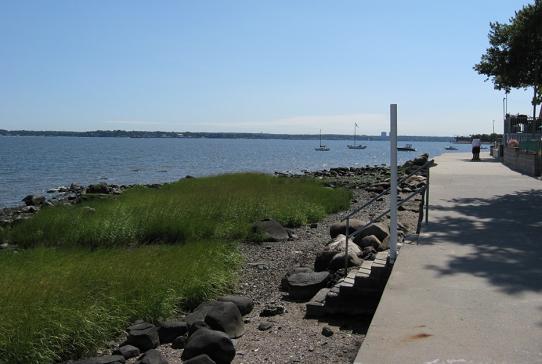 The waterfront of C-Section.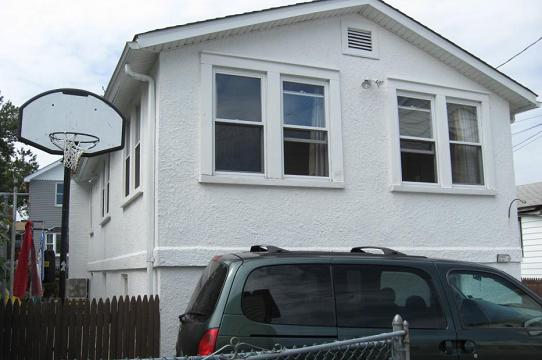 Arline Di Marzo's house, later Frazier's.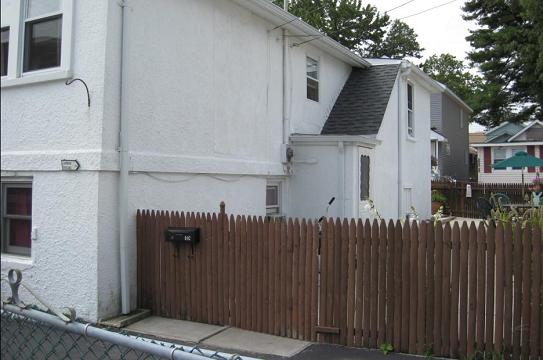 Nice size yard.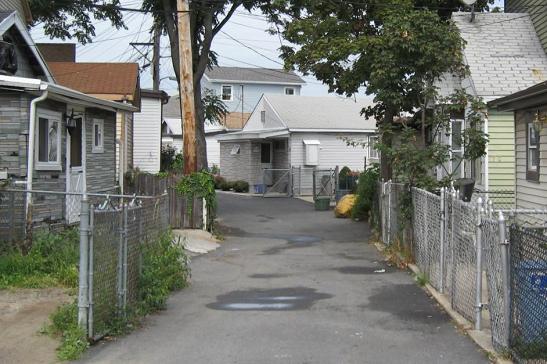 The Tanner's old house, straight ahead at open gates.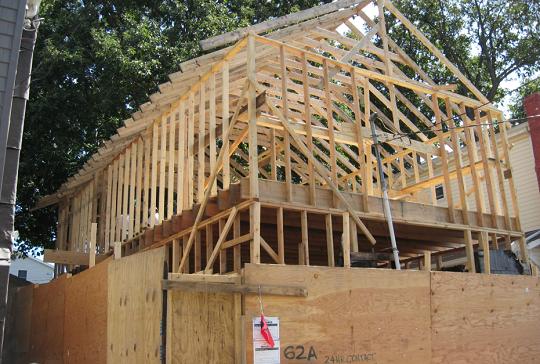 Louie Facille's (EdgeWay) old house.
---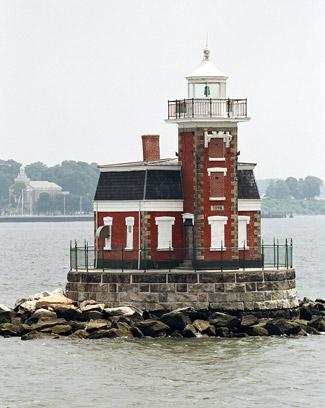 Stepping Stones Lighthouse
When we were kids, we knew from our beds in the morning if it was raining or foggy out, The foghorn let us know.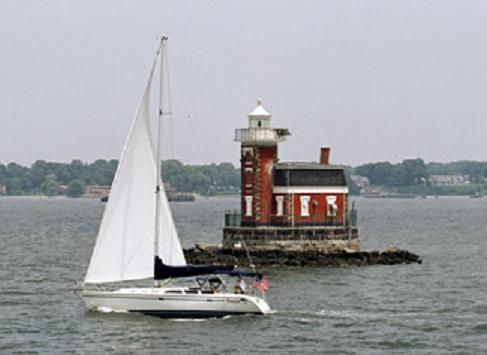 The lighthouse was constructed here when shipping to and from City Island and the Connecticut coast was a major way of moving goods. The water behind the lighthouse, back to the Long Island coast, is very shallow. So shallow, in fact, that you'll hit rocks at low tide with a regular boat. Go to the THE BEACHES page for more on the lighthouse.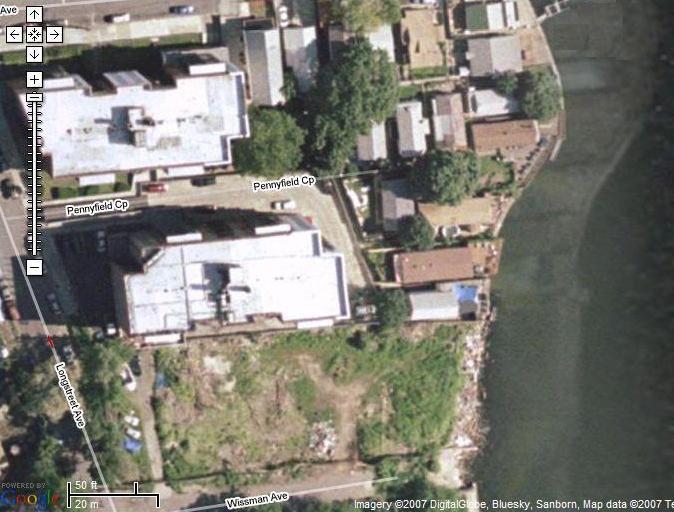 Stueben's empty lot. For years it was like this.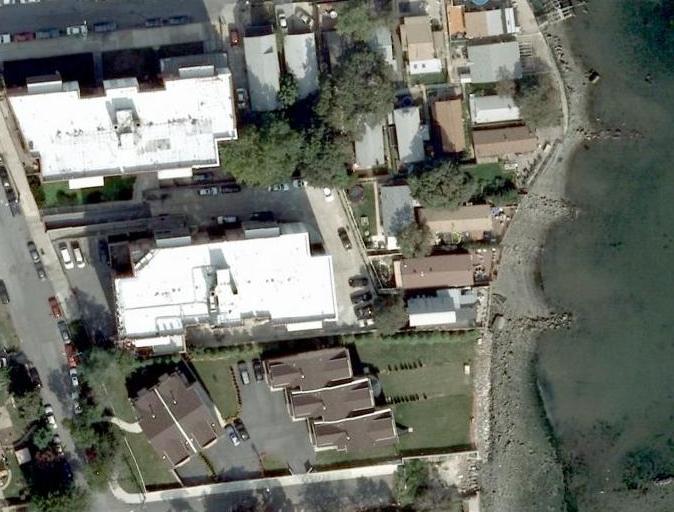 New houses on the lot.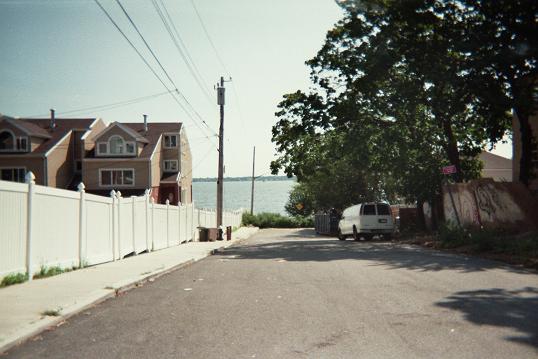 On the corner of Wissman Ave. and Longstreet Ave.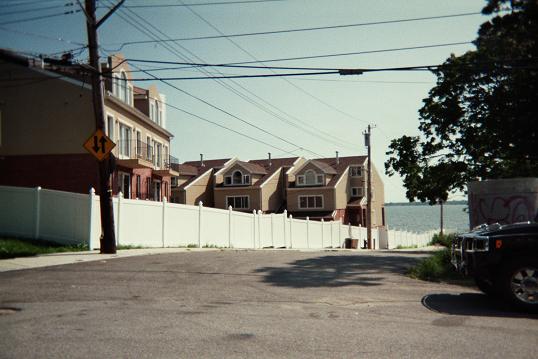 The old Stueben's lot that was once a German Beer Garden.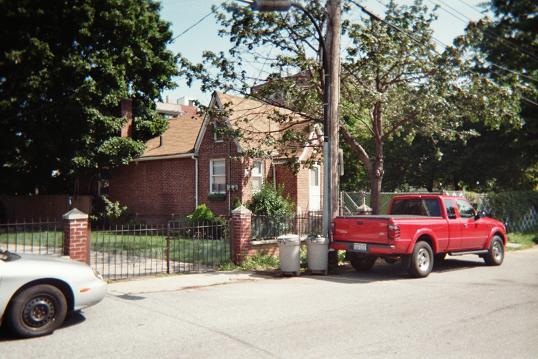 I thought this was once Tony Salimbene's house, but he told me this was Chris Adams house, who left the area when he was a kid. This house will disappear too as lots are bought, the houses knocked down and houses rebuilt on every square inch of the property. Wissman & Longstreet Ave.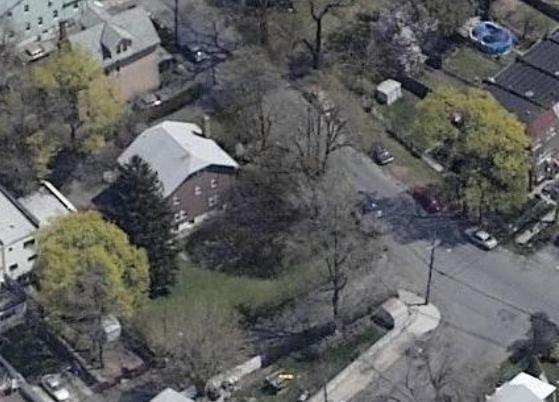 This was the house they tore down on the corner.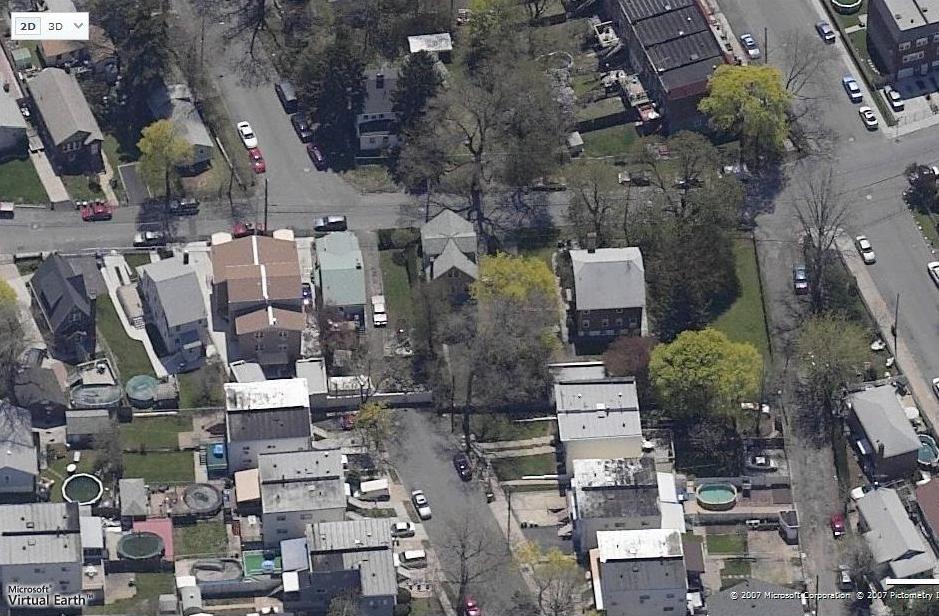 You can see how big the lot was, behind the tree on the right.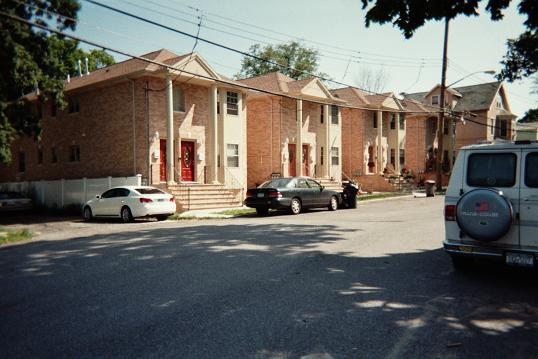 These houses were built on a big lot that had a small house and a huge yard. Near the corner of Reynold's and Wissman Ave. The last house, up the block, was actually Tony Salimbene's house.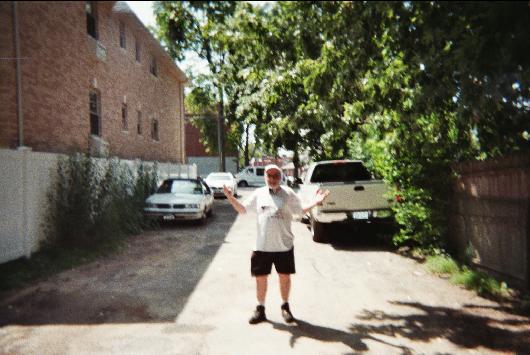 Me on the side of those new houses.
---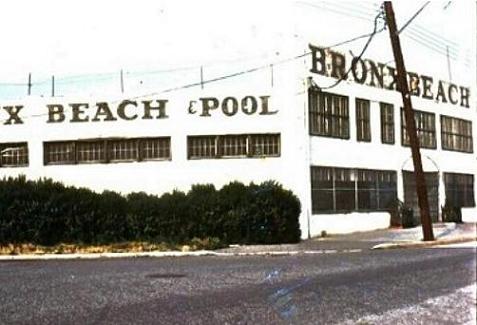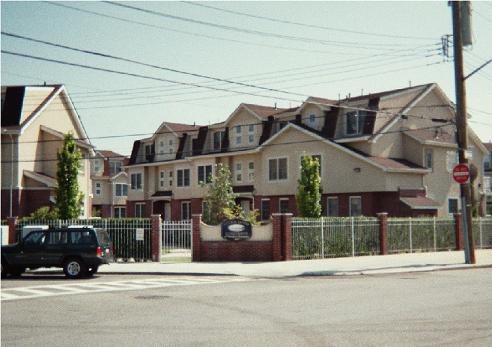 Then and Now.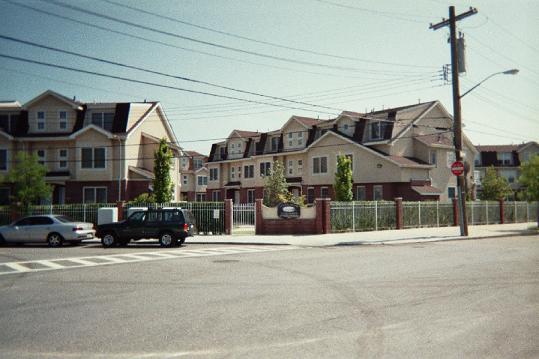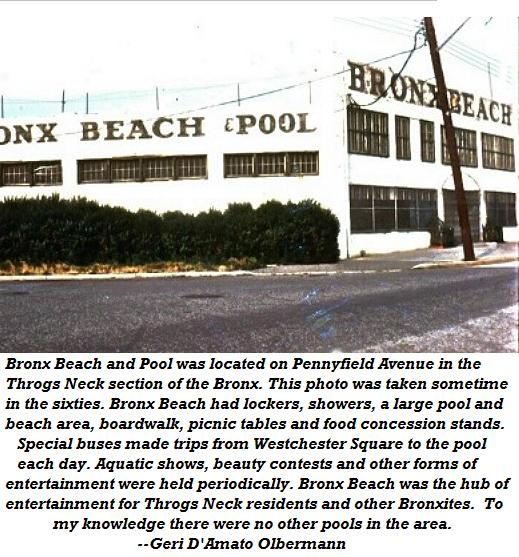 Actually it was located at 177th St (Throg's Neck Expressway Extension) and Longstreet Ave. After it closed, someone discovered that loose change had, over the years, fallen through the cracks in the boards and some kids went crazy ripping up everything.
The owners, an old couple, used to park outside the front door for hours, at times, in their old 40's car. The building of the bridge had effectively put an end to their business and they used to sit and reminise about the old days, I guess. The electricity worked up into the mid 70's.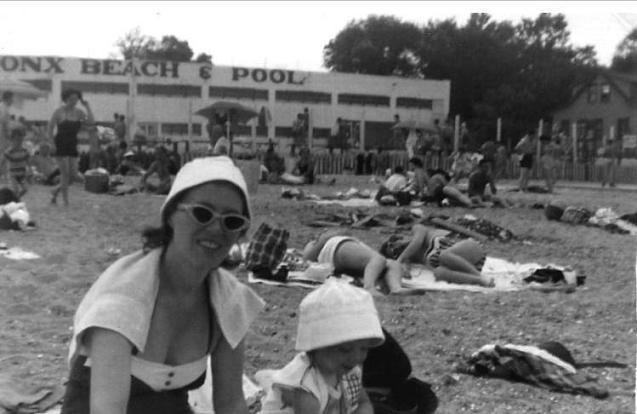 Next door on the right, was Mermaid Beach, run by the Stemmer family. The oldest son was named John and the youngest daughter was named Ida. There was also another brother and sister in between.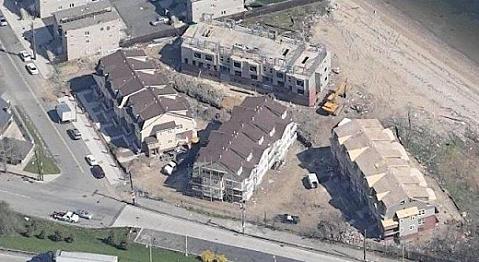 The new Bronx Beach. The telephone pole is still at the corner.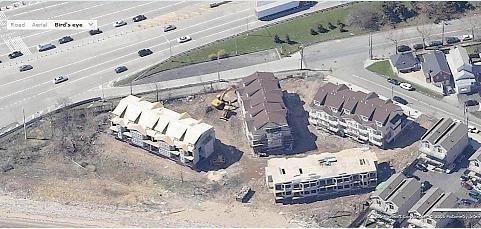 The old Bronx Beach had a salt water pool which drew water from a huge pipe that ran down the beach and out into the water far enough to draw water at low tide. Next door on the right, where the houses are aligned in two's was Mermaid Beach, run by the Stemmer family. John and Ida Stemmer were two of the kids, there was another brother and sister also.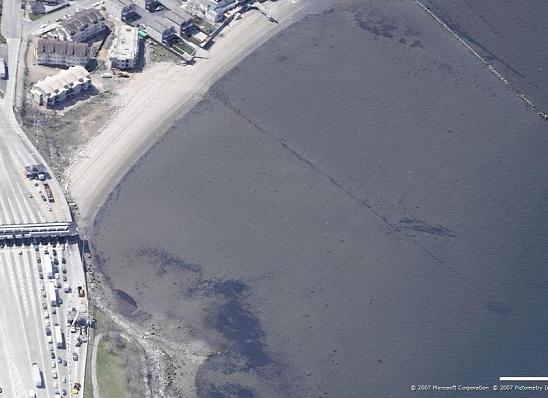 Here you can see what's left of the pipe that ran out into the water to refill the pool. It runs almost to the bottom right corner of the picture. The debris before the end was once a gazebo. There used to be 2 rows of pilings that ran the distance of it on each side to mark and protect it. At the end of the pipe was a big brass sea valve that the owners of Bronx Beach used to claim stolen every once in awhile. The other line to the right is a stone pier comprised of numerous rectangular cut rocks. If anyone knows the origin of these, let me know. At high tide they are about 1/2 foot under the water.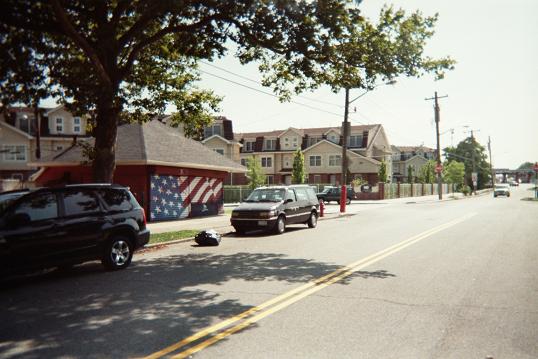 This little store was open for years, run by a woman named Kay, who lived next door and her sons, one who was named Ed. It was a coffee shop and every morning a string of regulars, both from the neighborhood and the bridge would stop by. It was great little place. Eventually the cops came and put up No Standing signs because the neighbors complained about the trucks and tractor trailers that would stop on the highway side of the service road. The cops actually came down and harrassed them with parking tickets. Her business took a big hit because of that.
---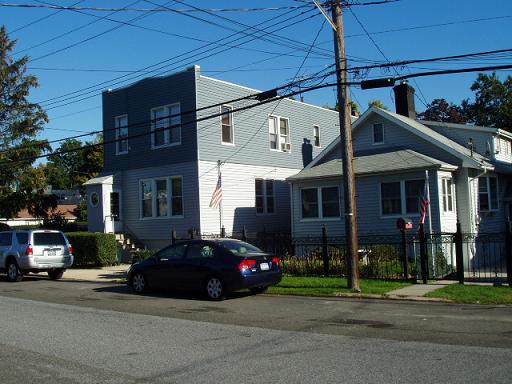 Pecoroni's House on Miles Ave.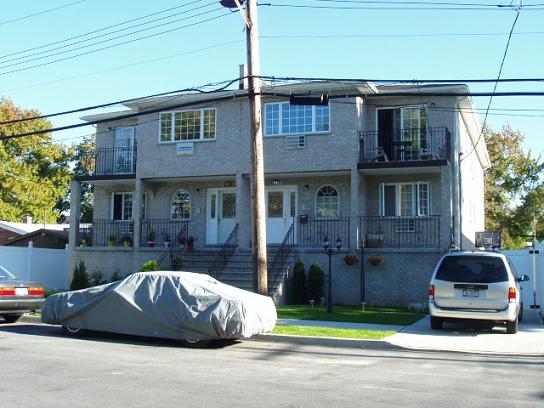 The old Donovan property across from the E-Section ballfield.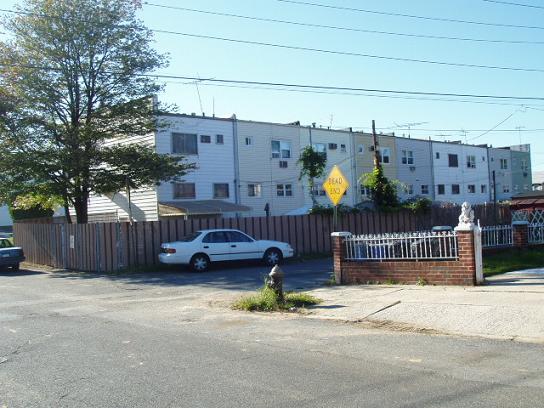 The road to Edgewater from Sweeney's.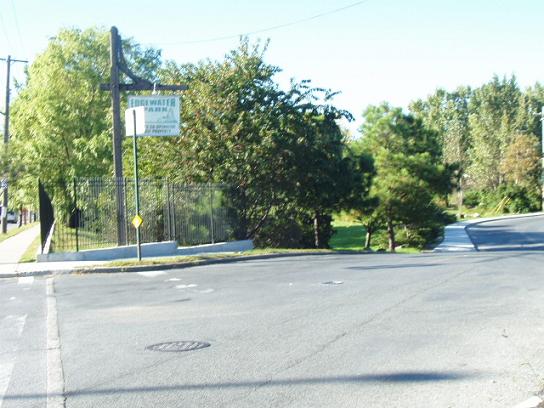 The new Gate with new fences.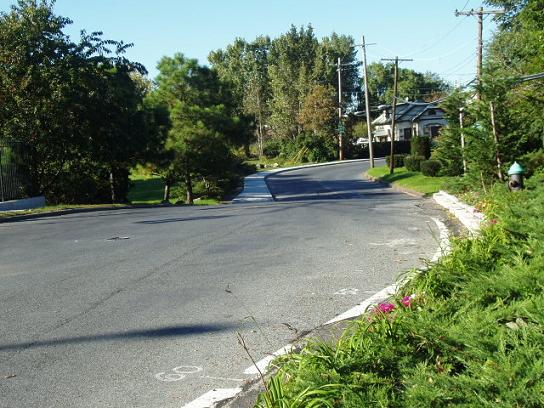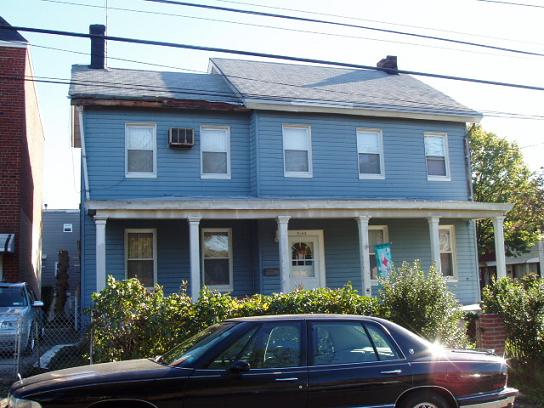 One of the oldest houses in the area. On Miles Ave.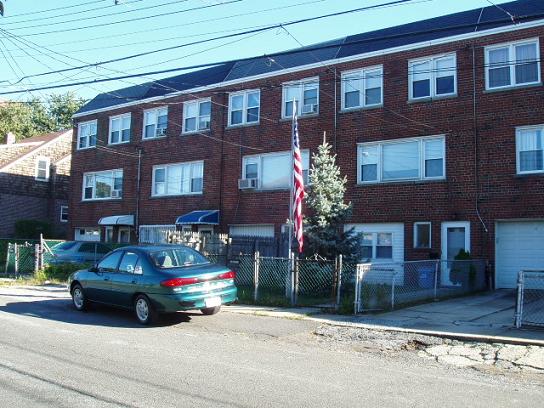 John and Tom (Tutty) Deickman's house with the flag.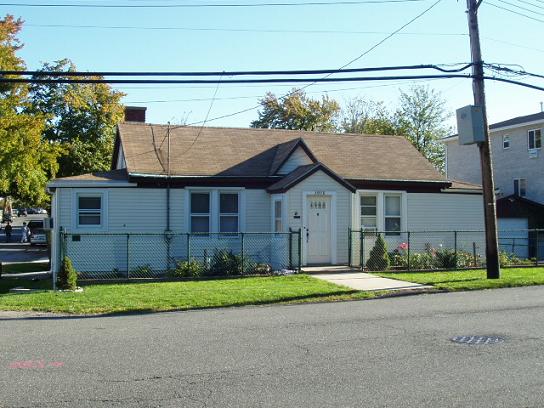 One of the remaining original houses. Across from E-Section ballfield.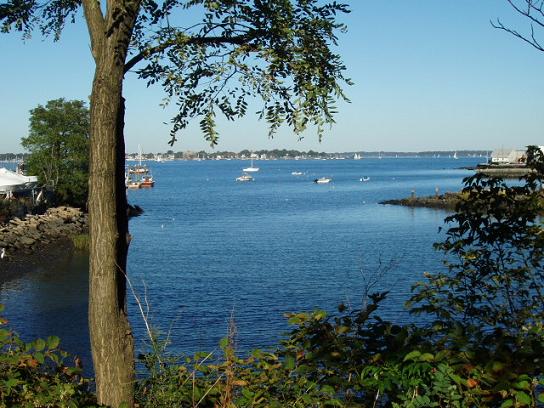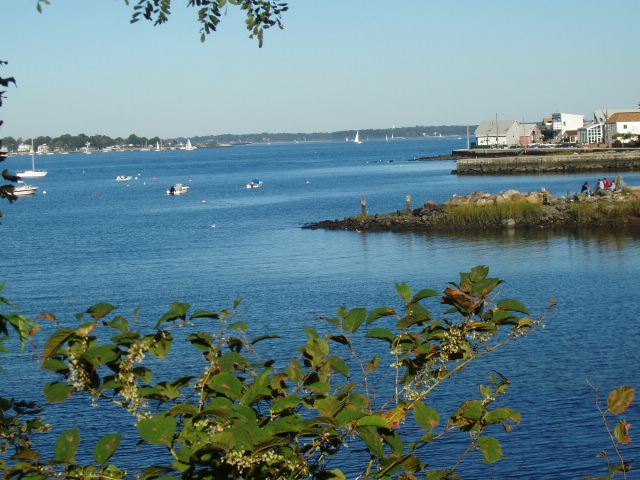 From Veteran's Memorial Park.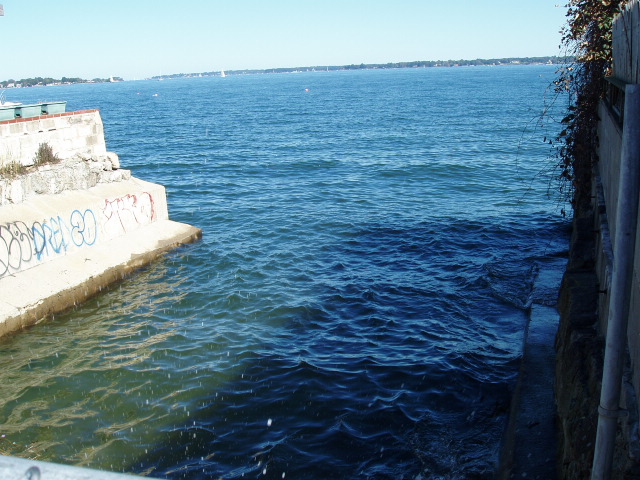 Dinny's Bay at the bottom of Mile's Avenue.
Thanks to Howard Stern