FRANKIE RYFF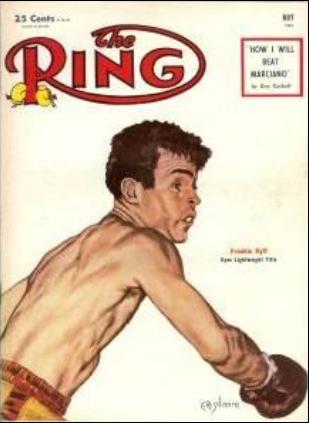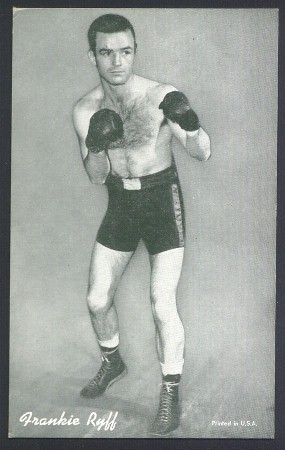 Champion Boxer from the Bronx
During the 50's almost every guy was into boxing. And if you were from the Bronx one of your heroes was my cousin, Frankie Ryff. Every time someone asked me my name they would ask me if I was related to Frankie. My earliest memories of him is of my father, yelling at the TV to hit him again, and my mother, oohing and ahhing every time he took a shot.
---
VIDEO NO LONGER PLAYS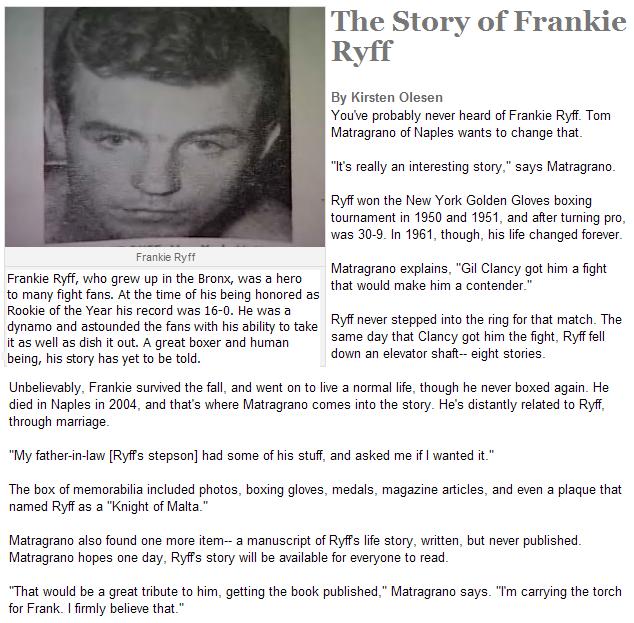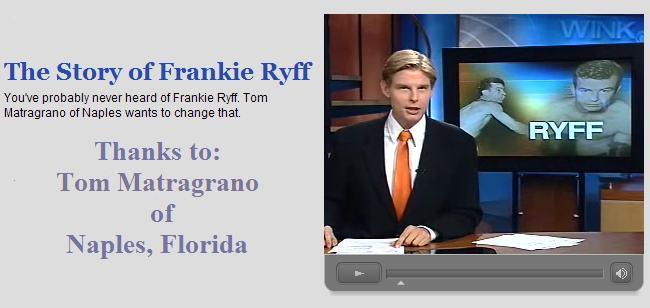 Click anywhere on the photo above to see a news video about the above story given by Tom Matragrano.
VIDEO NO LONGER PLAYS
and Thanks Tom!
For more information, Contact Tom Matragrano at [email protected].


---
This video is from his 16th pro fight, against Orlando Zulueta, at the Garden. His record was 16-0 after this.
Highlites of Dec 3, 1954
Due to YouTubes time limitations I had to split it.
Click the arrow once, if nothing happens, click it again.
Frankie Ryff-Bronx Champ-Part 1
Frankie Ryff-Bronx Champ-Part 2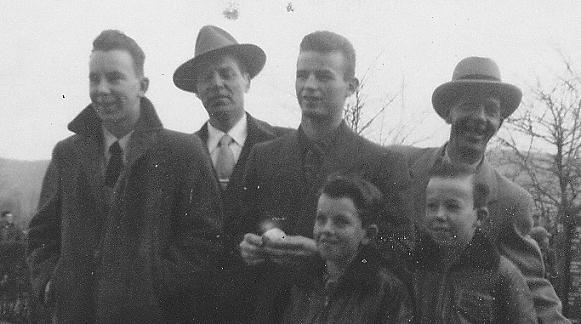 Guy (Joe Jr.) Ryff, left and the two boys in front, Bruce and Gary are Frankie's cousins while Frank Ryff Sr., his father, stands behind him and the one with the big smile is Buster (Joseph) Ryff, Frankie's uncle and the boys' father.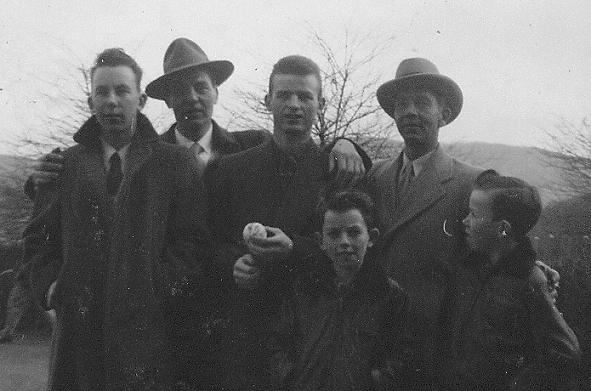 Here Frank Sr. got his arms around Guy and Frankie.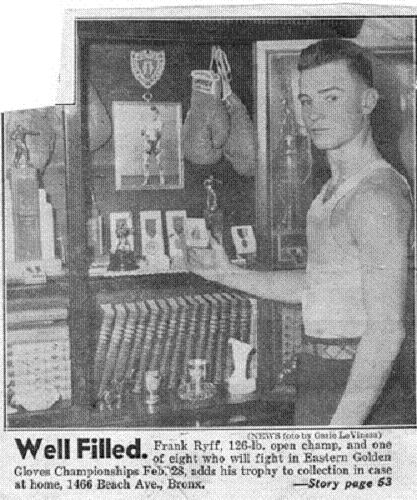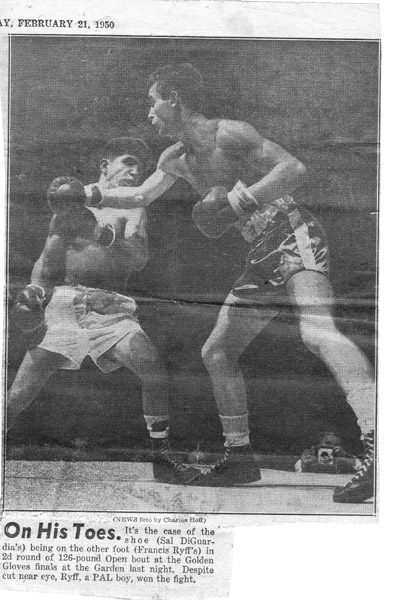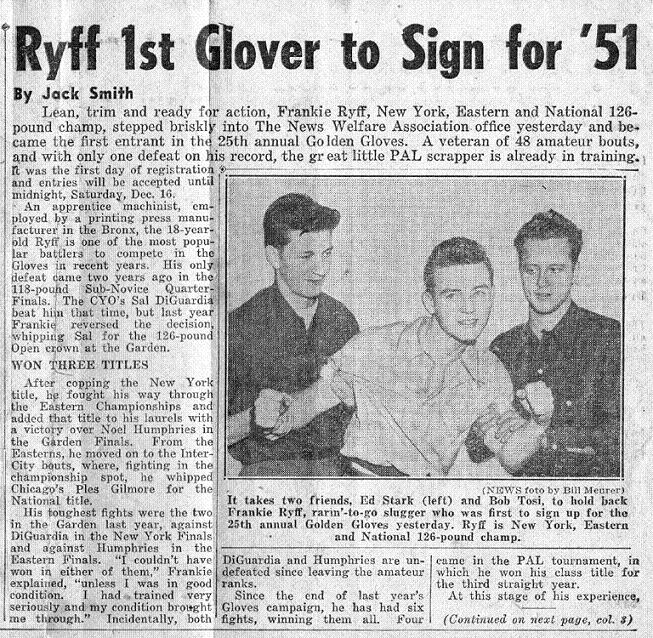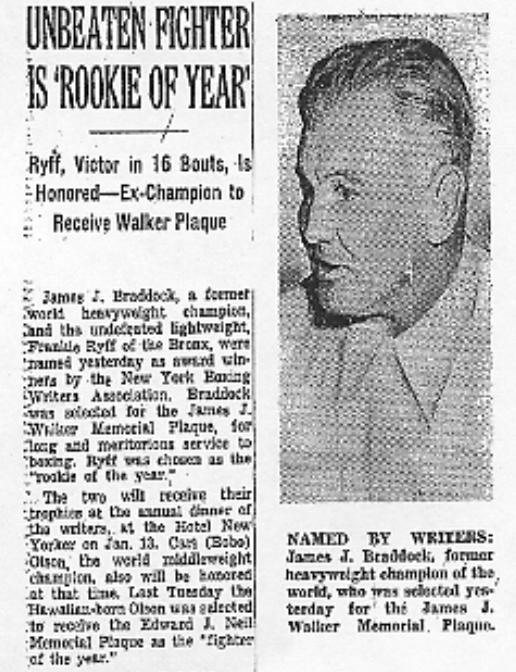 James J. Braddock and Frankie Ryff were both named as award winners by the New York Boxing Writers Association. Braddock for the James J. Walker Memorial Plaque and Ryff as Rookie of the Year.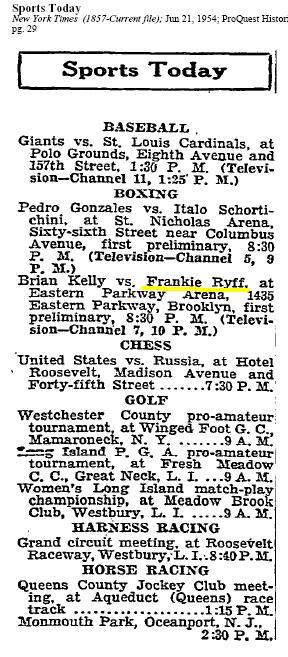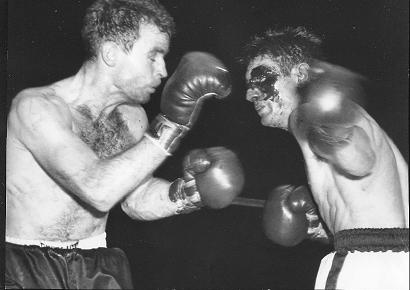 The caption read:
March 11, 1955 - The left eye of Danny Jo Perez is a ghastly splotch of blood in the 9th round of his 10 round lightweight bout with Frankie Ryff at Madison Square Garden. Ryff's sharpshooting kept the eye bloody and helped him win a unanimous decision. Both boys are New Yorkers.
---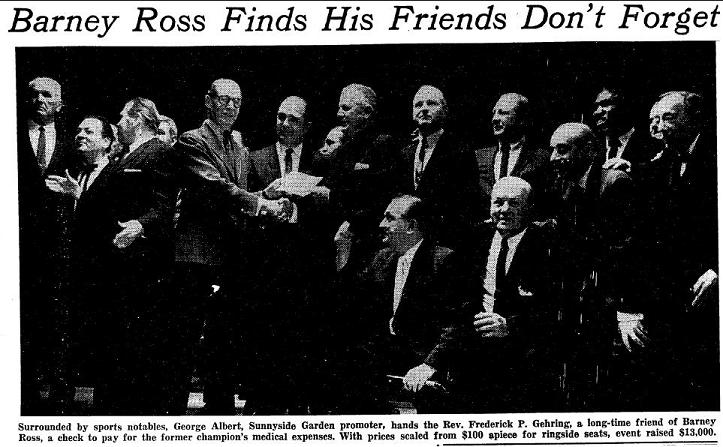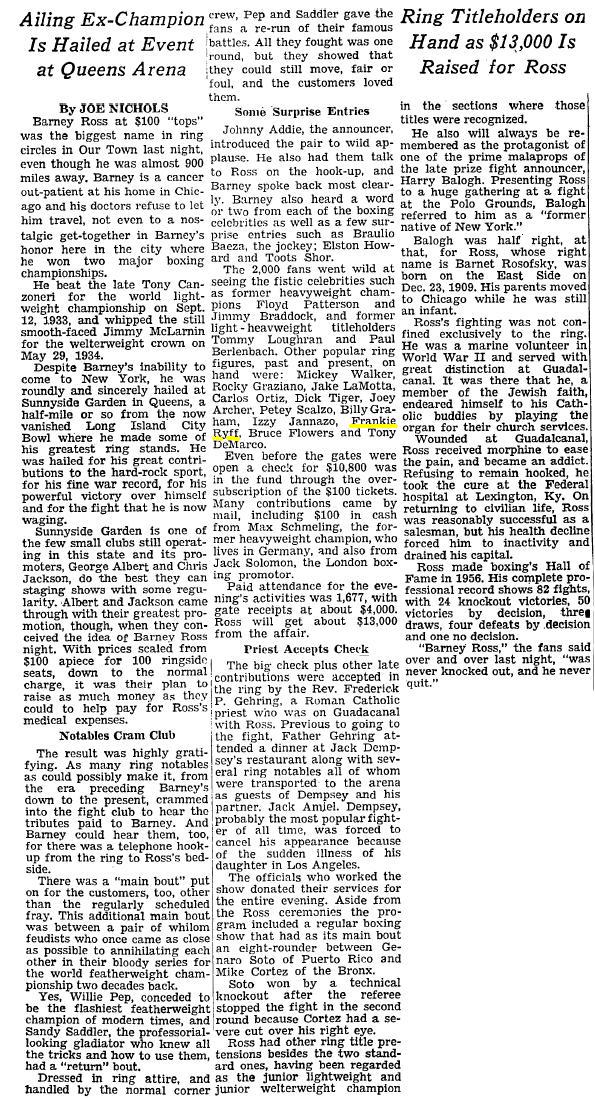 ---
Sgt. Bilko to include Boxers.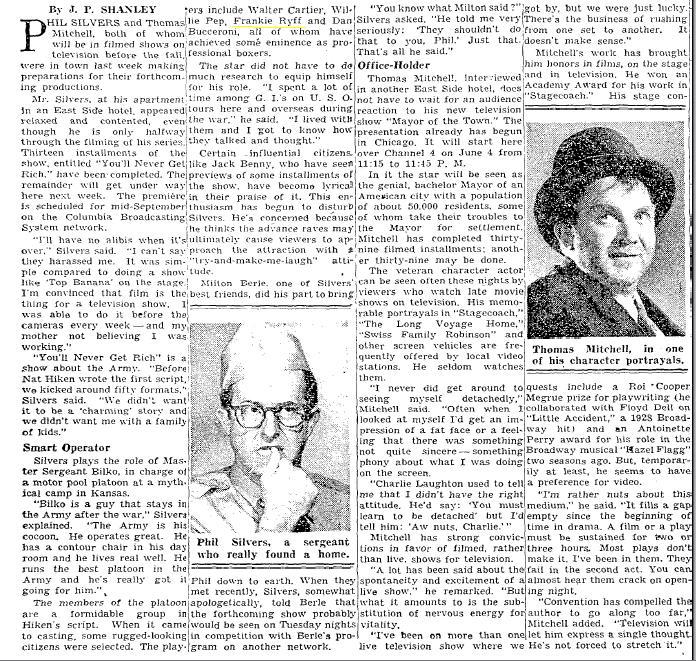 Sgt. Bilko was to be named "You'll Never Get Rich" and the cast was to be filled by prominent boxers. Frankie was named as one of them (2nd Column, top).
---
While Frankie was working for Otis Elevator on the new Sperry-Rand Building in Manhattan he fell down a six story elevator shaft. Being as tough as they come, he survived the fall. However, he was in bad, bad shape and needed brain surgery. He would forever be a shell of the man he once was but he never gave up. His wife, who had enjoyed all the press during his career, left him and took his kid. He would eventually find a good-hearted woman, named Matilda, to take care of him. They married and were together the rest of his life.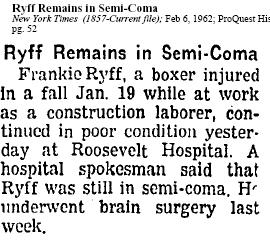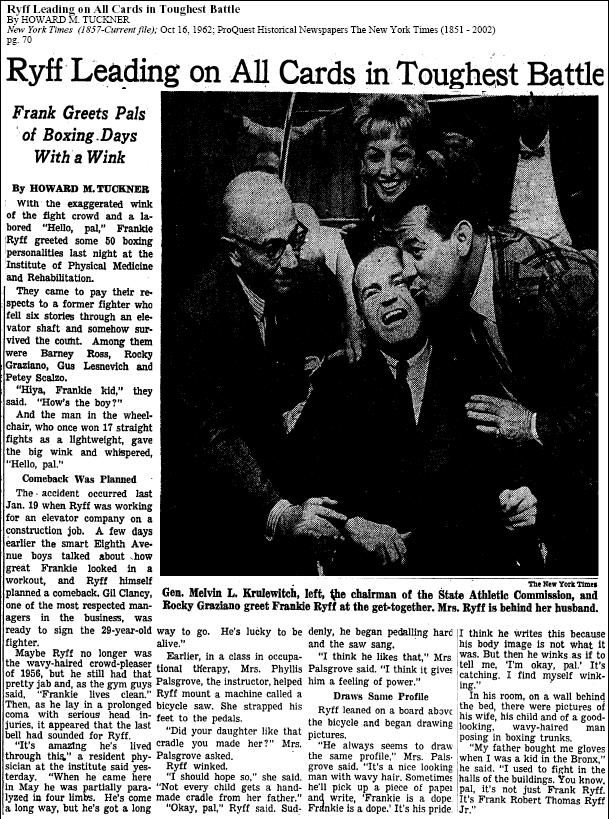 Rocky Graziano gives Frankie a kiss at a party in his honor. It was held on the roof and for some reason they got me up in front of the mike and I was asked where my father works. I said "In the cellar" (because he was putting a new floor in and was always down there and I was only seven). The crowd exploded in laughter.- Craig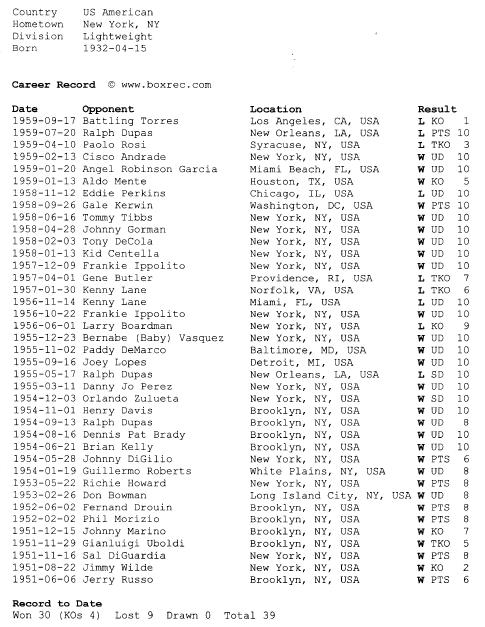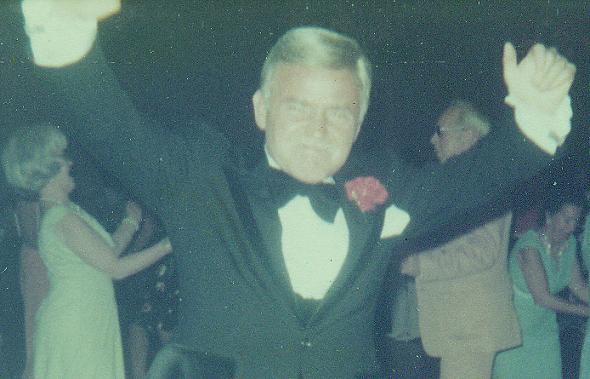 Frankie Ryff honored by Ring 30 on July 9, 1977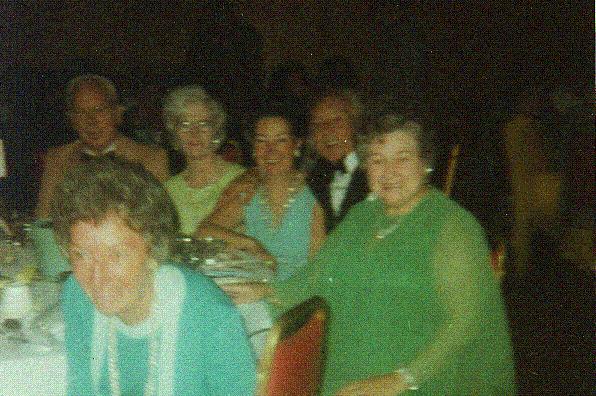 His mother, Mary, in the green, along with Buster and Frances, my parents, and Bill and Eileen, our Aunt and Uncle and my cousin, Lorraine, in front.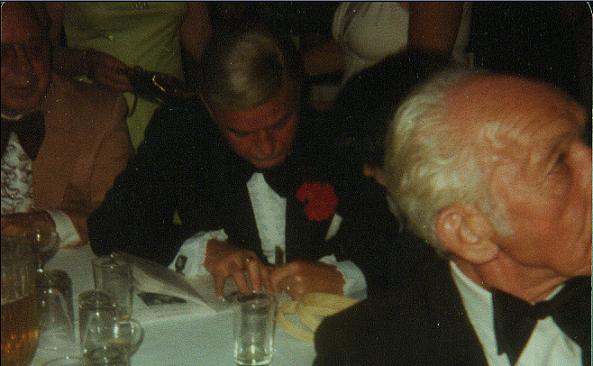 Frankie, signing autographs at his party. His uncle Buster, my father, to the right, who is in the pictures above when he was young, and his Uncle Bill to the left.
more to come