Updated July 22nd, 2009
My Gang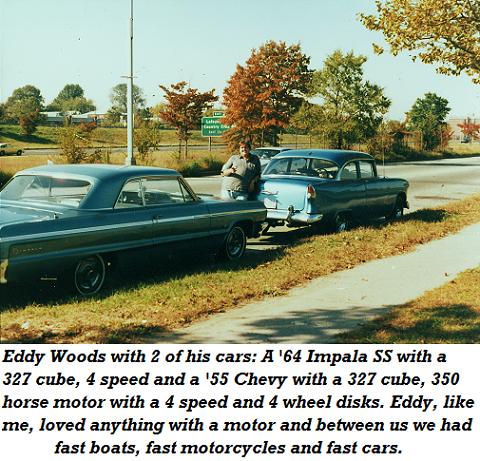 Eddie Woods was not only my best friend, I considered him my brother. He never, ever let me down. Whenever I needed his help he was there. He was the most stand-up guy I ever knew and I'm talking 30 something years. He was Best Man at my wedding and there isn't a day that goes by I don't think about him. He had a strong conscience and a big heart. His daughter Melanie inherited all his best qualities. She's every bit as good as he was.
I first met Ed back in my early boating days. One day, while pulling in to the Alden Park jetty he was sitting there alone. I had seen him there a couple of times, he was new to the neighborhood and he had a bike with a Brigg's and Stratton lawn mower engine on in. It was a 26 inch frame with 20 inch wheels and the motor bolted to the 2 down rails with a piece of angle iron. This contraption had a centrifigal belt clutch running down to a washing machine pulley which was bolted to the left pedal shaft. I had never seen anything like it but I was interested. It wasn't long before a couple of us were building them, like Jimmy Donnelly, and his cousin Davy Donnelly. I even went so far as to put a 3 speed back wheel on it with a twist shift on the left handlebar and a twist gas control on the right handlebar.
So anyway, he's sitting there on the jetty and I asked him if he wanted a ride. So he came down and got in. I had a wooden seat in the front but I used to steer from the back, sitting on the side rail by the transom. I started heading towards the bridge and he showed me where he lived, in Pennyfield, right on the water. So as I got near the bridge and I was opened up and I went as close to the concrete bridge leg as possible. He didn't flinch. Everyone else I'd done that to had gotten nervous. They didn't like it. Ed didn't mind. He said he didn't scare easy. So we became friends after that.
After my wood boat didn't make it through it's last hurricane, me and Ed went halves on a boat from Harry Peters, who lived in Alden Park and took care of the Alden Park Beach and diving board every year. It was a fiberglass boat with a seat up front and the steering in the back. This was a fairly common arrangement. It had an old 30 Merc on it, and we only had it for a couple of weeks before it stopped pumping water. Well, we took it apart and tried to fix it and it would work for awhile, then stop. We never did get it fixed, The next spring rolled around and we put the boat in the water on Easter Sunday, which was a warm, balmy day. That night, a snowstorm. We came down the next morning and saw the deck on the beach and half wanted to believe the rest of the boat was under it. Fat chance. That was the end of that. The next boat I got was a blue and white Crestliner, a fiberglass boat and I wound up cutting the transom down so we could put a short shaft 50 Merc on it. Someone in Edgewater, by the bend, wound up with it. I used to see it on the seawall.
Me and Ed were more into motorcycles and cars now that we were older. Edgewater was a great place to be underage and own a car. The cops never came in, it was private property and there were cars all over without plates on them. Most of them for sale for as little as 25 bucks. A guy would buy a car and the whole gang would hang out in it. We could and did drive all around the Park without plates. It was great. Now Eddy lived with his father in Pennyfield Camp, and we'd meet up down the Square, at the diner that used to be where Con Ed is now, next to the old Rated X movie theatre. By this time all of us were in Columbus HS on the other side of Pelham Parkway, off Williamsbridge Road. We hardly ever went to school though. We'd head back to Eddy's house to hang out. Man, the good times we had there.
On the week-ends we'd drive up to the Wedge Inn, just north of the Bronx border, over the bridge on Boston Road. Eddy's father worked up here anyway. He drove a bus in Mt. Vernon, so we knew the area pretty well. Guys used to close down the Hutch (Hutchinson River Parkway) while they raced and they'd all meet in the Wedge's parking lot first. Every week-end for years this went on. So after they decided who was gonna run they'd head up the block towards the Hutch. A couple of guys would stop traffic and the guys would get ready to race. Pete Connors in his '57 Vette with open headers ran a lot. Every once in awhile the NYPD Highway cops would show up in force. Sometimes the guys getting ready to run would do just that. Run! You'd hear them screaming down the Hutch with open headers until you could just barely hear them. The cops knew better than to try and chase them. They would just ticket everybody whose car was on the grass. Back then they never impounded anybody's car like they do today.
Eddy once did a break rev (holding down the brake and gas at the same time) for so long up the Edgewater Stores that someone called the fire dept reporting a fire. We used to have alot of fun up there. You didn't want to go home for fear of missing something. One night me and Eddy decided to race down the service road. He had his father's '65 Ford and I had a '64 Impala SS like the one in the picture, only an automatic. So we go down the end, at the count of three we go, I have Karen Jackson in the car with me. We're neck and neck to the bend and I start pulling ahead of him. I start to slow down by the gate and turn onto Miles Ave. No Eddy, I say to Karen, where'd he go. She says I don't know. So I turn around and start slowly heading back down the service road and I see a chrome reverse rim spinning in the moonlight. Eddy had lost control and went over the side, rolling the car a couple of times. I jump out, run down there, the car's upside down and Eddy's just starting to crawl out. His father's car is destroyed, totalled. So here we are, I drive him home and he's talking the same stuff, over and over. The gang starts to hear about it and little by little the house starts filling with people. We decide he's got to go to the hospital. So long story short, he had a concussion.
One of Eddy's first cars was a '69 Firebird 400 convertible that he got at a junk yard at the bottom of Gun Hill Road. There were alot of junk yards on Gun Hill back then. Anyway, the guy thought it needed a clutch and it was something simple, like a return spring or something and we wound up driving it home. Eddy would do burnouts all day long in that car. It was the early 70's, everyone was partying and race cars were a big part of growing up.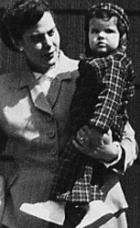 Eddy's mother had bailed on the family when he was very young. And his brother bailed at 17. So Eddie grew up in Seaford, Long Island before moving back to Pennyfield Camp. Deprived of his mother, and having a father that worked long hours, Eddie became a fairly rebellious kid. He had a few accidents but Eddie was still one of the best drivers I ever knew. He eventually lost control of his car on the service road, killing Roger Cline, who was one of his best friends. Roger's brother, Steve, who had also been very good friends with Ed, for years, refused to talk to him after that. Eddy never got over that his friend had died and until his own death he mourned the death of Roger. Roger and Steve were close brothers and it was just a sad event. Roger was a great guy. Funny too.
Eddie eventually moved to Florida, to Clearwater, with Nancy Attis. Her parents had her son, John, with them and Eddie decided that it would be better if John was with them. That's what I mean about Eddy. He always did the right thing. So Ed and Nancy got married, picked up John and rented an apartment in Clearwater. He got a job driving a laundry truck and he was very happy. He finally had the family he had always wanted. I came down to visit him with Mike Miller and Jimmy Anderson, Spyder's little brother. These guys didn't know how to drive a stick back then so when I wanted to sleep a little I'd get the car up into 4th gear on the highway and we'd just switch seats. This car was Eddie's old Firebird and by the time we got to Florida, the brakes and exhaust were shot. Mike and Jimmy worked a few days painting the outside of the Laundry that Ed worked at. It was a big building and it was summer and hot out. Stevie Cline and Tom (Tutty) Deickman were living down there, up the block from Ed and Nancy, who lived on North Fort Harrison Avenue. They both had apartments in the same building. In fact they were next to each other. One night Tutty, me, Mike and Jimmy jump in Tutty's truck to go down the Clearwater Beach which was across a long causeway. We hung out for a few hours, drinking and having a good time. We decided to head back and Tutty was half lit speeding across the causeway when he blew past this cop that immediately hung a U-turn and started chasing us. I told Tutty to keep making quick lefts and rights and to finally slide into this parking spot off the street, turn off his lights and take his foot off the brake. As soon as he finished all that the cop went screaming by. Tutty was real nervous. He probably would have gotten locked up for DWI. We had a good time in Clearwater back then. It wasn't built up at all. It was like a sleepy little town back then. Me, Mike and Jimmy eventually left to come back to N.Y. Nancy got pregnant and she had a daughter, which they named Melanie. Now Ed was really happy. She was his first child and he was crazy about her. He couldn't stop talking about her, showing everybody her picture. He was also a real father to John too. After a couple of years they decided to come back to New York. Steve and Tutty had moved back and Ed missed his father. Working in the hot Florida summer sun was getting to him anyway.
Back in New York, he got an apartment off White Plains Road near 214th St. He bought a step van and went into business delivering hardware store items. He had a run that took him into Manhattan and the Bronx. He liked to try and be out of Manhattan by 11 o'clock and he got good at wheeling that truck around. His second daughter Michelle was born and he was a happy man but he had bills to pay. While he made good money with the truck he had to worry about it breaking down. And it did break down. I went with him one time to get the truck. He had blown the engine. It was tired anyway and the weight of a fully loaded truck, running through Manhattan and the Bronx everyday took it's toll on the motor. I was amazed at how well he got things moving. He got a tow truck, had it towed to a repair shop he used, went to the junk yard, bought an engine, had them deliver the engine and within a couple of days he was back on the road. He was a good businessman.
Ed got a little house in Edgewater, at 51-A. The woman who had lived there before was an old woman who had worked in the Bluebird Bakery in Edgewater. So now Ed was back in the neighborhood with all his old friends and he thought he might branch out a little. He got someone to drive the route and together with John Donnelly opened a wood working shop up on Tremont. John was a very talented guy but to suceed in business you got to have more than talent. Alot of things have to come together to make it. So after a few months they gave it up and Ed went back to driving the truck. He always wanted to be his own boss. He always wanted to make his own decisions. About this time, his third daughter, Melissa was born and he had the big family that he had always wanted as a kid. The house that he had at 51-A was by this time too small and he wanted to go back to Florida. I told him I wanted to go down there to.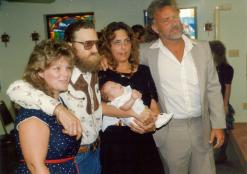 Pete Connors, and Hotch Acker had moved down to Ft. Lauderdale and this is where we wound up. It was great. The first placed we lived was off the Strip at the beach near Las Olas. It was on Alhambra Street, only 200 feet from the beach. It was great. We would go down to the beach and hang out. The kids loved it. One day, I'm walking along the beach and I see a white 69 Nova SS with a blue top. Looked a lot like Mike Miller's car (which he bought off Hotch Acker). Sure enough, it was. It had a big block 396/350 with a Turbo hydro and manual steering. I got it off Mike about a year later and changed it to a 4-speed, and added power steering. I eventually sold it to Steve Wiggs. By this time it was grey primer with red doors, hood and trunk with a black roof and interior) I waited awhile for him to return and when he didn't I lifted the hood of his car and took his coil wire. Then I went looking for him on the beach. When I came back about 15 minutes later I see Mike, Jimmy Dill, and Russell standing there. You can't describe the feeling you get when you run into friends 1500 miles from home. It is one of the great feelings in life, though, you can believe that. We had some fantastic times. Russell would get drunk and start fights down by the Elbow Room, the bar on the corner of Las Olas. We had to constantly try to keep him out of going to jail. Then one day we jumped into my car and headed for the Florida keys. What a ride! I had a beautiful blue 71 Mercury Montego convertible with a white top and interior and A/C. We went all the way out to Key West, and this was when it was just two lanes stretching out into the sea. If you looked one way or the other all you saw was water and small islands. It was like a ride in an amusement park. We took our time getting there, stopping at different places on the way out. We were in no hurry. When we eventually got out to Key West we hung out at Smather's Beach, checked out the Most Southernmost Point, which was a little square cement room with a giant cable that headed out to the water under the beach. It was the phone link between Key West and Cuba. They have since taken it down and instead they have a big marker for the spot. It was so great being down there we didn't want to leave. We hung out for a few days, drinking at Sloppy Joe's and going to watch the sun set with everyone each day. Finally, we headed back up to Fort Lauderdale. They got a room off US-1 and Sunrise Blvd and hung out for a couple of weeks. When they left, Jimmy Dill decided he wanted to stay so me and him got an apartment off SR 84 where Eddy and the family had already moved. His girlfriend Debby came down to see him and she hung out for about a week. We lived over by the airport and every morning Ed, Jimmy and I would go to Lester's Diner, a place on State Road 84 in between I-95 and US 1. They advertised a 16 oz. bowl of coffee, and I liked coffee. (When I went back to Lester's years later, the same waitresses were working there). It was great going to the beach on a February morning, lying in the surf, and thinking about all the people up in the Bronx, freezing. Me and Eddy opened a rerpair shop on Dixie Highway, actually a warehouse. Alot of people worked out of warehouses down there. We did automotive work. Clutches, transmissions, brakes, etc. Neither one of us wanted to work for somebody else. It wasn't easy though. It gets hot as a mo in the summer. After a couple of months, Jimmy decided to go home. He was gonna hitchhike so we dropped him off at I-95 and waited until he got a ride. Eddy and I eventually had a big fight and I left to come back up North. I didn't hear from him until my family died. He showed up at the wake, which really surprised me but I sure was glad to see him.
Pete Connors was a guy I first met when I was into go-carts. Gregory Peters, me, and the Mc Ardle brothers had a go-cart over in Greg's yard in Alden Park. We could not get it to start and years later we realized that Greg's father, Harry, had messed with it. It had no spark but we pulled on that pull cord every day for weeks, hoping and hoping. In the end it never did run.
Now Pete had a go-cart with a 7 and a half horse motor (at least that's what he told us) that he wanted to sell. First, though, we wanted to be sure it ran. So we took it out onto the street and spent days trying to get it to run. It would start, it just wouldn't continue to run.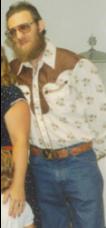 Well, we never bought it but I got to know Pete, who also was into boats and cars. He had a 3 point hydro moored out from Doggy Beach that didn't have a motor. So I stuck my Evinrude Fastwin 18 horse on it. Man, it was fast. (I even stuck that motor on Winky Becker's 7 ft dingy. Talk about FAST!)
So one day I'm walking past the buildings on Longstreet and I see this beautiful dark blue 64 Impala SS with a light blue interior and a 409, 4 speed with the chrome Muncie shifter with the chrome ball at the top and the reverse levers on the side. The whole car was THE most beautiful car I had ever seen. It had Crager SS mags in the front and Chrome reverse rims on the back. It had a For Sale sign on it. A few days later I see Pete driving it. Well, just to ride in it was great. The feel of power. And he wasn't afraid to show me some "Posi" tracks either and to bang some gears. Exhilarating! I was hooked.
I never got to drive it and after a few months his mother sold it on him. His next car was a grey primer '57 Vette, with a 283, 4 speed. This car I got to drive, and for a 13 year old, behind the wheel of a Vette with the owner saying to punch it was fantastic. Through riding around with Ghetto I got to meet Stitchy (Richy Palmeri). One day I'm with Pete, Stitchy's behind us, and Pete pulls over and says ride with him. So I jumped out and jumped into Ritchy Palmeri's Chevy II and that was the start of an era for me. Stitchy had a gold '65 Chevy II with window posts and a 327, 4 speed that he had put in himself, and he was a wild guy back then. I hung out with Pete and the guys almost regularly after that. Mostly, everybody hung out up the Stores, and occasionally Jimmy Shaw would have to come out and yell at somebody for doing burnouts. I hung out with Pete for years and eventually he moved to Ft. Lauderdale. When I went down there I called his sister Sue and asked her to tell him to meet me at a Mc Donalds on SR 84 off I-95 (Alligator Alley). Sure enough, here comes Pete on his '48 Harley Panhead. I stayed with Pete thru the winter, which was great. Nothing like going swimming at the beach at Las Olas Blvd on a January morning. Pete, like me, wanted to live life fast and hard and hopefully not grow old having done nothing.
Pete never left Florida after that, except for Labor Day or to see his mother. Friends drifted apart as we all know happens. Pete did well down there. He managed to amass several small warehouses full of motorcycle parts, then buy a plant nursey out in Davie, which is west of Ft. Lauderdale. He knew a lot of bikers, naturally, including the Outlaws of South Florida and the Chingalings in the South Bronx. He never wanted to join a bike club though because for one thing he didn't like people telling him what to do. Pete had a rebellious personality which got him into trouble with the law at times, but actually made him more popular with his friends. It wasn't that he was a bad guy, just rebellious.
At one time in Florida you could drive a motorcycle with a regular driver's license but they changed all that. Pete never bothered with any of that. He wasn't big on paperwork and eventually he got arrested for it in Ft. Lauderdale. He always had an attitude with cops, which I liked. Being a biker in South Florida drew alot of heat and he got hassled a lot. He met some guy in jail that he invited to his house after the guy got out. Apparently, the guy had no place to stay and maybe Pete offered him a job. No one knows. The guy wound up murdering him, then ransacking his house. The guy was busted in Tallahassee a few days later wearing a gold chain of Pete's.
Pete was given a Biker's Funeral by the Outlaws, concluding with them firing their guns in the air at the end of the service. The cops did nothing.
Pete Connors was one of the best friends I ever had. Some people didn't like his attitude, and he did at times have an attitude. But if he knew you were not out to rip him off, if he knew you were his friend, then he was a great, solid friend who would do anything for you. That he lived life fast and hard is the way he wanted it. I miss you Pete.
His mother, Rota, who raised Pete and his sister, Sue, by herself after the death of their father was a good, hard working woman, who worked as a waitress in the neighborhood and out on City Island. She eventually married a guy and was looking forward to enjoying the rest of her life at her house in Edgewater. Her new husband died of a heart attack, then Pete was murdered, then she got cancer.
One day I was working with John Krause Sr., doing camera work over at Calvery Hospital, the hospital for the terminally ill, on the corner of Waters Place and Eastchester Road when we saw Rota on one of the floors. She was dying and didn't want people knowing. She didn't last long. Life can be cruel to some good people and I just want to honor them.
Here's to you both, Rota and Pete Connors.
Philly Frazier was one of those guys I had known since I was a kid out in my boat. He and his brother Wally had a hydro with a 45 Merc. These guys would be yankin' on that pull cord for 15 minutes every time they tried to start that motor and they didn't have the controls hooked up for the gears, so when it started they'd be in forward and off they'd go.
Philly was the guy who used to give everybody nicknames. He'd look at someone for a couple of minutes, then say their nickname and more often than not it would stick. He gave me mine while riding in my boat one day. All the guys would hang out at Big Oak back then, especially after Richie Begassse bought 2-B. Richy married Gloria Wyckwire and Pat, her sister, hung out with Philly. Anyway, Richy and Gloria broke up and then the parties started to get intense down there. Now, these guys weren't bad. In fact they built a great pier at Big Oak using huge 12 by 12's or bigger for support columns (Jimmy Shaw supplied the lumber, they supplied the work). They built a real long pier on top with seats and railings and capped it with an American flag. It stood for years until a hurricane took it down (like they do for every pier ever built along that coast). The worst hurricanes aim directly at that area. This pier they built was done as well as it could be.
Philly was a funny guy who had a great sense of humor. He had wanted a convertible, so he sawed the roof off his '64 409 Impala SS. He parked the car down the end of my block in front of Mutzy's house and he'd put an old orange Con Ed tarp over it when it rained. I thought that was hilarious. It's one of the reasons I liked the guy. He did what he wanted. I spent a lot of time down at the beach, so I got to know these guys and it wasn't long before me and my friends were partying ourselves. Ah! the good 'ole days. Guys like Joel Attis, Psyco, Willy Donnelly, Al Donnelly (his brother), Dave Donnelly (his nephew), Tom (Tutty) Deickman, John Deickman (his brother), Jimmy (Pigeon) Deickman (his other brother), Howard (Hotch) Acker, "Paranoid" Paul Anderson (Spyder's brother), and Eddy (Big Ed) Woods, and a few others who I can't remember and the girls, who I either didn't know or can't remember their names.
Next to Richy lived the Millers; Mike, Walter, their parents and their grandmother. The 2 brothers were always well dressed, with those Bavarian shorts and stuff that made them look like they were from Germany, which his mother and grandmother were. Mrs. Miller liked to sunbathe a lot and she could easily stop traffic. I mean half the reason why so many guys hung out down there was to enjoy the scenery. And she enjoyed the attention. For years after they split up she worked out at Thwaite's Restaurant in City Island. In fact until it burnt to the ground. They had a lapstreak 16 foot Crestliner with a 33 Johnson on it. Most boats were wood back then. Fiberglass was just starting to be common. The only other guy that I knew who had a fiberglass boat was Richie Gullo's father. It was a 16 foot Larson, red and white, with a white 30 Merc on it. Everybody else had wooden boats. Mike's father moved to California with Walter and died out there. Walter then came back and lived with Mike at 280 Longstreet. Their mother moved back to Germany. Walter was living down by Pete Connors in Florida in the mid 80's. I saw Mike at Veteran's Memorial Park in the mid 80's and I haven't seen or heard from either one since. Mike and Walter both got sick and I think they're both dead now. They were both good guys that I knew since I was six. R.I.P. guys.
Larry Jo, (RaHu), was one of the boat guys down at Sandy Beach. His step-father, Al, had an outboard repair shop down on Pennyfield Ave, or the Fort Road, as we called it, down by the old miniature golf place. It's now a used car lot and gas station and the outboard repair shop became a restaurant. Because of Larry, a lot of people got into hydros. And there were a lot of marinas around back then. Some of the people who had boats were Mike Keenan, whose boat I talk about on the Wood Boats page, Richie Kearns, who had bought a blue and white wood boat with a late '50's 35 Evinrude on it. Tutty Deickman had an 8 foot hydro that his Uncle Tom had built for him in his back yard. His Uncle Tom lived in Alden Park and was a great carpenter. "Feathers" (Billy Dunphy) also of Alden had a fiberglass hydro called a GW Invader that had a 33 Johnson on it. Then there was Semo, who lived down by Bronx Beach who had a wood hydro. John Stemmer and his younger brother had this big ass wooden boat that looked like a WWII landing craft. Kevin Farrell had a hydro with a 45 Merc on it that looked just like Philly and Wally Frazier's.
For a kid it was great because you didn't need a license to drive a boat and for many of us it was the start of our exploration. Larry had a '57 Chevy with window posts, a 327, stick. As race cars were the major thing at the time, kids tended to know anyone and everyone that had a fast car. And everyone knew Larry's and his mom. She lived at 1-D and drove a big ole' 63 Caddy 4 door. I recently found her on a 1930 Census form that says she lived in Krause's house at 3-D in 1930. I guess after her father Axel, who was Norwegian, died, she had to move to a smaller house. But that's how long the Johansen's have been Edgewater residents.
Larry eventually started working at Shell gas station along with Hotch Acker of 59-B. They started as attendents and eventually became mechanics. Hotch and Larry got to know everyone by working in that station. A mechanic could make a good living back then. They worked there for years. Hotch wound up with Larry's 57 Chevy. One day I'm hanging out with him in the car and he's going up Miles Ave. I ask him to do a burn-out. He looks at me, stops and starts racing the engine. He dumps the clutch and we hear this tremendous bang. No forward movement, just alot of noise. Luckily, he had reverse and we drove down Miles Ave., out on the service road and back into Edgewater, all in reverse. Funny, I was laughing the whole way.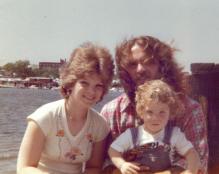 Later on Hotch worked at another station that John Frank and Phil Menna owned. Larry, meanwhile, went to work at Shelter Cove Marina. For him it was a great job. He could come home for lunch and it was only a 10 minute walk. Over the years he had a string of boats and Larry eventually went to school for outboards and stern drives and got certified. No easy task. He stayed at Shelter Cove until the owners bailed and sold the land to developers. Now there's houses half way out. Hotch married Shelly Lombardi, they lived in 59-C for years, then moved to Ft. Lauderdale, where he remained friends with Pete Connors until Pete was murdered.
more to come