MEMORIAL PAGE
Updated September 2nd, 2009
BOBBY ROFF
Bobby died August 29th at 7 A.M. after a long battle with cancer.
A tribute to come at an appropriate time. He had just married Fran Longo recently.
---
JOHN REVELL
John Revell, brother of Jimmy and Eddie (Fish) died in his sleep on Sunday, July 26th.
JIMMY REVELL

Another Soldier has left us. Jimmy Revell from the Light Infantry Brigade, Viet Nam, passed away.

Apparently, while getting on the Bronx River Parkway from the Cross Bronx Expwy, on Friday, July 10th, in the afternoon and realizing he was about to have a heart attack, he pulled over to the side of the road and attempted to stop vehicles. He then passed out on the side of the road and was later pronounced dead by EMS. - Craig
---
ANGELA SCHIAVONE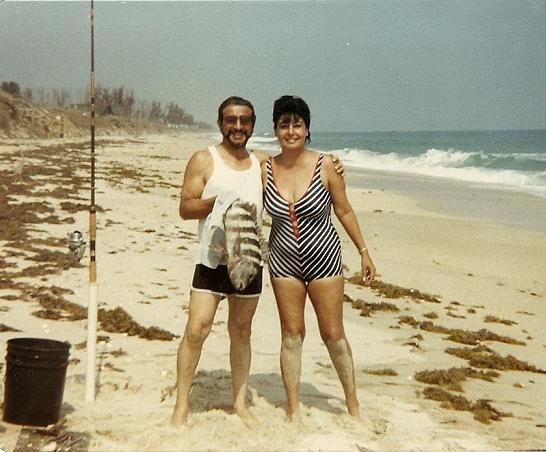 Angela Schiavone, who grew up in Edgewater and lived at 76-C and was the sister of Joe Schiavone (above) who lived on the Firehouse hill with his wife Sally at 181-C from '67 to '85, and Aunt to John and Dennis Csencsics (Chances), passed away this past Thursday, April 9th, 2009.
Joseph Schiavone [email protected]
---
BOBBY KUHN
Bobby Kuhn, with sunglasses, grew up in 40-E, married Mary Samanich, who also grew up in Edgewater, in A-section, on the main road down by the A-section lot died last month of cancer. They later lived in Tommy Lozito's old house in Pennyfield Camp, next to the entrance alley before moving away. Mary died a couple of years ago of a longtime ailment she had.
---
JOSEPH DONNELLAN
Joe passed away on Monday, February 2nd, 2009.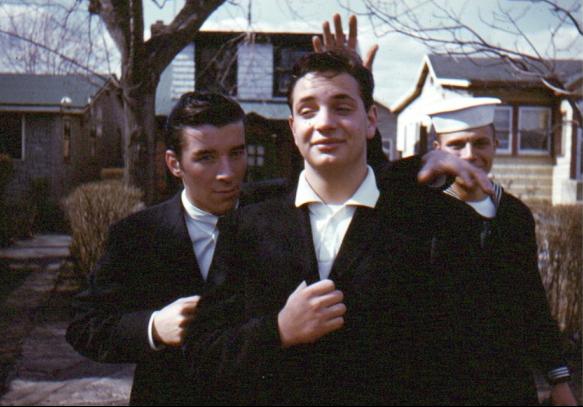 Willy Kipp Donnellan Oscar Northstrum Mariano (Rio) Pistorino
Ronnie (Donnellan) Salinas and son, Alex.
John Donnellan, their father.
Joe had moved to 134-C in 1957 with his parents, John and Sarah (Mulligan), his brothers, and sister, Ronnie. She says: My mom died that year in November, leaving Daddy to care for me, Peter, William and Joe. He worked in the city at the Metropolitan Museum of Art, and returned home every evening at 6 PM. My brothers, most especially Peter, had the responsibility of caring for me, (I was six), and the house, etc. while Daddy was at work. My Dad loved to sit in this spot many evenings, and would sometimes hold a fishing pole. Often I'd sit beside him and we'd leave as the sun was setting. To this day, I always say "Good night Daddy" when I see the sun going down. Daddy died in May of 1961 and that's when Peter and I moved to California.
Joseph, age 65, a resident of Orange passed away February 2, 2009.
He was the owner and operator of Donlon Builders. He was a loving husband, father, grandfather and friend. Joseph touched so many lives and will be greatly missed by so many. He is survived by his loving wife, Christina; son Desmond; daughter, Lisa Budds; son-in-law, Charles and beloved granddaughters, Christine, Erica and Allison. He is also survived by many loving family members and friends. Visitation will be held on Friday Feb. 6th from 5:30 p.m. to 7:30 p.m. at McAulay & Wallace Fullerton Mortuary. A celebration of his life will be held on Saturday Feb. 7th at 11:00 a.m. at Richfield Community Church in Yorba Linda. Interment will follow at Holy Sepulcher Cemetery in Orange. McAulay & Wallace Mortuary
Ronnie Donnellan Salinas: [email protected]
Peter Donnellan: [email protected]
---
NANCY (ATTIS) WOODS
Nancy Woods died on Sunday, January 11th.
She had been sick in the hospital down in Florida for a long time. Joel had just came back from seeing her when he died. Her daughters Melanie and Melissa, as well as her son John had all been down to see her recently. Her youngest daughter Melissa said to me in an email:
I am sad to say that my Mom passed away today on Sunday January 11, 2009. She will truly be missed by myself as well as by my sisters and brother. As you already know my Mom was a wonderful person, mother and grandmother. She was always very proud to be a grandmother of 13 grandchildren. Her life ended too early but now she is with my Dad and Uncle Joel. Melanie, John and myself are working out the plans to have something in her honor at Melanie's house where we all grew up together. I will be sure to send you the details.
With Much Love,
Melissa Woods
Melissa- [email protected]
Melanie- [email protected]
Nancy Attis Woods:
Today one of my very
good friends
passed away, after a long illness.
I met Nancy when I was 6 years old. My family moved into Alden Park. I remember Nancy came running around the corner with a doll to ask me if I wanted to play house with her. She was my first friend in the neighborhood.
As a teenager we would go to Schrafft's where her father was the store manager. We would have hot fudge sundaes. On our way home we would laugh and say that we would swim out to the lighthouse and burn all the calories from the sundaes.
Nancy and I have stayed friends through the good times and the bad times for 47 years.
Nancy I love you and will miss you! Some day we will meet again at the Lighthouse.
Sissy Donnelly Mahoney
Sissy playin' the glockenspiel with Nancy Attis (Woods). - Dec. 1967.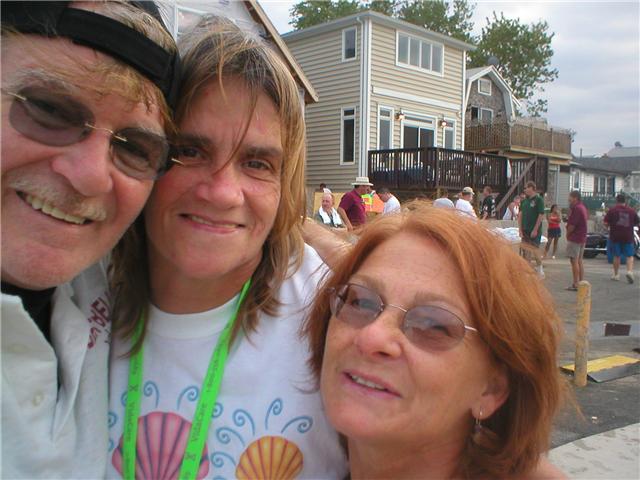 Joel, Nancy and Sissy (Donnelly) Mahoney.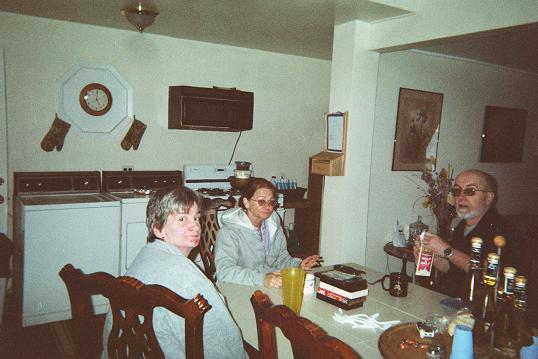 Nancy, Sissy and me.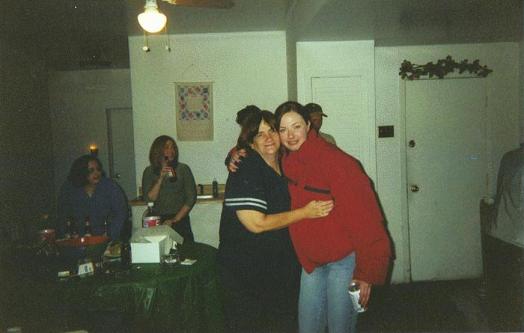 Nancy and my daughter, Jackie.
I knew Nancy since I was about 11 as she lived up the block from me and we were members of the same gang. We used to hang out in her yard and house, listening to her brother, Joel, play the guitar with his friends. Songs like "Satisfaction" by the Stones. So, I'm talking a long time ago. I became best friends with her future husband, Eddy Woods, so we spent a lot of time together. When they got married and moved to Clearwater, Fla., I went down to see them. She was expecting her first daughter, Melanie, and the pair were extremely happy. Her son, John, was living with them and Ed used to take him over by his job to watch the freight trains go by, which John loved. Nancy and Ed made a good pair and would go on to have 2 more girls; Michele and Melissa, while living in New York. They had moved into 51-A, a house that had been owned by an old, white-haired old woman who worked at the Bluebird Bakery in Edgewater until her death. Ed was always working on the house with friends like Mark Reith, who was good at everything. When Ed's father moved to Fla, he gave them the house at 63 Pennyfield Camp and that's where they lived until Ed's death. It was a gigantic shock to Nancy and her kids when Ed died. Nancy had always been with him. Her kids were growing up and she did a great job of holding it all together. I truly loved her and her death was a shock to me that I still haven't recovered from. She always treated me like part of the family and I loved hangin' out with her. I will forever miss her.
R.I.P. Nancy,
Love,
Craig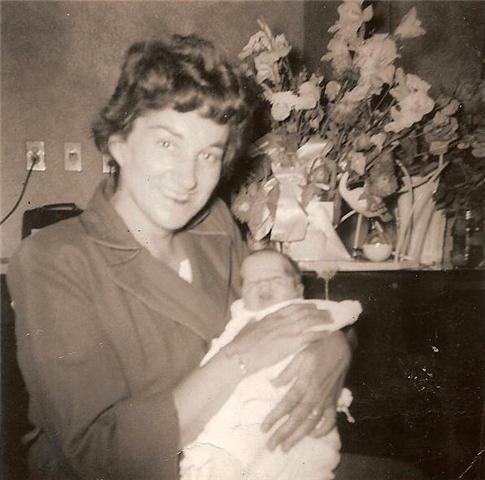 Nancy and her mom, Martha.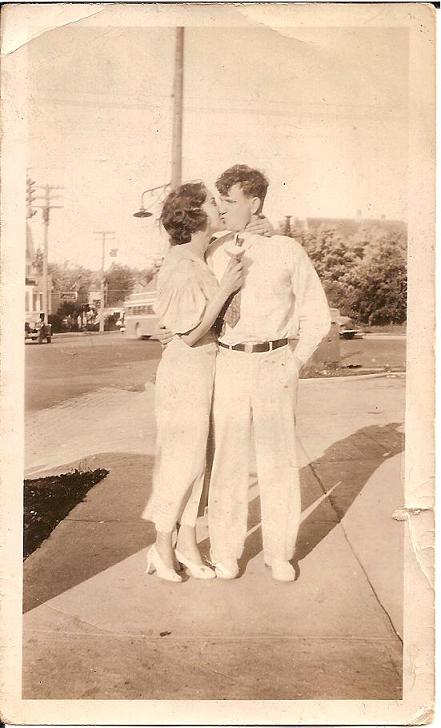 Martha and Stephen Attis- 30's.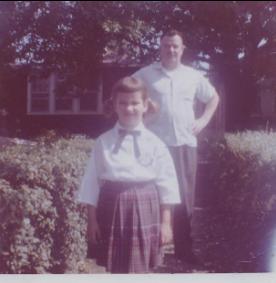 Nancy Attis and her Father Stephen-1960
1977 at 51-A Edgewater Park. Nanna (my mom's mom) me, Melissa, on her lap, little Joel, Michele and Melanie.

Nancy and Joel's mom.
Melissa, in Ed's arms, then Nancy, Michele, Melanie and John.
Christmas with little Melissa.
Melissa and mom, Nancy.
Melanie, Melissa and Michele. It was taken at the Bronx Zoo in 1986.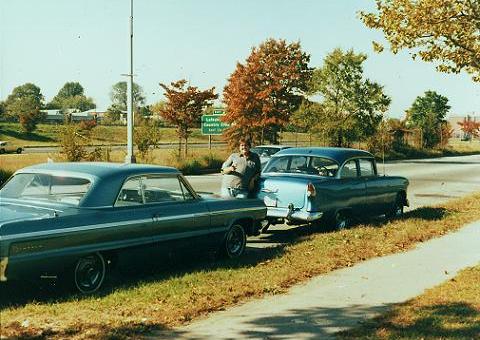 Eddy with 2 of his race cars.
63 Pennyfield Camp. Melanie, Michele, Melissa, Marlena [Krause] and John.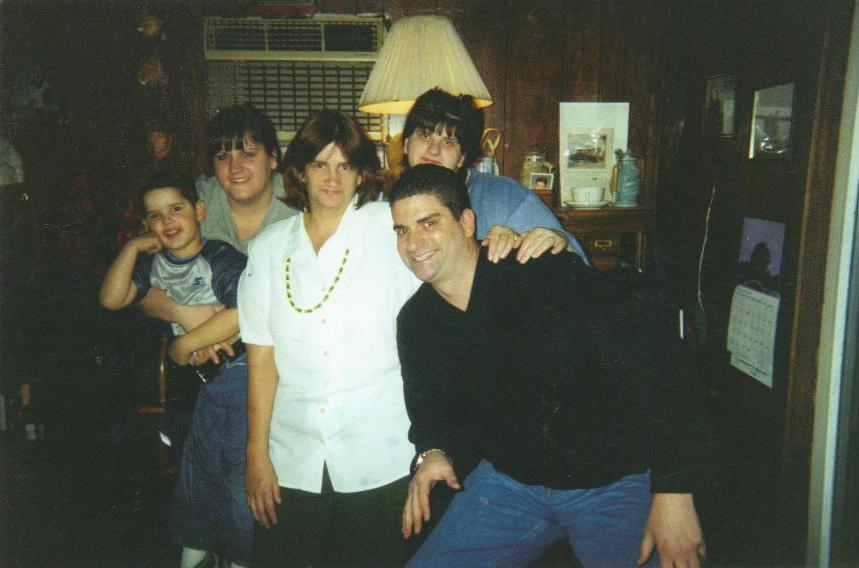 Grandson Teddy Jr, in daughter Melanie's arms, Nancy, daughter Melissa, and son, John 2001.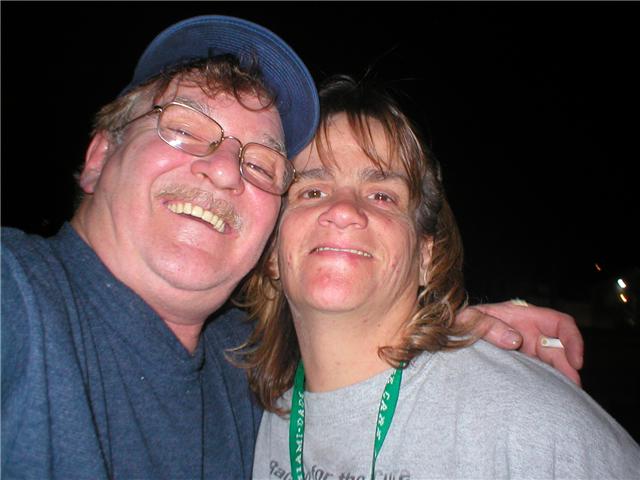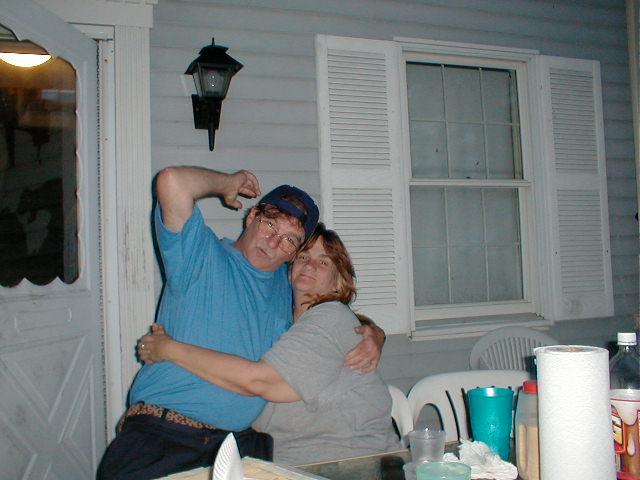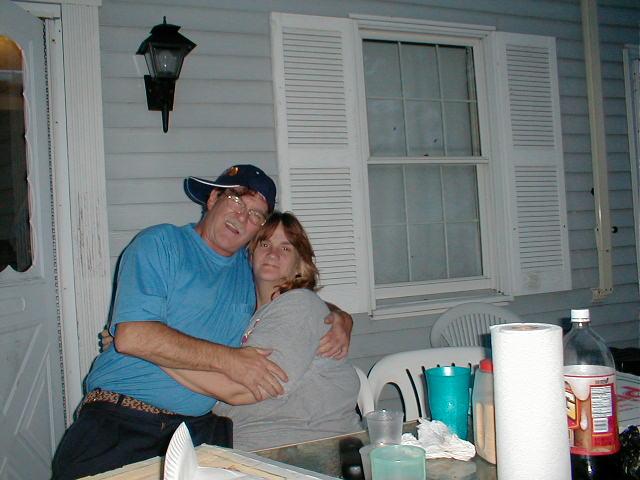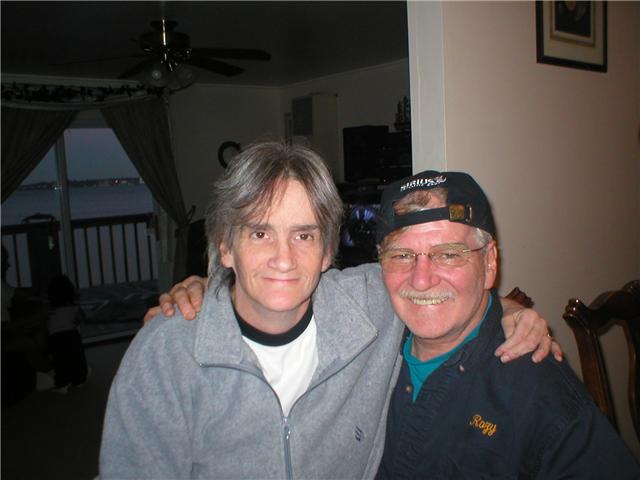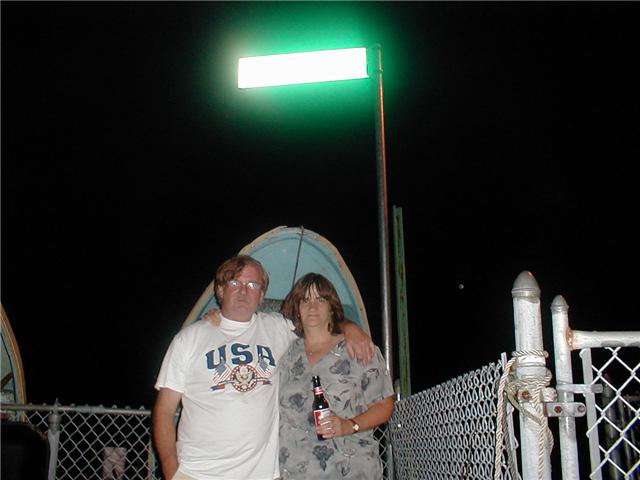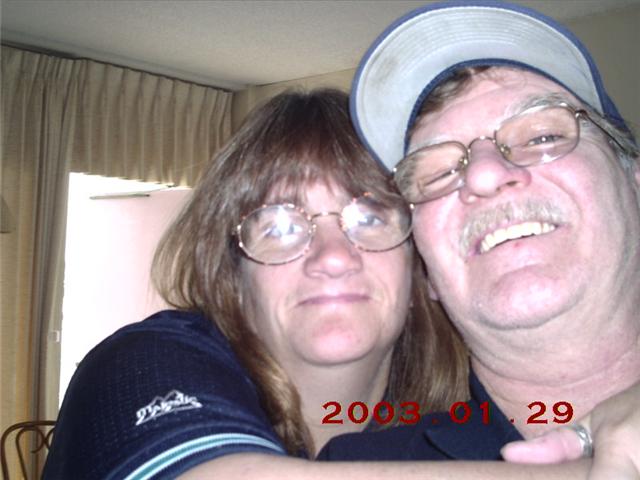 JOEL ATTIS
Joel Attis died on Monday morning, December 22nd.
Services were held on Saturday at the Ft Schulyer Funeral Home,
followed by a colation, as he wished, at the Redwood Club (past Preston HS).
Taken in '72 when he married Patricia Muzik, his High School Sweetheart.
Joel Attis, longtime resident of Alden Park, has died.
His daughter, Jenny, said he died in Einstein Hospital. His lungs were filled with fluid. He just returned from Florida, where his sister, Nancy, was in very bad shape in the hospital.
Jenny said: I'm still in shock. The past few days he was telling my mom how he was having trouble breathing and that he wanted to put two more stints in his heart.... He was such a great dad and I miss him so much!
His wish, always, was to have a party in his name instead of a wake or funeral. My brother and I will set that up for him.
Craig, My mother had 150 funeral cards made up for him and about halfway through the memorial, they were gone. I saw people who I haven't seen in a long time.... you know you forget some names and stories, but once you see the face, you know who it is because you remember Dad talking and laughing around with them. The gathering at the Redwood Club was amazing. My brother Joel said he's never seen anything like this, meaning, we had that place packed for Dad. Joel had ordered food for 100 people and by the time I got there at 6 pm (started at 5), most of the food was already gone.
We took his ashes with us from the funeral home and placed it right in the center of the bar, and laid a mug with ice and beer right by him. My brother made a beautiful toast to him and everyone raised their drinks to the sky with thunderous applause. My dad loved everybody... everybody. He accepted all types of personalities and never had anything bad to say about anybody. He is going to be missed by EVERYONE, because he is loved by everyone. Last night is exactly how he wanted things to go and he was right there with us. A great time was had by all, definitely. I was very proud to be there and know my father. And my brother grabbed me and said "We gotta keep him alive" - the generosity, humor, smile, free-spirited nature and love that my dad possessed, we now have and have to demonstrate to others. That's definitely something we both want to "Carry on!"
PS - next time I see my bro, I'll let him know you wanted to be there but couldn't. Just take care of yourself.
Richie Begasse says:

Yesterday [Sunday, Dec. 21] evening he was taken to the hospital because he couldn't breathe. It turns out that he had pneumonia. His lungs filled with liquid and it caused his death at 7:30 in the morning [Monday, Dec. 22]. It really is sad. Joel and I were very close since I moved to Edgewater in 1963. I was 13 and Joel was 12 when we met. I will miss him alot.
Joel with wife Linda

Port Attis in Alden Park
Joel with his daughter Jenny and son Joel.
Jenny says: It was his favorite picture (at my 20th birthday) because he was with his two kids and we all had a great time!

Click on the photo for a short video of Joel.
The Attis family tree, sent to me by Joel.

---
EILEEN De CANIO

Long time resident, Eileen DeCanio [first woman on the left], passed away on Saturday, December 6, 2008.
She is survived by her husband, Jerome, children, Eileen (Salimbene), Maureen (Huston), Jerome, and Philip and grandchildren Jennifer and Jeremy.
Thanks again,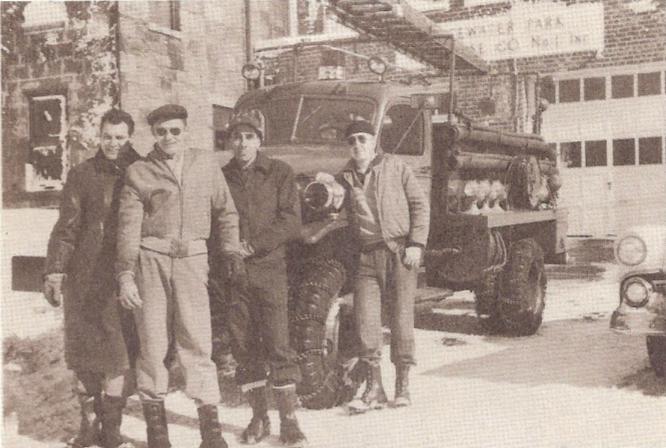 Jerome DeCanio, extreme right, in front of the old deuce and a half firetruck. Photo late 50's.

The family was raised in this house at 105-B.
---
FRED STUTZ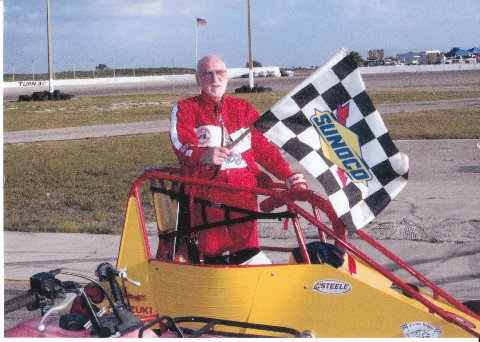 "Fast Freddie" - 50 years of racing.
Mr. Fred Stutz passed away on May 31st, 2008.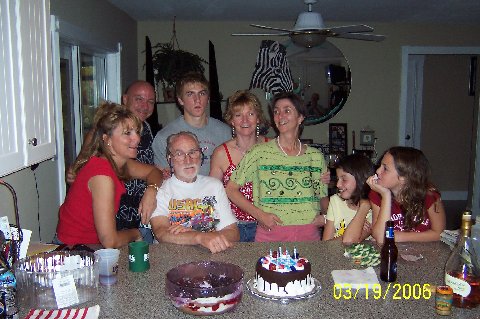 The Stutz family
Photos thanks to Donald Khare [email protected]
The Stutz' were long term residents of Edgewater residing at 133-C for years before moving to Fla.
The family was very much into racing midget cars down there.
Mrs. Joan (Khare) Stutz, Mr. Fred Stutz, children are: Joan, Joy, Jan and Jay.
(I knew Jan and Jay. Joan and Joy also went to my school, St. Frances.-Craig)
Fred, the father, died May '08 from injuries from a crash at the racetrack in Punta Gorda, Fla.
"Fast" Freddie Stutz, of Riverside, FL, suffered serious injuries when his TQ midget crashed into the wall at Punta Gorda's Charlotte County Motorsports Park, on 13 May 2008.

The accident was caused by a stuck throttle during a practice session. Stutz came out of turn four going down the front straightway at full throttle and the front wheels smoking. He crashed head-on into the first turn wall and stopped against the wall in turn two.

Stutz was taken to a Florida hospital and died of complications on 31 May 2008, he was at the time 79 years-old.

Fred Stutz had a fifty-year-long career. He had been a long-time Florida Midget Auto Racing Association member since moving to Central Florida from the New York City area, where he was born in 1929. He first raced stock cars on Long Island's Freeport Stadium in 1954 before moving to the American Three Quarter Midget Racing Association.

Stutz earned his "Fast Freddie" nickname for racing and winning ATQMRA features in the 1960s and 70s. In his career he raced against personalities like Mario Andretti, Jack

Duffy, Tony Stewart and David Steele.

In 2007 Stutz had finished fourth to FMARA champion Ernie Teed, Jr.

Complete name: Frederick J. Stutz
Birth date: 19.Mar.1929
Birth Place: Bronx, NY, United States
Death date: 31.May.2008
Death Place: unknown, FL, United States
Nationality: United States
Gender: male
Age at death: 79

Accident date: 13.May.2008
Series: Florida Midget Auto Racing Association (FMARA)
Race:
Event: practice
Country: United States
Venue: Charlotte County Speedway
Variant: 3/8-mile paved semi-banked oval (1990-present)

Role: driver
Email sent by Jane (Hayes) Dowd. [email protected]
---
IN MEMORY
DOROTHY NICOLAY
Longtime resident who lived at 64-B, died Thursday, Jan. 17th, 2008.
Mr. and Mrs. Nicolay with Sissy Donnelly (Mahoney) and daughter Mary (Sacco).
Dee, Dotty Nicolay and Helen Fecher.
Her son, Billy, said in an email on Saturday, January 19, 2008
Just returned from my trip to NYC. Mom passed away last Thursday. Good news was I got to see a lot of old friends. They were there to give their support and love as only "Edgewaterians" can. My deepest appreciation to everyone who showed up especially Edgewater's finest! The volunteers both men and women of the EPVFD.
God Bless Edgewater!
---
IN MEMORY
KEITH RYFF
April 19th, 1966 -June 27th, 2007
Youngest son of Arline (DiMarzo) and Bruce Ryff.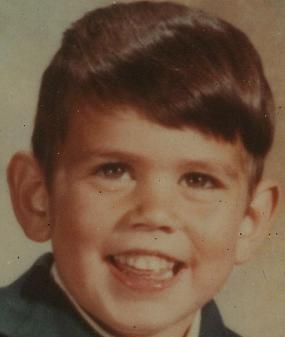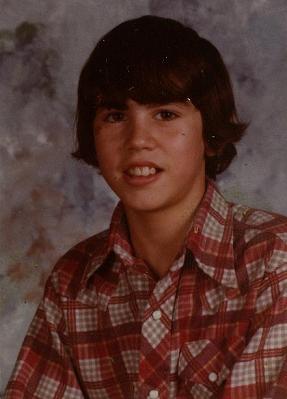 His children...
3rd son of Arline and Bruce Ryff, his brothers being Bruce Jr. and Brian.
His parents were both brought up in Edgewater. Bruce grew up in 51-B. His wife, Arline DiMarzo grew up in 92-C, and her parents, Guy and Mary DiMarzo, after the death of their son, Ronald, from a car accident, later sold the house to Frazier. Arline and Bruce bought 35-B in 1961 and lived there until they moved to Connecticut in 1971. My brother Bruce worked as a Custodian Engineer with the Board of Ed in the school system both in the Bronx and Manhattan until retiring and moving to Delray Beach, Fla. My nephew, Keith, was the youngest of 3 brothers who grew up in 35-B. His brothers, Bruce Jr. and Brian started off in St. Frances and then went to PS 72 until the family moved to Rowayton, Conn in 1971. Keith was a great kid who always had a smile and enjoyed having fun.
Keith D. Ryff

Former Resident of Rowayton

Keith Daniel Ryff 41, died on June 27 in Pompano Beach, Florida. Keith grew up in Rowayton and was a carpenter by trade. Keith is survived by his loving parents Bruce and Arline Ryff of Delray Beach. Also two children, Shoshannah, 15 and Tyler, 13, and two brothers, Bruce Jr. and Brian Ryff of Norwalk .
---
IN MEMORY
The Ryff family

Frances Kavanagh Ryff, born September 28th, 1910.
Joseph William Ryff Sr., born December 31st, 1906.
Gary Ryff, born January 7th, 1939.
My father actually died of a heart attack when he discovered my brother, Gary, was dead.
No one knows if he knew my mother, Frances, was also dead.
Dec 19, 1978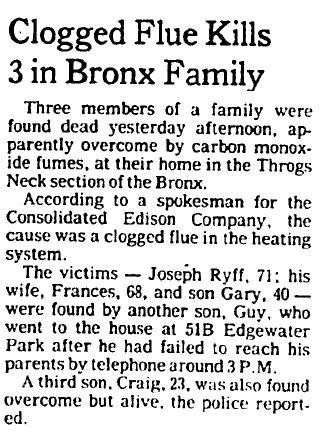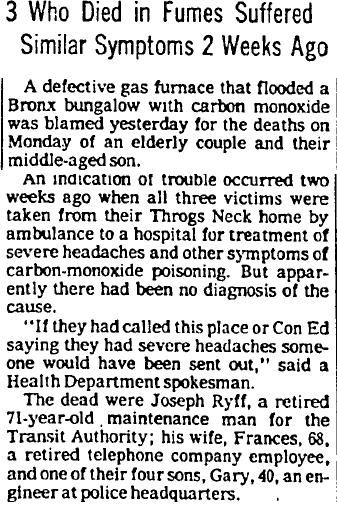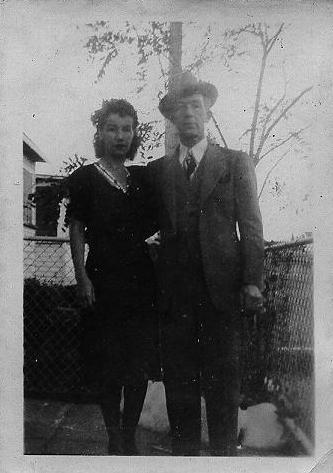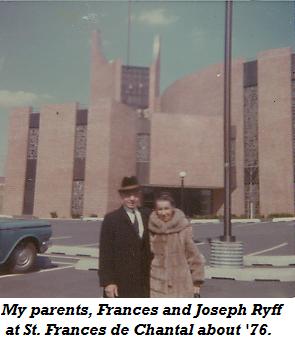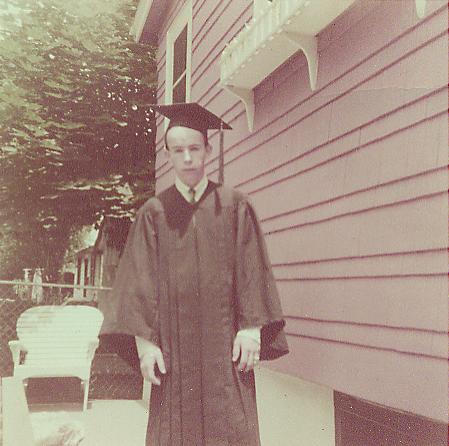 Gary, born January 7th, 1939.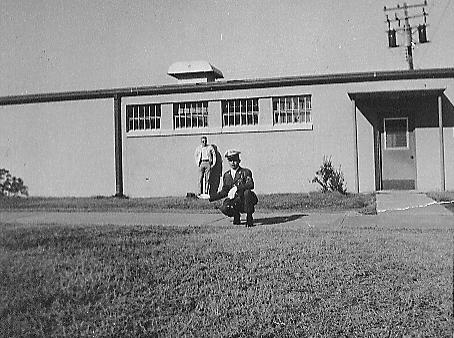 Gary, stationed in Turkey in the late 1950's.
As an MP (Air Police in the Air Force), he had a top secret clearance.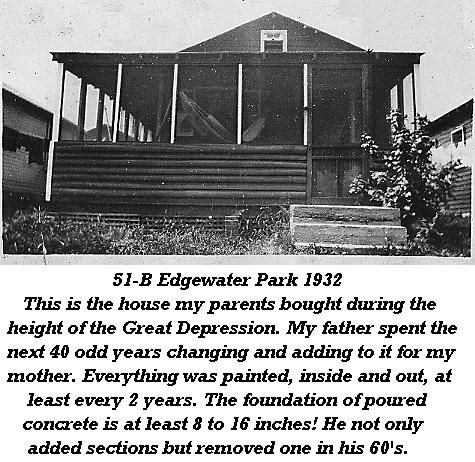 Residents of Edgewater Park from 1932 until their death in 1978.
R.I.P.
---
Check the HOME page for other announcements. Click HERE.
To reach me, Craig Ryff: