Sonny & Cher - I Got You Babe.
Just push PLAY.
BUT DO NOT click on any links or photos while song plays.
John Keenan Sr.
This group was called "The Bronx Rivals" and organized the first
Edgewater Park Labor Day Games in 1919.

I thought the picture may be important since this coming Labor Day (2009) will mark
the
90th anniversary of Edgewater Park Labor Day games. - Bill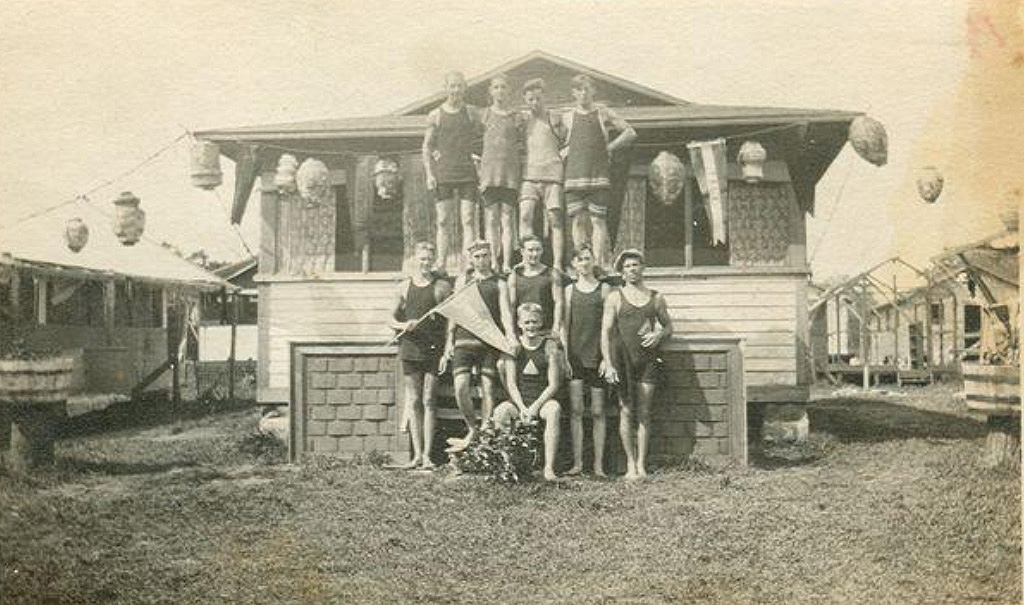 I found this photo in "Throggs Neck-Pelham Bay" which I wrote with John McNamara for Arcadia Publishing in 1998. It is a photo of the Bronx Rivals and the caption reads: Young men and women were allowed to have clubs in Edgewater Park, providing the clubs were separate and the members were 21 years of age.
To view many more old photos, click on Bill's name. Bill Twomey
---
Photos Flo and Jim Evers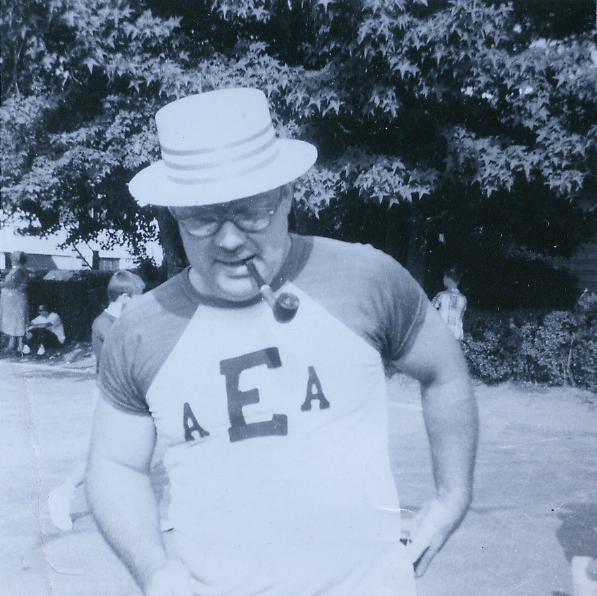 Jim Evers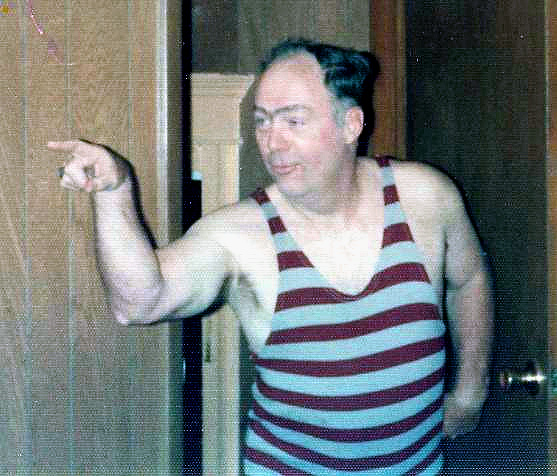 Jim Evers modeling EAA wool bathing suit.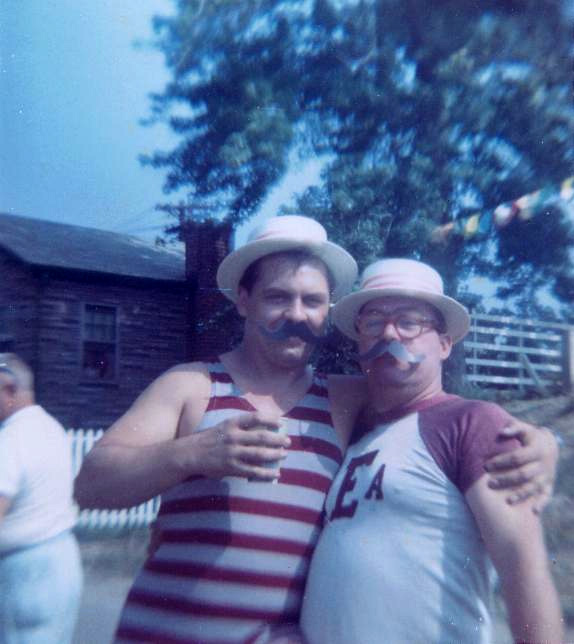 Butch Gilchrist and Jim Evers at E-Section in 1966.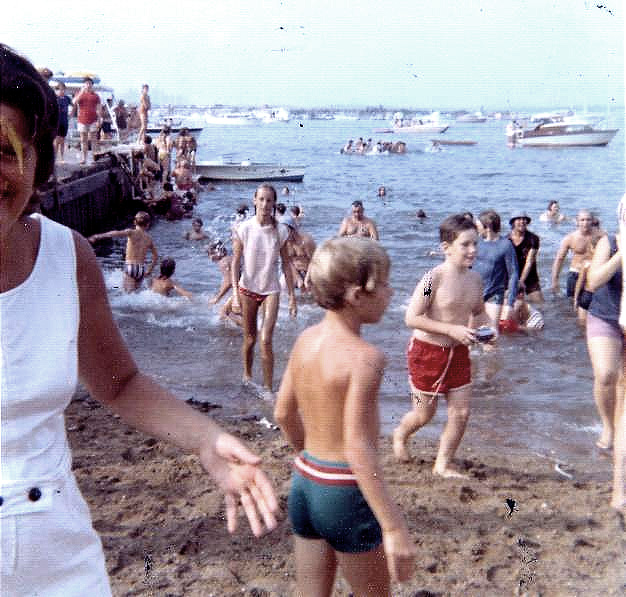 Labor Day Swimming Races 1964.
Jim Evers Jr. in red bathing suit.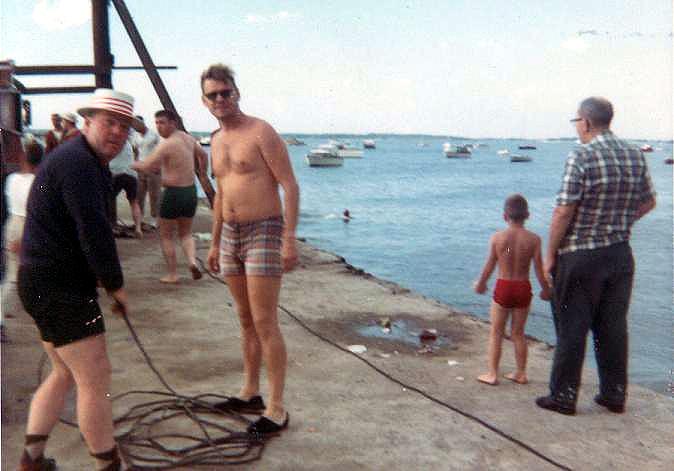 Jim Evers and Bob May.
Putting up ropes for the swimming lanes. 1966.
---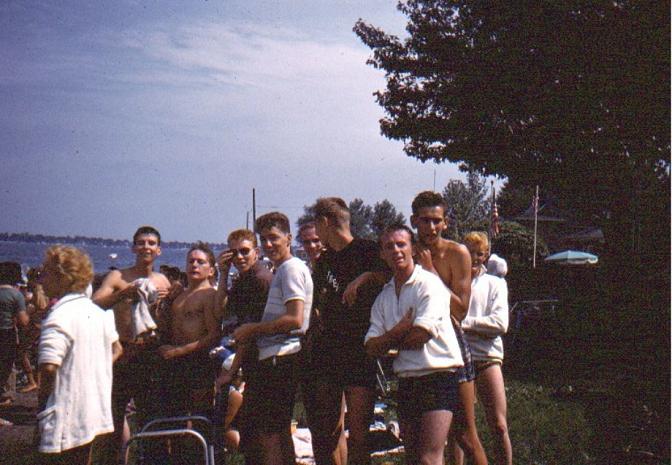 Sandy Beach- Labor Day weekend 1960
Woman? Billy Zapka Tom Miazga Jack Gress Harold Halpin Willy Ferreira
Fred Scheffold Richie Murphy Mark Sutter Larry Barazzotto
Photo thanks to Russell Brown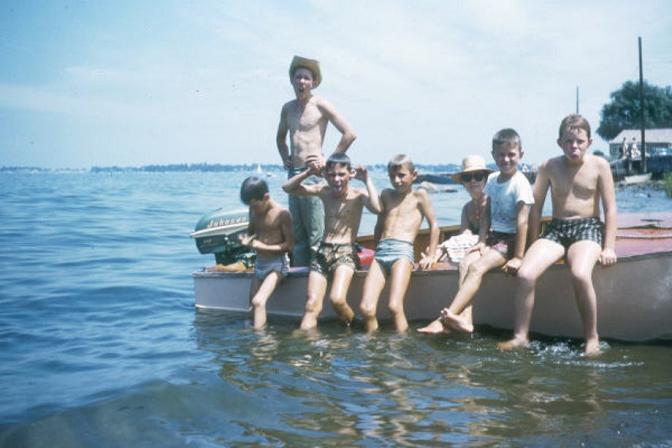 Little Sandy -'59
Billy Britt Bobby Jacob Jimmy O'Rourke Jim Brown Mrs Britt Jiggsy O'Rourke Kenny Gress
This photo says it all about summer in Edgewater for young boys. A boat was the first thing we drove and exploring was so great!
Photo thanks to Russell Brown
---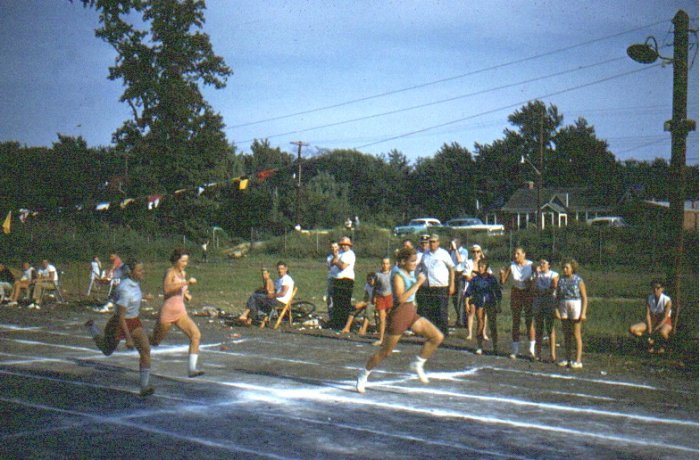 1959 labor day races E-section-Carol Gress Linda Wakefield unknown-Photo-Russell Brown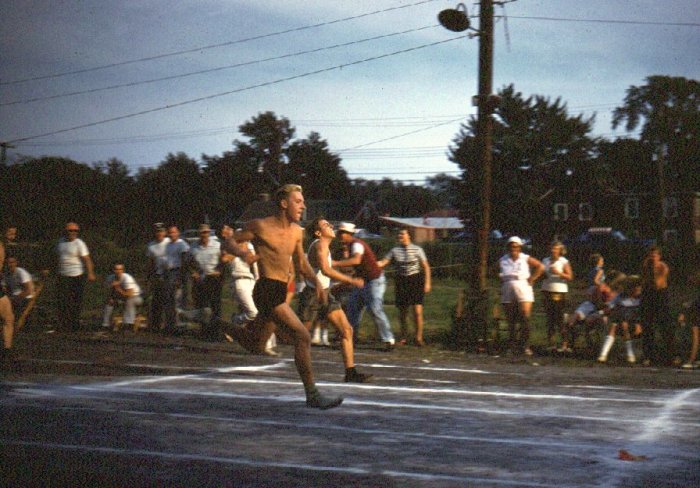 1959 Labor day races E-section-George Daniels Ed Lagenbower-Photo Russell Brown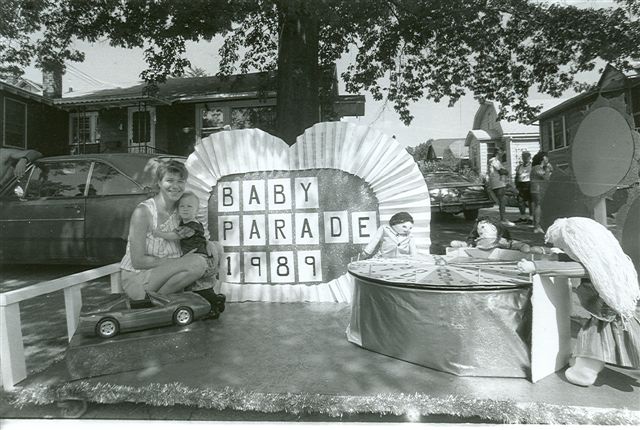 Baby Parade of 1989.
Photo Bill Twomey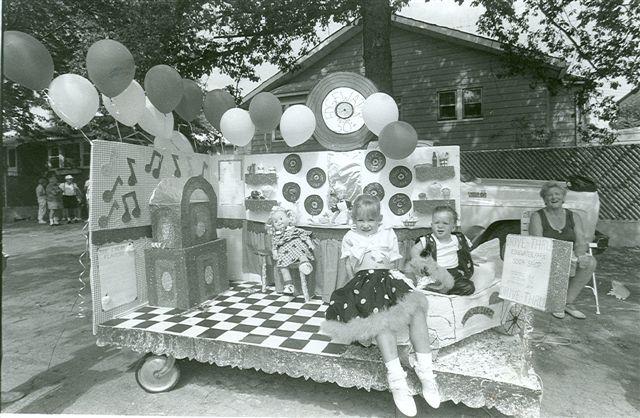 Another float down at E-Section -1989.
Photo Bill Twomey
---
My photos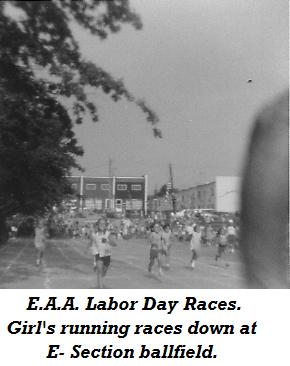 Regina Ryff on the left.
---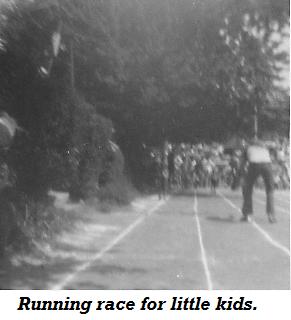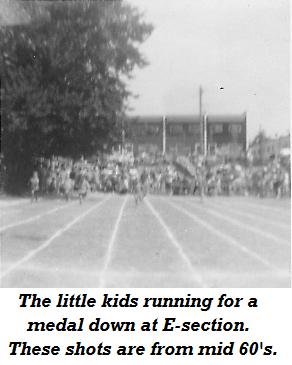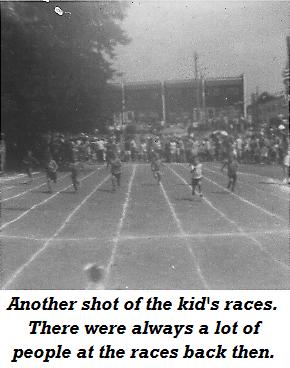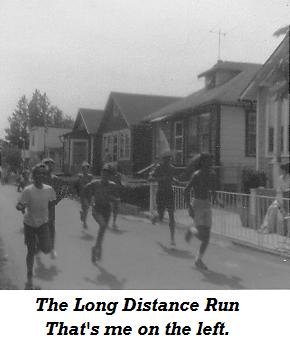 ---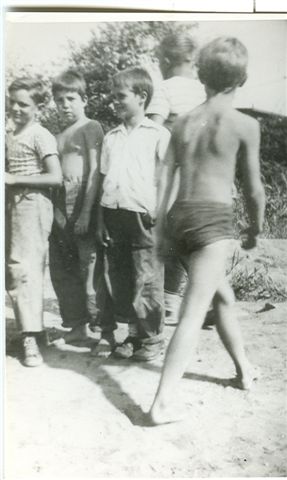 Labor Day contest in D Section circa 1950. Left to right are Jimmy Meagh, Herbie Arenholz, Matty Meagh and Frankie Twomey walking with back to camera.
Photo- Bill Twomey
---
Photos by Jane Hayes (Dowd)
1959 parade.
Left to right-Theresa ?, Marianne McGinty, Marie Cain, Diane ?, Lois Anello, Jane Hayes, Maureen Wagner on drums and Sandy ? on drums.
1959 E-Section races
Left to right-Karen Klinger, Jackie McGinty, Jane Hayes, Marianne McGinty
1955-56 at D - section races.
The 2 girls in front are Deidre McElligott, with (I think) her mother behind her, and me. Deedee was related to the Faihan's and Moon's and used to visit every summer. She stayed with an aunt in B - section and was a good friend of mine. - Jane.
Bernadette Reese(?), sister of Muriel Hakans-1960 E.A.A. Races
Above photos by Jane Hayes (Dowd)
---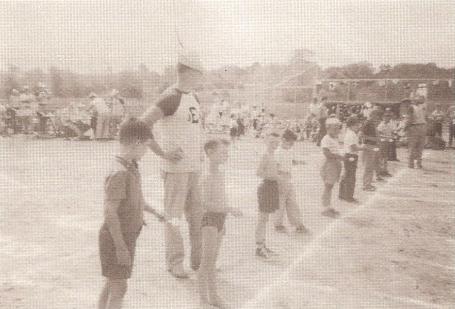 The Egg and Spoon Race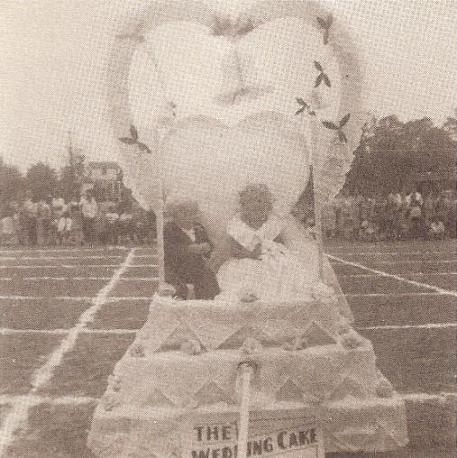 The Winners! Paul & Diane Kelly.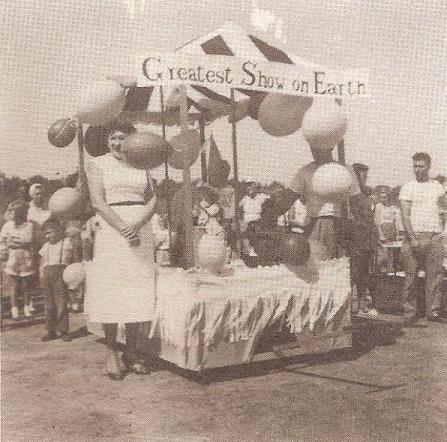 Greatest Show on Earth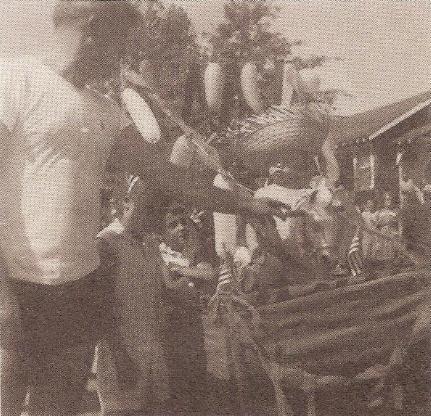 Children Wonder-Land Float.
Billy & Janet Robertson with Skippy Anderson to the left.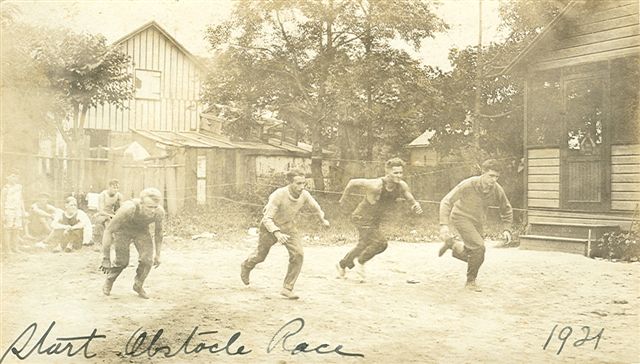 This shot of the start of the Obstacle Course race wass taken in 1921. The races were held on 5th Avenue in B Section at the time. Bill Twomey (PS - I believe one of the runners is Mack's grandfather)
Photo- Bill Twomey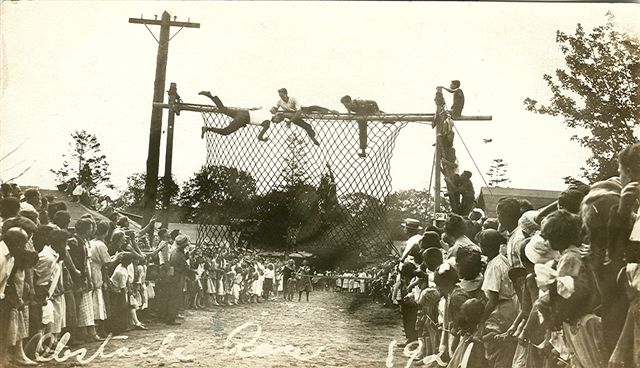 The same 1921 obstacle course race but a little later on. Photo- Bill Twomey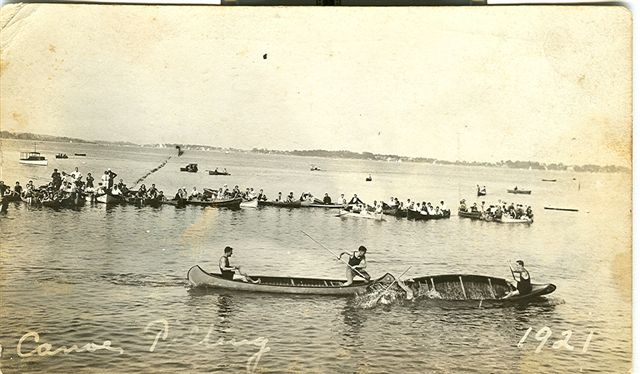 Bill says: This is one of my favorite early Edgewater Park Labor Day contests. It the canoe tilting contest of 1921. Photo- Bill Twomey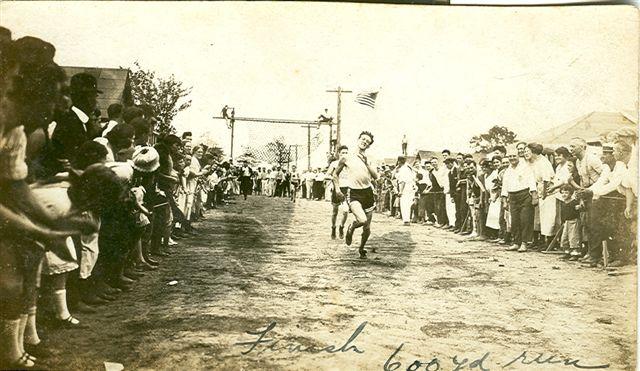 This is the finish of the 600 yard dash. If you look close in the right background to the right of the 48 star flag, you'll see a man standing on a roof. Also note the posts with mesh in the background from the obstacle course.
Photo- Bill Twomey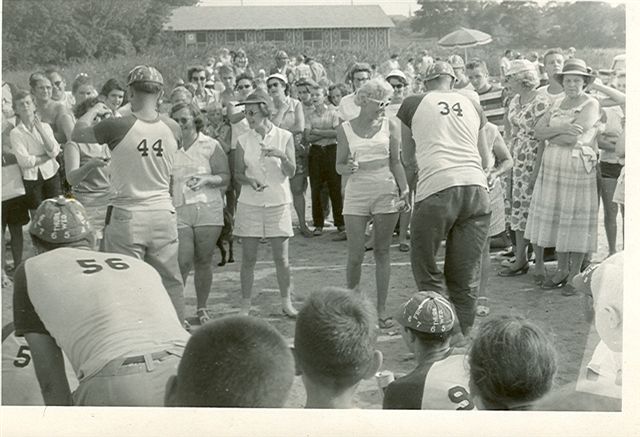 This photo from the 1950's shows the Labor Day foot races on the D Section ballfield where the sand dunes were later built. Note the Square Club in the background. The view is to the south.
That's the Square Club out by the Gate that we used to ice skate around!
Photo- Bill Twomey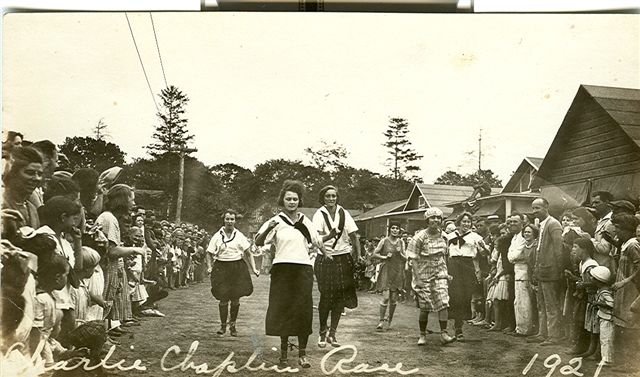 This 1921 photo was taken on 5th Avenue in B Section and shows the Charlie Chaplin Race. The ankles were loosly tied together creating a "shuffle" walk much like the early film star.
Photo-Bill Twomey
---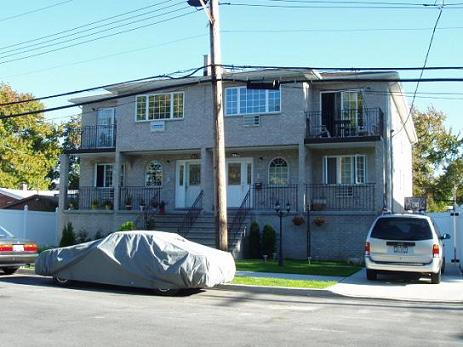 The new house on Donovan's old property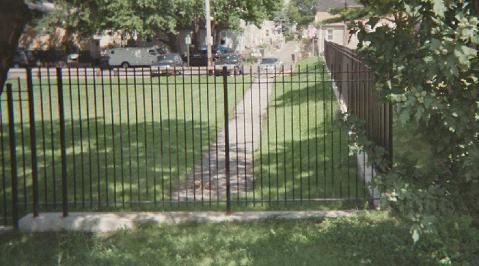 The E-section Gate has finally been sealed off! Progress, huh?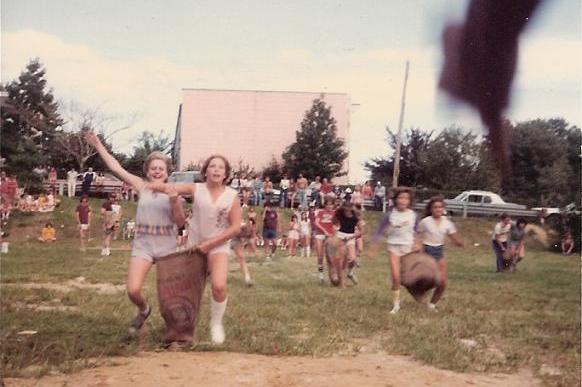 Labor Day Races at E-Section 1982. 3 legged sack race. In 1st place is Joanne McNamara and Jennifer MCNally.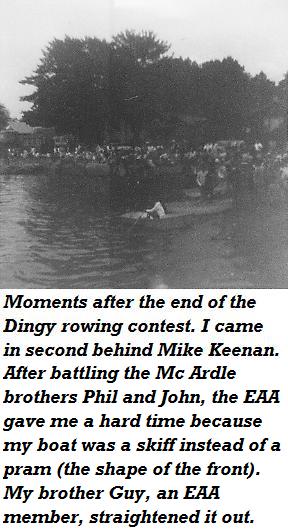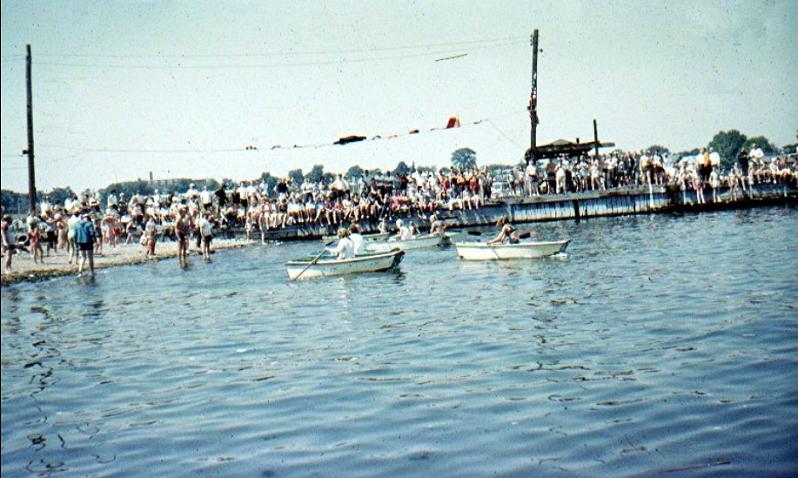 Girl's Dingy Rowing Race '63.
---
3 Photos courtesy of Sissy (Donnelly) Mahoney
Jerry Dunne, Larry Johansen, Al (Mimi) Donnelly and his wife, Ellie. -1971
Labor Day Trailer, the Mahoneys.
Billy Mahoney, Mike Devlin, Steven ? and Benny Schiavone. -Aug. 1981.
---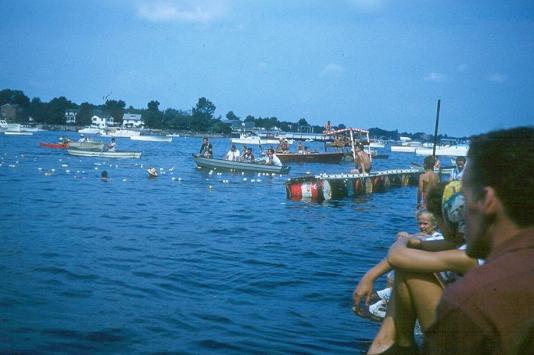 Swimming Races 1960.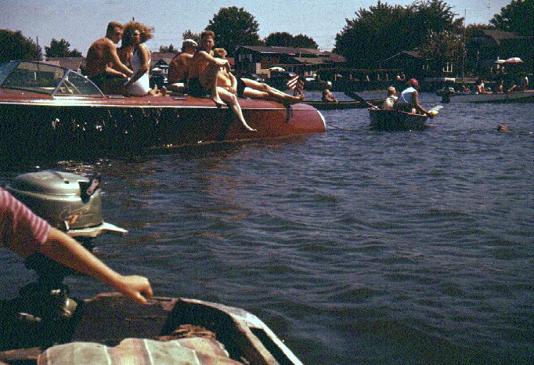 Chris Craft at Sandy 1958.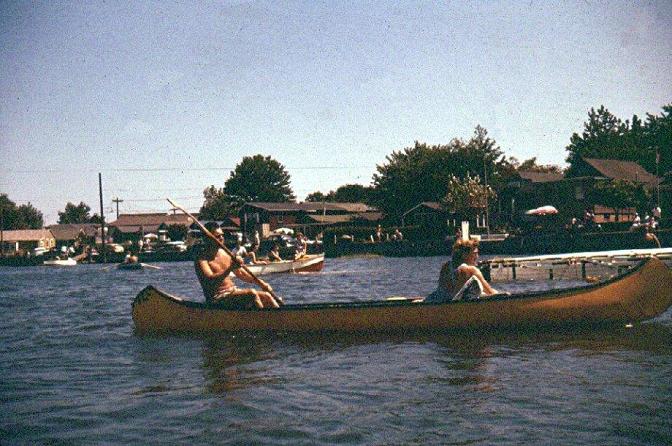 John and Pauline McNamara at the Labor Day Races in 1958-Photo-Russell Brown.
John was the great Bronx Historian and the father of Johnny Mack below. He travelled extensively throughout the world and was a true adventurer. He and his wife would go all over the area in this canoe. The first time I saw them with this canoe was down at Big Oak when I was a little kid. They were both dressed as Indians and walked passed me, down onto the beach and off they went!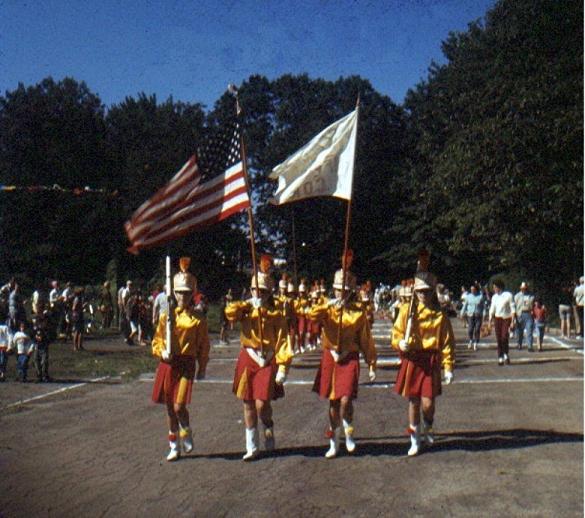 E-Section - Girl's Band '67.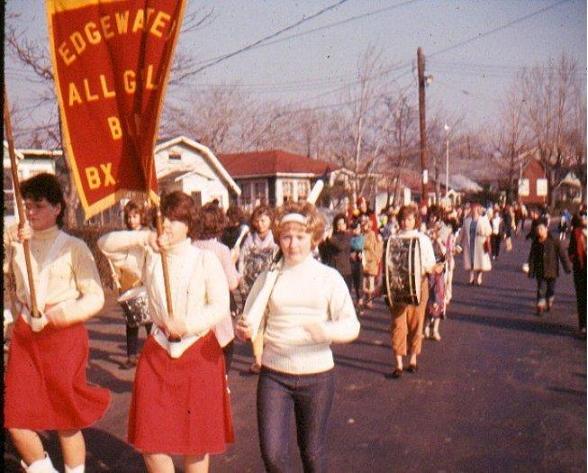 Passing Stores-1963
Susan Connors on Bass Drum, Sissy Donnelly, right, on glockenspiel. - 1967.
April 1967-2nd from right is Debby Fitzsimmons and 2nd from left is a Flannagan girl.
Girl's Band - 1967 - Leading is Doris Borucinski and extreme right is Loretta O'Brien.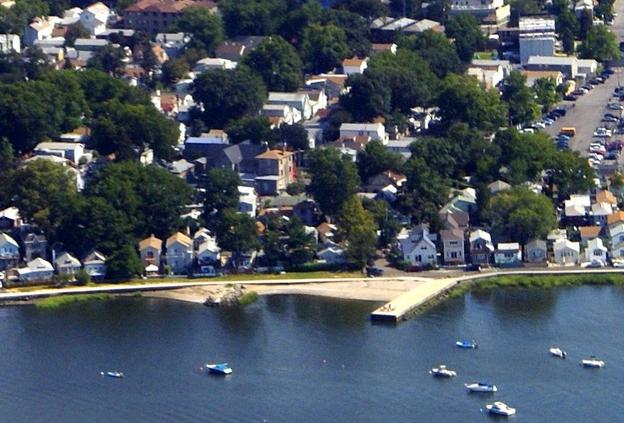 Sandy Beach
The home of the Labor Day Swimming Races.
Labor Day 2008
Along with Joel Attis and Billy Britt.
Click here or on photo for message.
That EAA member is John Keenan Sr., for years and years the voice of the races.
In my head I'm hearing Sonny and Cher's "I Got You Babe", the theme song of Labor Day.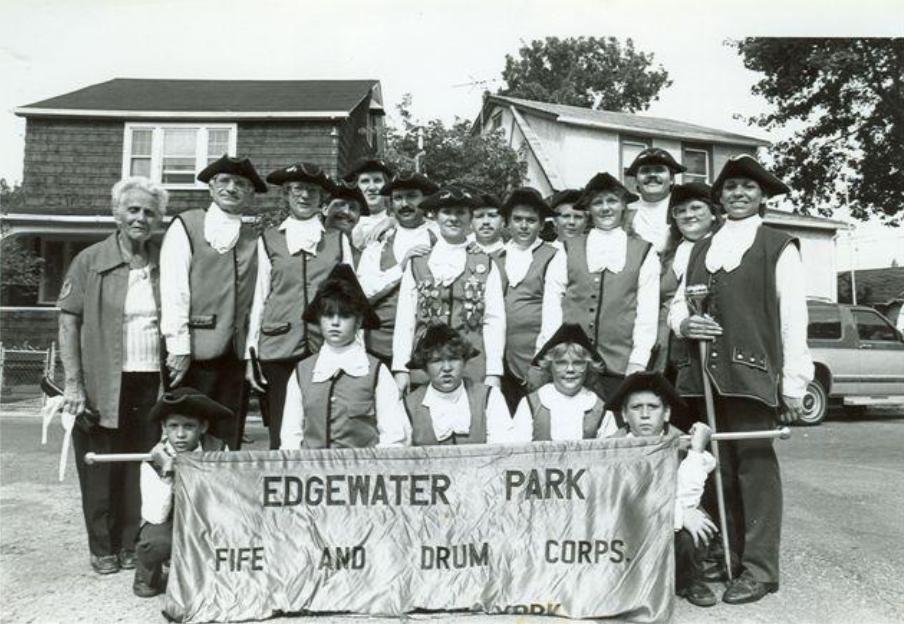 Kneeling left to right. Joshua Flood, Erin Finnegan, Michele Falzon, Christine Schellenberger, Kristian Flood Standing left to right: Cele Mutze, George "Pepe" Peragine, Dorothea Geffken, Paul Mutze, John Mullane, John Falzon, Paula Mutze, John Peragine, Patrick Petriello, Eddie and Jamie Schellenberger, Eugene Balasenowich, Nancy Lacerra, Theresa Peragine.
Photos below by John, Cheryl and Lisa Steel of 101-C.
Leading the procession is Theresa Peragine, with her father, George "Pepe" Peragine, behind her to the left.
The kids still love it.- Jim Brown officiates. Click here.
They're on a mission.
Tradition since the early 20's.
The 2008 EAA guys. The tradition continues...
Photos above by John, Cheryl and Lisa Steel of 101-C. Many, many more in album below.
Cookie Donnelly, Cathy Mahoney (Horonzy), Jimmy Donnelly, Alan (Oopie) Donnelly and John Farrell behind them.
Steve Mays on right.
Mike and John Broderick.
Debby Sawyer in flowered blouse. Jimmy Shutz behind her.
Hey Brendan, I heard you told people about the site last year. Thanks!
Chat (McQuade) Kuhl.
2nd is Anthony Winoski, Scott Hostomsky, John Farrell.
Louise Powers in grey skirt.
Skippy in red shirt, Benny Schiavone in T-shirt.
Bill Freder, on right. I wanted to talk to him. I haven't seen him in years.
Billy Freder, who invited me up to his yard for a barbecue. I would have went but I got really sunburned bad.

Drew Freder, blue and white shirt. Mike Keenan to the right.
Kevin Fitzsimmons and Jimmy Shutz.
Debby Sawyer in flowered blouse. Standing next to her is her niece, Wendy, and her 2 twin nephews, Michael and Jamie, and lady in blonde hair is Lois and her dog, Lenny.
Dawn Dauria in blue and John Farrell next to her.
Brendan McArdle under hat.
Brendan McArdle, Mike Kuhl in white cap.
Peter Vetri in green shirt.
Got any names?
Susan (Donovan) Keenan and Sue (Powers) Gullo.

Bo Santamorena and his sister, Dawn.
Bo Santamorena on his Fatboy.
His sister, Dawn Dauria.
John (Doc) Raftery in red shirt, surrounded by some beautiful women.
Betty Duffy and John Broderick.
Still beautiful.
Doc Raftery and a fox.
Lining up for the egg throwing contest.
Tanks for da memories...-Craig
Click on photo for album. Thanks to John, Cheryl and Lisa Steel of 101-C.
LABOR DAY 2008.
---
Click on photo for album.
Run browser FULL SCREEN for larger pictures and use SLIDESHOW.
I had a great time.-Craig

---
Labor Day 2009
Click pictures with borders to enlarge-Run full screen first.
New Labor Day 2009 Races by Barbara "Noble" Papp.
Click to enlarge
Click to enlarge
Send me more pictures and names of those in them.