Updated June 23rd, 2009
THE ALLEY CATS
The Alley Cats of B-section also had some members from A-Section,
like the Cupertinos, but mostly from the alley that ran behind, say,
99-B, which were the Devlin's; Donna, Mike, Richy and
their parents. There were also the Wakefield's, the Ryff's, the
Greene's, the Bowles', the Knox's, the Zapka's and the Ritter's.
Margie Hooks from the Office, who was a Ritter and her
sister were some of the younger people who were up
here on vacation as was Danny Cupertino, me, Bobby
Greene, and a few younger kids, whose names I need to get.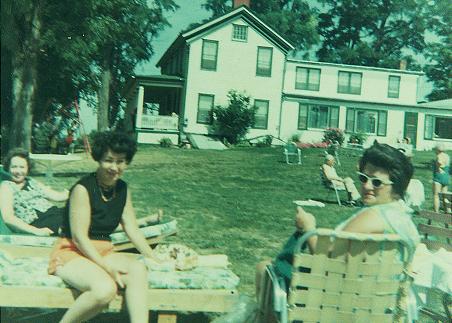 Hyla Knox, of B-section, my Mother, Frances of 51-B and Mildred Meehan, mother of Joan Spagna and Lorraine Ritter, lived with her husband in Parkchester.
Hyla and John Knox were my Aunt and Uncle, says Barbara (Wakefield) Archambault and Scotty is a nickname that all his friends called him. Out of respect my family always called him John or Uncle Johnny. Hyla was my mother's sister (Eleanor Wakefield).
Hyla Knox's husband, Scotty, ate some strawberries and came down with some kind of hives. He was in bad shape for awhile.
In the building behind them is where we went for our meals and on the porch was a bug lite. I had never seen one of these but I heard the zaps so like a fool I touched it. Wrong move! Naturally, I never told anyone.
Some of the others that were there were Bobby Green, the Spagna's two kids, Michael and Joann, who supplied me with a lot of these names. Also, the Ritter' sisters: Margie (Hooks) and Diann and Diann's boyfriend Danny Cupertino. They later married and lived in Alden Park for awhile.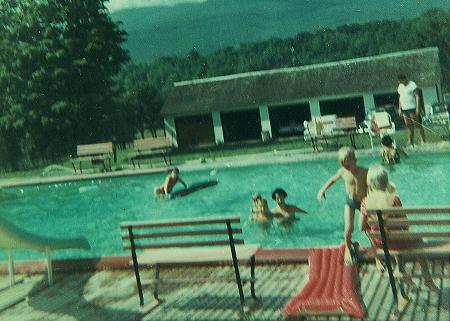 We spent a lot of time in this pool. The kid with the blond hair is Margie (Ritter) Hooks' cousin, Michael Spagna, brother of Joann Spagna (Laquintana). Me and Bobby Greene would go out into the wood's with a .22 looking for wood chucks. Never got any.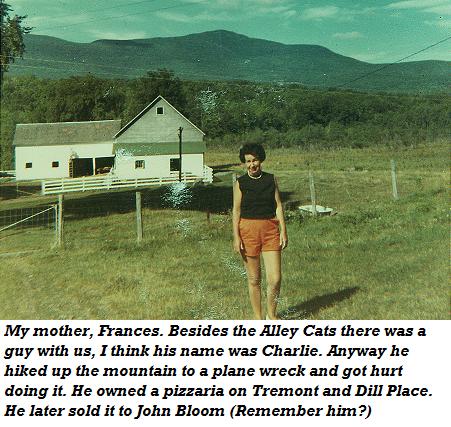 ---
Don't ask me why but I guess it just goes to show what alchohol can do to you. This song below-They're Coming To Take Me Away- played all the time. Talk about runnin' something into the ground. They used to all join in and sing this song together.
They're Coming To Take Me Away.
Just push PLAY.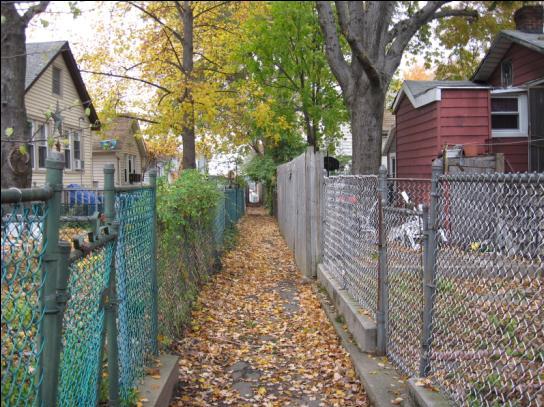 The middle of the Alley Cats alley.
In the summer this alley would be lined with Japenese party lights and people came and went from many yards. Back in the 60's excess was everywhere and it seemed that everyone had a drink in one hand and a cigarette in the other. These parties went all through the summer and lasted well into the night.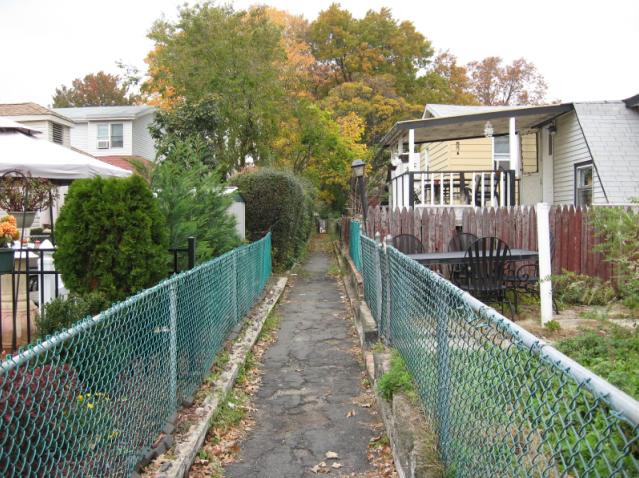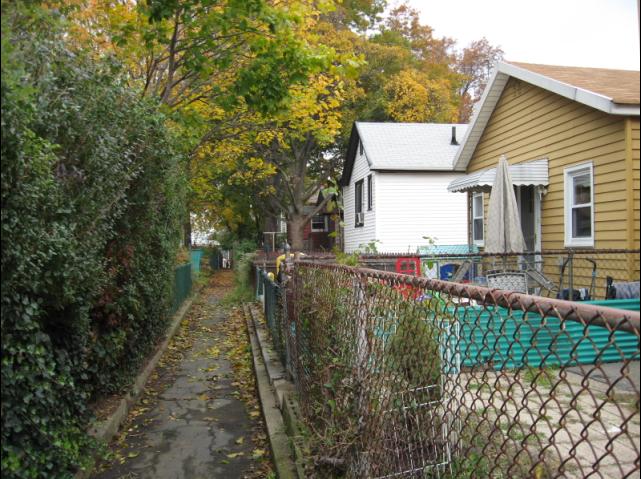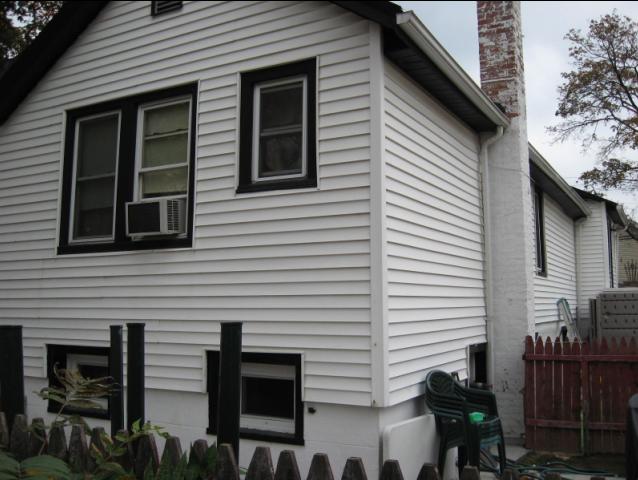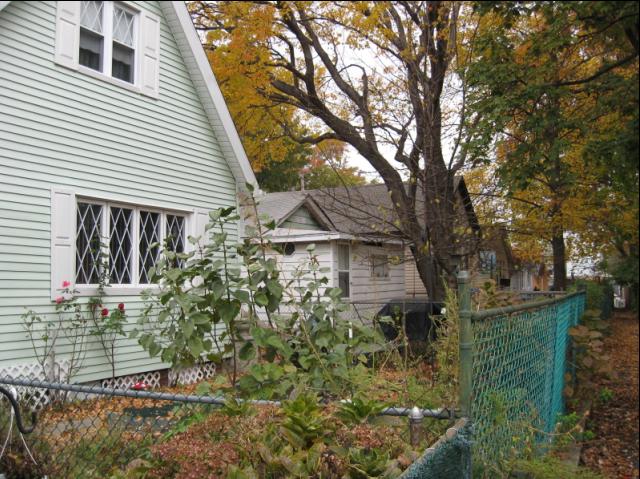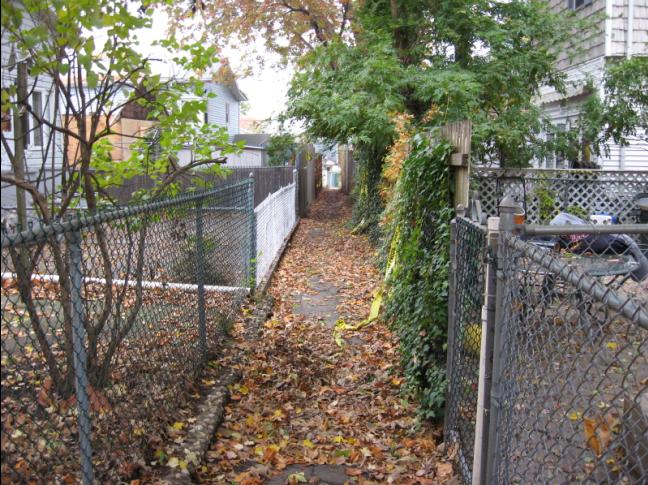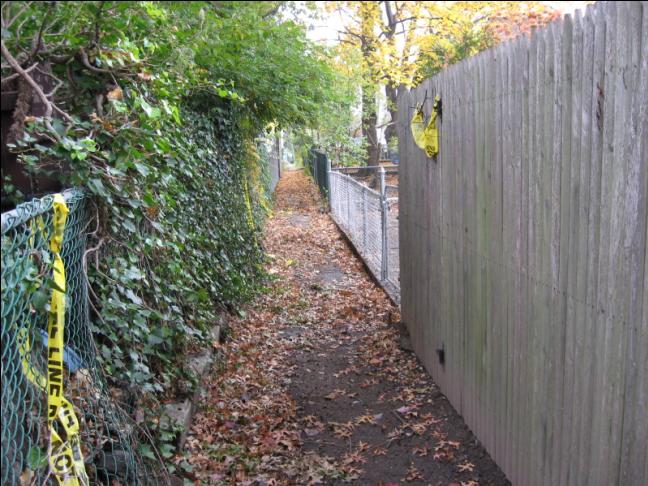 The Alleycats Alley
---