Click HERE
---
Bobby Roff has died.
Click HERE
---
Jimmy and John Revell
---
Click on above photo for video.
A short video narrated by James Earl Jones about Frank Bee Stores & it's owner Wayne Baker.
---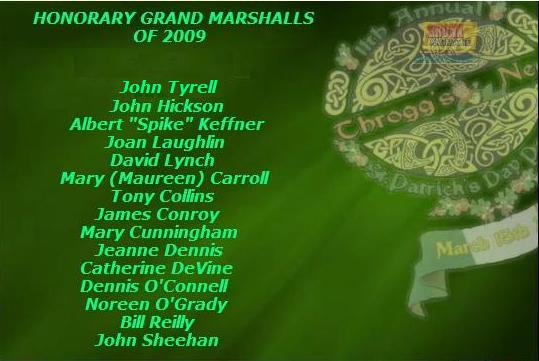 Click on photo above for video of Throg's Neck St. Patty's Parade.
---
Bobby Kuhn Memorial

May 16th, 2009 at 9:30. Services for Bobby Kuhn, Past commander of Korony Post, were held at Cedar Hill Cemetary, Newberg NY off Route 9W.
Sent by Tony Salimbene
---
Angela Schiavone, sister of Joe Schiavone and Aunt to John and Dennis Csencsics (Chances)
passed away Thursday, April 9th, 2009.
Sent by Joe Schiavone
Click HERE for the MEMORIAL PAGE.
---
1929-2008
About Fred Stutz who once lived at 133-C
.
This email sent by Donald Khare

I will try to send some info of Fred ( FAST FREDDIE ) Stutz's racing history.
Edgewater Fire Dept-EPVH # 709
Donald Khare [email protected]
Fred Stutz- Story (See MEMORIAL page, 3/4/down). Sent by Jane (Hayes) Dowd [email protected]
---
Bob Noble has passed away. Barbara Noble (Papp) told me that he was the only son of Jim and Gertrude (Gerty) Noble from Edgewater who owned the Hardware Store with his brother Bob Noble. He lived in Edgewater growing up with his sister Betty in 48-A. He is survived by wife Florence (Silver Beach) and daughter Denise who now lives in 4-A (Bob and Gertrude Noble's old house).
Robert Noble

1944 - 2009

Robert was born on January 9, 1944 and passed away on Wednesday, April 1, 2009.
---